Maximize Customer Engagement with Expert CRM Data Entry Solutions
With our expertise and commitment to excellence, we provide comprehensive CRM Data Entry solutions tailored to meet your unique data entry requirements. We are experienced in providing reliable data entry services that play a crucial role in managing customer relationships and driving business growth.
CRM data entry is the process of entering and organizing customer-related information into a customer relationship management (CRM) system. Our services involve capturing and inputting data such as customer contact details, interactions, purchase history, and other relevant information into the CRM database. By investing in effective data entry practices, businesses can leverage the power of customer data to drive success and achieve their business objectives.
Don't let data entry tasks overwhelm your team.
Outsource CRM data entry to us!
Fill out the form or call 1-800-670-2809 for a free consultation!
Key Benefits of CRM Data Entry
Accurate customer information
Streamlined communication
Efficient lead management
Data analysis and reporting
Flexible and Affordable Pricing Plans
No matter the duration or scale of your data entry needs, we have the perfect solution for you. Our team is equipped to handle short-term projects with hourly requirements or long-term engagements requiring dedicated full-time equivalents (FTEs). With our customizable pricing options, you can enjoy comprehensive data entry services at a highly competitive price. We understand the importance of cost savings, which is why we offer flexible pricing plans that can save you up to 40% compared to other providers.
Our Comprehensive CRM Data Entry Services
Data entry and verification
We perform accurate and efficient data entry into your CRM system, ensuring that all relevant information is captured and validated for consistency and accuracy.
Database cleanup
Our experts can help you clean and organize your existing CRM database, eliminating duplicate entries, updating outdated information, and enhancing overall data integrity.
CRM migration support
If you're transitioning to a new CRM platform, we provide seamless data migration services, ensuring that your data is transferred accurately and securely without disruptions to your business operations.
Data formatting and standardization
We assist in standardizing data formats, applying consistent naming conventions, and ensuring uniformity across your CRM database for better data management and analysis.
Ongoing data entry support
Whether you require daily, weekly, or monthly data entry support, our team is here to assist you on an ongoing basis, ensuring that your CRM database remains up-to-date and reliable.
Who We Are
Managed Outsource Solutions (MOS) is a leading provider of professional outsourcing services, specializing in data entry, document conversion, medical record retrieval, customer support, and more. With more than two decades of industry experience, we have built a reputation for delivering high-quality, cost-effective solutions to businesses across various sectors. Our dedicated team of skilled professionals, advanced technology infrastructure, and commitment to excellence enable us to meet the unique needs and challenges of our clients. Partner with us and experience the benefits of outsourcing with a trusted industry leader.
Accuracy and quality
We understand the importance of accurate and error-free data in your CRM system. Our skilled data entry professionals meticulously enter and verify data to ensure the highest levels of accuracy, enabling you to make informed business decisions based on reliable information.
Timely turnaround
We value your time and know that prompt data entry is crucial for your CRM operations. Our dedicated team works diligently to deliver results within the agreed-upon timeframe, helping you stay on top of your data management tasks and maintain a competitive edge.
Data security
We prioritize the security and confidentiality of your data. We employ robust security measures and strict data protection protocols to ensure that your sensitive information remains safe throughout the data entry process. We handle your data with the utmost care and confidentiality.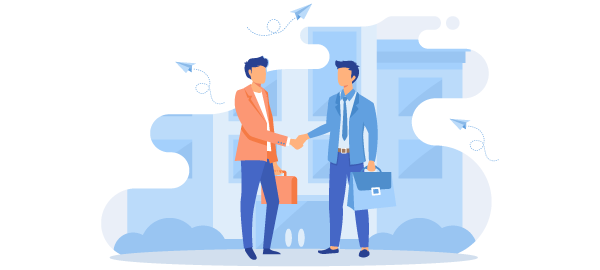 Customized solutions
We recognize that every business has unique CRM requirements. That's why we provide flexible and customized solutions that align with your specific needs. Whether you need ongoing data entry support, database cleanup, or migration assistance, our services can be tailored to suit your business goals.
Cost-effective outsourcing
By partnering with us, you can enjoy the benefits of cost-effective outsourcing. Our efficient data entry processes and competitive pricing models enable you to reduce operational costs while maintaining high-quality CRM data management.
Our CRM Data Entry Process
With our cutting-edge technology and expert team, we offer a seamless and hassle-free data entry process for your CRM system. Let us handle the data entry, while you focus on building stronger customer relationships and driving your business forward.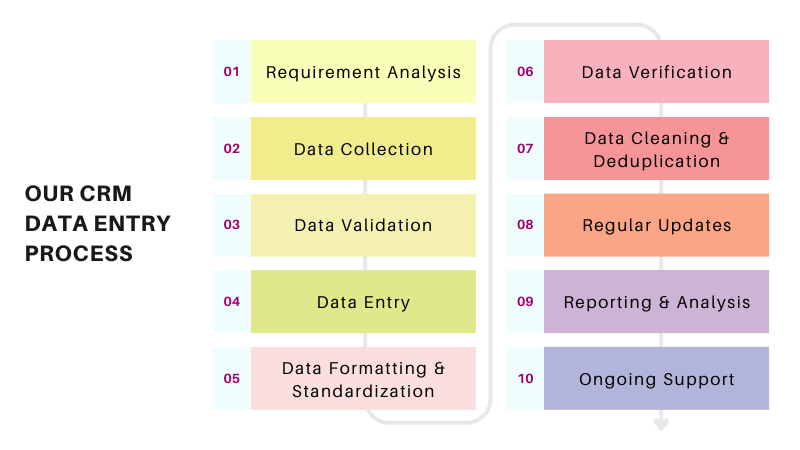 Maximize efficiency and customer satisfaction with our CRM data entry solutions!
Is CRM data entry important for businesses?
CRM data entry is crucial for businesses as it enables effective customer relationship management. By maintaining accurate and up-to-date customer information, businesses can personalize their interactions, improve customer service, target marketing campaigns, and make data-driven decisions to enhance overall business performance.
What types of data can be entered into a CRM system?
Various types of data can be entered into a CRM system, including customer contact details, demographic information, purchase history, communication records, notes and comments, lead information, and more. The specific data fields and categories depend on the unique needs and objectives of the business.
How is data entry performed?
Data entry can be performed manually by data entry specialists who input the information into the CRM system based on the provided data sources. It can also be automated through data integration tools or APIs that extract data from other systems and populate the CRM database.
Can MOS handle large volumes of data?
Yes, we can handle both small and large volumes of data. We have the necessary infrastructure, skilled personnel, and technology to efficiently process and input data into CRM systems, ensuring accuracy and data integrity.
How does MOS ensure data accuracy?
We follow strict quality control measures to ensure data accuracy. Our team performs thorough checks, validations, and verification processes to eliminate errors, standardize data formats, and maintain consistency. This includes reviewing data for completeness, accuracy, and adherence to predefined guidelines.
Is data security ensured during data entry services?
Yes, MOS prioritizes data security and confidentiality. We implement stringent security measures, including data encryption, restricted access controls, and compliance with relevant data protection regulations. Confidentiality agreements are also established to protect sensitive customer information.
Can your services help with data migration and integration?
Yes, we provide data migration and integration solutions. We can assist in transferring data from legacy systems or other databases into the CRM system, ensuring seamless data continuity and smooth transition.
Ready to optimize your CRM data management processes? Partner with MOS for efficient data entry services!
Call
800-670-2809
!
Jackie
Scheduling Coordinator, The Boston Center, 170 Commonwealth Avenue, Boston, MA 02116
Hi Jan,
The customer service and promptness with your company is outstanding. I always get a reply almost immediately and everyone I communicate with is very friendly and accommodating.
Thanks,
Dolan Dougherty
Efficient, flexible, cost-effective solution!
Sincerely,
A. Jill C. Mccrory, Esq.
LL.M. Taxation, McCrory Law Firm, 309 Tamiami Tr., Punta Gorda, FL 33950
Jan and Meghann are the BEST!!! They are responsive, professional and fast! Thank you so much for making my job easier!!!
Warm Regards,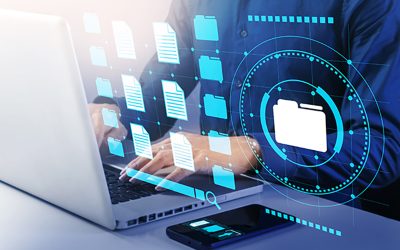 High-quality, accurate, and relevant data is essential for businesses to make informed decisions. In today's data-driven...