Bring your Designs to New Dimension with 2D to 3D CAD Conversion Services
By seamlessly transforming your 2D files into immersive 3D models, we offer a multitude of benefits that revolutionize the way you visualize and communicate your ideas. No longer confined to flat representations, our conversion services enhance your designs by adding depth, realism, and interactivity.
Say goodbye to limited perspectives and hello to a world of boundless possibilities. Whether you're an architect, engineer, or designer, our expert team ensures that your converted files retain their original accuracy while unlocking a new dimension of versatility.
By overcoming the challenges of flat drawings, our 2D to 3D CAD conversion services solves problems such as poor spatial understanding, lack of visualization, and limited collaboration. Experience the power of transformation today – contact us for more information and embark on a journey towards enhanced design communication.
Transform your 2D drawings into stunning and accurate 3D models with our CAD conversion services.
Fill out the form or call 1-800-670-2809 to speak to an expert today!
Benefits of 2D to 3D CAD Conversion
Design validation and analysis
Faster iterations and modifications
Increased design accuracy
Marketing and presentation advantage
Trust us with your 2D to 3D CAD Conversion Needs
Skilled CAD professionals
When it comes to CAD data conversion, precision and adherence to engineering standards are paramount. We have an experienced and skilled team of CAD drafters who possess an in-depth understanding of engineering standards and codes. We have years of experience in the field and provide customized solutions for architectural firms, engineering firms, construction companies, and designers.
Seamless integration
Our team works closely with you to ensure that the converted 3D models seamlessly integrate with your design and engineering processes, providing you with a streamlined transition and saving valuable time and resources.
Cost and time efficiency
Converting 2D designs to 3D can be a complex and time-consuming task, especially if you lack the necessary expertise. By outsourcing your 2D to 3D CAD conversion to us, you can save valuable resources, reduce operational costs, and focus on your core competencies. Our efficient processes ensure timely delivery without compromising on quality.
Unparalleled precision
We can convert your 2D drawings, blueprints, or sketches into highly accurate and detailed 3D models. Our experts employ manual techniques and state-of-the-art CAD software to ensure that every dimension, angle, and feature is recreated precisely and flawlessly.
Enhanced visualization
3D models offer a level of visualization that 2D designs simply cannot match. Leveraging our conversion services will allow you to showcase your projects from multiple angles, explore intricate details, and provide your clients with an immersive and realistic representation of your vision.
Data security
We prioritize the confidentiality and security of intellectual property. With robust data protection measures in place, you can rest assured that your designs and sensitive information are in safe hands.
We can help you to unlock the full potential of your designs to impress your clients, facilitate seamless collaboration, and gain a competitive edge.
Flexible and Affordable Pricing Options
Whether you have short-term needs with hourly requirements or long-term needs that demand full-time equivalents (FTEs), we have you covered. Our team specializes in providing skilled CAD conversion resources at competitive prices. Benefit from our flexible pricing plans that can result in cost savings of up to 40%.
Our 2D to 3D CAD Conversion Services
Our comprehensive 2D to 3D CAD conversion services includes the following:
Hand-drawn sketches to 2D/3D CAD
Our expert team can transform your hand-drawn sketches into accurate and precise 2D or 3D CAD models, breathing life into your concepts.
Manufacturing-ready drawings
We create detailed and precise manufacturing-ready drawings that align with industry standards, optimizing the manufacturing process.
JPG to DWG conversion
We can convert JPG files into DWG format for compatibility with CAD software, which is useful for working with or editing an image as a CAD drawing.
DWG to CAD
We can seamlessly convert your DWG files to different CAD formats, ensuring compatibility across software platforms, allowing you effortlessly collaborate and share designs with stakeholders.
Convert Solid Edge files to SolidWorks
Convert AutoCAD and Solid Edge files to SolidWorks and seamlessly transition between CAD platforms without compromising data integrity.
Converting 2D drawings to 3D models
Take your designs to the next level by converting 2D drawings into immersive and realistic 3D models with professional expertise.
Sheet metal and fabrication drawings
Our conversion services include sheet metal and fabrication drawings, providing you with accurate representations of your designs.
Detailed assembly drawings with bill of materials
Our team excels in creating detailed assembly drawings that showcase the components and their relationships.
Concept to 2D working drawings
Our conversion services translate your design concepts into comprehensive 2D working drawings, refining your ideas and bringing them closer to reality.
PDFs to 2D CAD drawings & 3D models
We can convert your PDF files into editable 2D CAD drawings or 3D models. This can preserve critical design information and unlock its potential for further modifications.
We work with the best software to ensure accurate conversion of your ideas, sketches and drawing concepts to 3D. Based on the needs of your project, we can deliver output in various formats such as:
2D to 3D CAD Conversion Process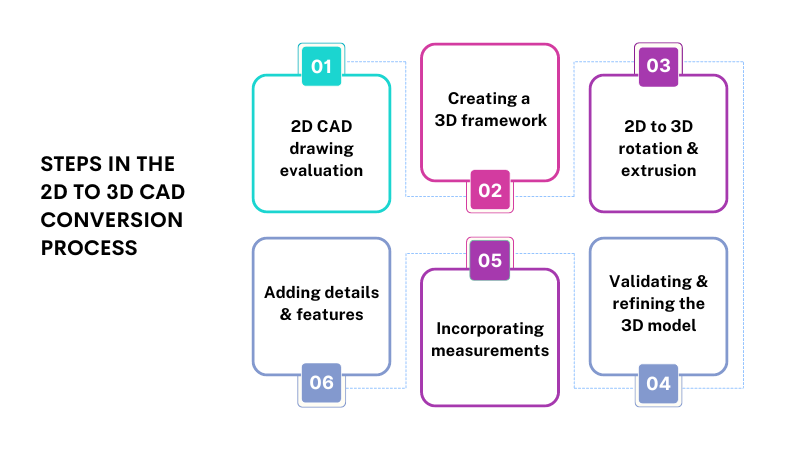 Transform your 2D designs into immersive 3D models
Contact us today to discuss your specific requirements and embark on a transformative journey with our
CAD conversion expertise.
2D to 3D CAD Conversion FAQs
What are the benefits of going from 2D to 3D CAD?
2D to 3D CAD conversion will provide a more realistic representation of your designs, allowing for better visualization, analysis, and simulation. It can improve communication and collaboration among team members, clients, and stakeholders. 3D modeling shortens design cycles, streamlines manufacturing processes, and accelerates product introduction.
What types of files can be converted from 2D to 3D CAD?
At MOS, we support the conversion of various file formats, including but not limited to PDF, TIFF, JPEG, DWG, and DXF. Our experienced CAD professionals can convert your files into accurate and high-quality 3D models.
What software do you use for CAD conversion?
We utilize industry-leading CAD software such as AutoCAD, SolidWorks, Fusion 360, or CATIA for conversion. Our experts are proficient in these tools and can efficiently convert your 2D drawings into precise and detailed 3D models.
Can you add additional details or modify the 3D models during the conversion process?
Absolutely. Our skilled CAD professionals can incorporate additional details, modify dimensions, and add features to the 3D models based on your requirements. We ensure that the resulting 3D models accurately represent your design intent and meet the desired specifications.
How long does the conversion process take?
The time required for the conversion process depends on the complexity and size of your project. We strive to deliver efficient and timely services, and our team will provide you with a project timeline based on your specific requirements.
How do you ensure the accuracy of the converted 3D models?
Our CAD professionals meticulously review 2D drawings and cross-reference them to ensure the accuracy of the converted 3D models. We also have a robust quality control process in place to maintain the highest level of accuracy and precision.
Is my data secure during the conversion process?
We prioritize data security and confidentiality. We have strict data protection protocols in place to ensure that your files and information are safeguarded throughout the conversion process. We can also sign Non-Disclosure Agreements (NDAs) for added protection, if required.
Have any further questions about our
CAD conversion
services? Contact us at
800-670-2809
!
Marisa Corbett
Speedy and great customer service! Great company
Bobbie Jo Turley
Your service is prompt, accurate and reliable. Thank you!
Dolan Dougherty
Efficient, flexible, cost-effective solution!
Sincerely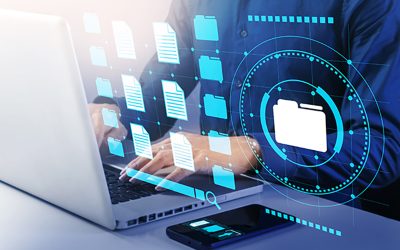 High-quality, accurate, and relevant data is essential for businesses to make informed decisions. In today's data-driven...