Transform Your PDFs with our Expert PDF to CAD Conversion Services
Looking to convert your PDF files into fully editable and precise CAD files? Our experienced team is dedicated to delivering top-notch PDF to CAD conversion services to transform your files into fully editable and precise CAD formats.
Whether you require 2D or 3D conversions, our PDF to CAD conversion services utilize advanced tools and techniques to ensure flawless results. We pay meticulous attention to detail, maintaining the integrity of your original designs and providing accurate dimensions, annotations, layers, and more.
Whether you're in the architectural, engineering, construction, entertainment, real estate, or industrial sector, we have the expertise to meet your specific needs.
Convert Your PDFs to Dynamic CAD Formats!
Speak to an expert to learn how to revolutionize your processes!
Call 800-670-2809!
Benefits of PDF to CAD Conversion
PDF to CAD conversion offers numerous benefits for businesses and professionals in various industries. Here are some key advantages of converting PDF files into CAD drawings:
Editable and modifiable
CAD files provide full editability, allowing you to make changes, add details, and modify the design as needed. This flexibility enables you to collaborate with team members, make revisions, and adapt the drawings to meet project requirements.
Layer management
CAD drawings allow for organized layering, which simplifies the management and manipulation of different elements within the design. With layer control, you can toggle visibility, edit specific components, and customize the appearance of the drawing with ease.
Compatibility with CAD software
CAD drawings are compatible with a wide range of CAD software programs. By converting PDF to CAD, you gain access to powerful CAD functionalities, allowing seamless integration with other software tools and enabling collaboration with CAD professionals.
Printing and plotting
CAD drawings offer high-resolution printing and plotting capabilities. Converting PDF to CAD ensures that you can generate high-quality prints, scale the drawings accurately, and produce detailed hard copies for presentations, construction plans, or manufacturing purposes.
Enhanced design precision
CAD software offers greater precision and accuracy compared to PDF files. Converting PDF to CAD ensures that measurements, dimensions, and annotations are preserved and can be easily manipulated, resulting in more precise and reliable designs.
Time and cost savings
Converting PDF to CAD can save time and reduce costs associated with recreating drawings from scratch. By converting existing PDF files into CAD, you can reuse design elements, templates, and standard components, accelerating the drafting process and minimizing errors.
3D modeling capabilities
CAD software provides robust 3D modeling capabilities, allowing you to create complex and realistic representations of objects, structures, or products. Converting PDF files to CAD enables you to leverage these 3D modeling features, opening up possibilities for visualization, simulations, and virtual prototyping.
Long-term archiving
CAD files are well-suited for long-term archiving and preservation. By converting PDF files to CAD, you can store your designs in a format that is easily accessible, searchable, and can be retrieved for future reference or modifications.
Who We Are
Managed Outsource Solutions (MOS) is a leading provider of comprehensive outsourcing services. With a commitment to excellence and customer satisfaction, we have been serving clients worldwide for 2 decades. Our team consists of skilled professionals with expertise in various domains, allowing us to deliver exceptional solutions tailored to meet our clients' unique requirements. We leverage advanced technologies, streamlined processes, and industry-best practices to ensure efficient and high-quality services across a wide range of industries.
With a focus on building long-term partnerships, we strive to exceed expectations and provide exceptional value to our clients. Learn more about our capabilities and experience the MOS difference by visiting our website.
Why You Should Work with MOS
Timely and cost-effective solutions
Cost savings of 30% to 40%
Stringent data security protocols
High levels of quality control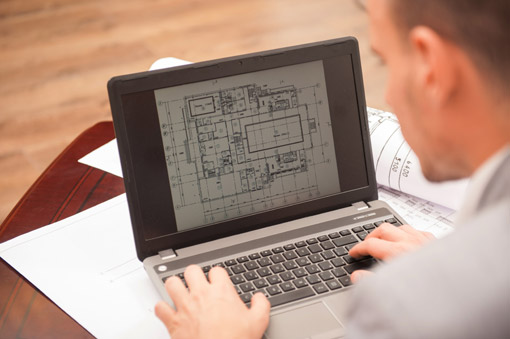 We understand the importance of meeting deadlines, and our streamlined processes ensure efficient turnaround times without compromising on quality. Our competitive pricing options make our services accessible and affordable for businesses of all sizes.
Our comprehensive PDF to CAD conversion services cater to a range of industries, empowering AEC professionals to efficiently plan and execute their projects.
Flexible & Customizable Pricing Options
Whether you have short-term needs with hourly requirements or long-term needs that demand full-time equivalents (FTEs), we have you covered. Our team can provide comprehensive CAD conversion services at a highly competitive price. We offer flexible pricing plans with cost savings up to 40%.
Elevate your designs to the next dimension
Speak to an expert to learn how our seamless and precise CAD conversion process can enhance your design workflow and productivity
Our Wide Range of CAD Conversion Services
Our other CAD conversion services include:
PDF to 2D CAD conversion
Converting 2D PDF drawings, such as architectural plans, electrical schematics, mechanical drawings, or civil engineering designs, into editable 2D CAD files. This ensures that the drawings can be modified, updated, and used in CAD software.
Dimension and scaling
Ensuring accurate dimensioning and scaling of the converted CAD files to maintain the original design intent and measurements from the source PDF.
Text and annotation extraction
Extracting text content, symbols, labels, or annotations from the PDF files and converting them into editable CAD text entities. This allows for easy modification, editing, or annotation within the CAD environment.
Quality assurance and accuracy checks
Conducting thorough quality checks and verification processes to ensure the accuracy of the converted CAD files. This includes validating dimensions, alignments, layers, text content, and other elements against the source PDF.
PDF to 3D CAD conversion
Transforming 3D PDF models, such as product designs, industrial models, or architectural renderings, into 3D CAD formats. This enables further manipulation, analysis, or integration of the models in 3D CAD software.
Layer and object organization
Structuring the converted CAD files by organizing layers, groups, or objects based on the information extracted from the source PDF. This helps in maintaining the hierarchy and organization of the drawings for efficient editing and management.
Line types and styles
Applying appropriate line types, line weights, and styles to match the original design aesthetics and representation in the converted CAD files. This ensures visual consistency and clarity in the drawings.
Customization and additional services
Providing customized solutions based on specific project requirements, such as layer naming conventions, title block insertion, block library creation, or any other additional CAD services.
PDF to CAD Conversion Process
Our typical process for converting PDF files to CAD drawings include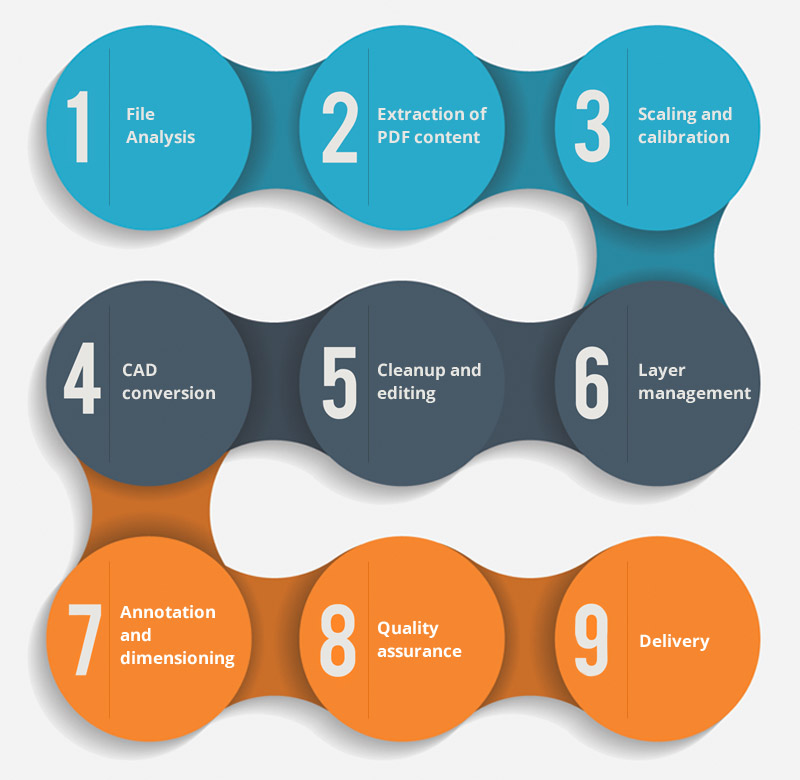 What is PDF to CAD conversion?
PDF to CAD conversion is the process of transforming PDF files, which are static and non-editable, into CAD (Computer-Aided Design) drawings that can be modified, edited, and used in various design and engineering software.
Why should I consider outsourcing PDF to CAD conversion?
Outsourcing PDF to CAD conversion offers several benefits, including cost savings, access to skilled professionals, faster turnaround times, and improved accuracy and quality of CAD drawings. It allows you to focus on your core business while entrusting the conversion process to experts.
What types of PDF files can be converted to CAD?
Our PDF to CAD conversion services are available for various types of PDF files, including architectural drawings, engineering plans, construction blueprints, mechanical drawings, electrical schematics, and more.
What CAD formats can you deliver?
We can deliver CAD files in commonly used formats such as DWG (AutoCAD Drawing), DXF (Drawing Exchange Format), DGN (MicroStation Design), and more. We can accommodate specific format requirements based on your preferences.
How do you ensure the accuracy of the converted CAD drawings?
Our experienced team follows a meticulous process, including file analysis, content extraction, scaling, cleanup, layer management, and quality checks, to ensure the accuracy and precision of the converted CAD drawings. We have stringent quality control measures in place to deliver reliable results.
How do you handle confidential information during the conversion process?
At Managed Outsource Solutions, we prioritize data security and confidentiality. We have strict protocols and robust data protection measures in place to safeguard your sensitive information. Our team members sign non-disclosure agreements, and we ensure secure file transfer and storage throughout the project.
Can you handle large volumes of PDF files for conversion?
Yes, we have the capacity to handle projects of any size, including large volumes of PDF files. Our scalable infrastructure and experienced team enable us to efficiently manage high-volume projects while maintaining quality and meeting deadlines.
Have any further questions about our PDF to CAD conversion services? Contact us at 800-670-2809!
Marisa Corbett
Speedy and great customer service! Great company.
Bobbie Jo Turley
Your service is prompt, accurate and reliable. Thank you!
Dolan Dougherty
Efficient, flexible, cost-effective solution!
Sincerely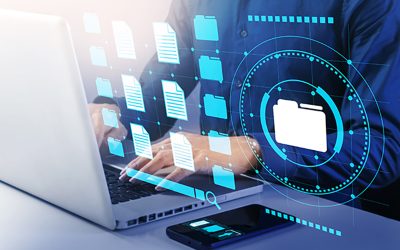 High-quality, accurate, and relevant data is essential for businesses to make informed decisions. In today's data-driven...