Earlier, microfilms were frequently used by most organizations for saving valuable storage space. Microfilming involves making images of any volume of documents to store them easily on photographic films. With a shelf life of several hundred years, microfilms have the ability to keep a lot of information in a small place. Organizations that are still relying on expensive, outdated microfilm readers to view their film archives, can benefit from microfilm scanning.
Advancements in microfilm scanners are now helping professional record managers to access their microfilm records. Individuals can scan an entire roll of microfilm and store it for fast and future retrieval. Companies prefer microfilm scanning mainly for historical preservation, to secure files from flooding and fires, to retrieve files faster in seconds, free up storage space, save costs of storage, archiving, and searching for data and use more advanced data management system. Professional microfilm scanning services can help to digitize both microfilms and microfiches.
According to a report from Market Search Engine, the global microfilm scanners market will reach US$ 200 Million by 2027, growing at a CAGR of 0.7% during the forecast period 2022-2027. By microfilming, all important documentary records to perpetually archive them in a durable format, businesses can determine their longevity and ensure easy availability. With proper conversion services, the original microfilms always remain safe and away from any damage.
Types of Microfilms
Microfilm comes in rolls that are either 100 feet or 215 feet long. Commonly used microfilm formats are – 16mm and 16mm film roll. While 16mm films are commonly used to store office-sized A4 documents such as meeting minutes, building permits, financial records like checks, maintenance records, accounts records, HR & personnel records, and other important documents, 35mm film roll is the standard size of microfilm used for oversize documents such as engineering drawings, deed books as well as newspapers.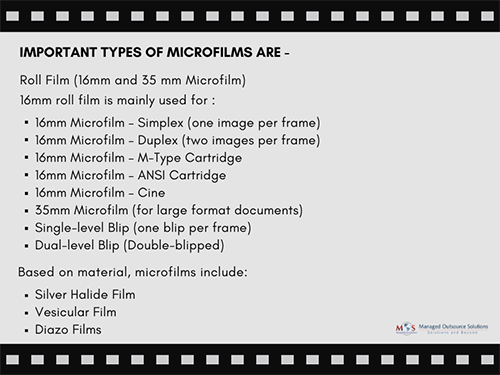 Microfilm Scanning Process
An optical scanner is used to capture the microfilm in its digital version. Microfilm scanning involves key steps such as –
Collecting microfilms and tagging them with UID (unique ID) barcodes
Microfilm preparation with film inspection and density checks
Loading scanning devices with microfilms and converting into electronic images
Framing each image after scanning to capture the actual image
Saving the digital image output in the desired formats (JPG, PDF, etc.)
Performing QA checks to ensure image scan quality and accuracy
Applying automated optical character recognition (OCR) for editing
Naming and organizing digital files for faster indexing
New digital files are integrated and indexed in an electronic DMS
After extracting and converting the files, mixed-media shredding is used to ensure that the old physical copies are safely disposed and that you remain compliant with all data protection laws. To convert your microfilm archives into digital files, consider utilizing professional document conversion services. Professional document scanning companies use strict quality control processes to handle even degraded films and restore them so that they can be scanned. While choosing a microfilm scanning partner, make sure to consider key factors such as – expertise in the industry, successfully completed projects, costs involved, skilled resources, turnaround time, quality control process, etc. Make sure to go through the company's customer testimonials.