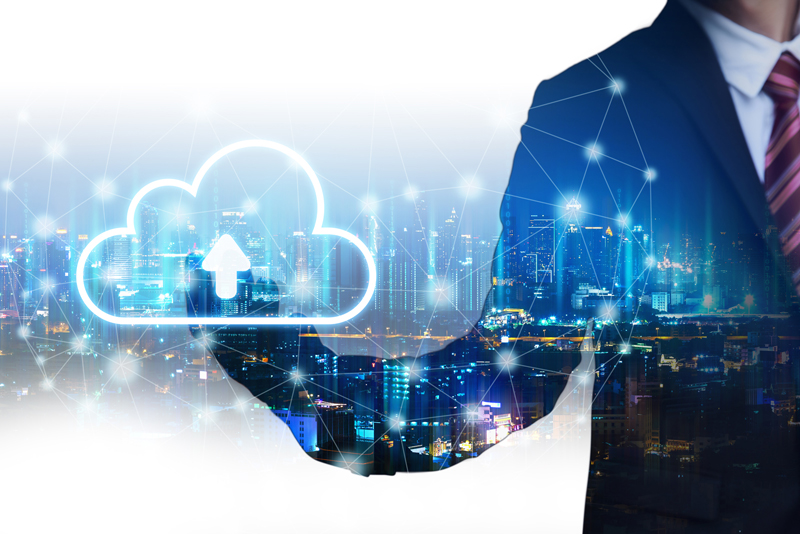 What was initially brushed off as a normal flu has now soared into a global pandemic that has affected almost every corner of the world. COVID-19 has exposed the global infrastructure, strategies of our policymakers and also how challenging it is to fight a new virus without a suitable preventive vaccine or medicine. As the new corona virus is spreading rapidly across the globe and throughout the United States, the government has declared shutdowns and social distancing to stop further positive cases. In an effort to maintain operations during the COVID-19 pandemic, experts in organizations have started searching for all possible tools at their disposal and this has brought cloud computing technology to the forefront for many organizations in terms of reliability, scale to handle and store massive database, security and flexibility. The technology also enhances the workflow efficiency in organizations. Along with document conversion, organizations are also adopting cloud storage facility for storing valuable data, which increases the significance of outsourced solutions.
Cloud computing has enabled online education, work, meetings and conferences, people interactions, shopping etc in the comfort of our homes. The business of renting computing power has transformed into an enormous industry with Amazon and Microsoft leading the way. For instance, cloud computing services giant Microsoft has issued a statement claiming that in Italy, one of the worst-hit countries and the new epicenter for COVID-19, it has seen a 75 percent increase in the use of its cloud services in areas from team calling and meeting monthly users over one month. Online streaming platform Netflix too witnessed a spike of 66 percent in Italy. In addition to the adoption of the cloud, the shift to working from home has also given cloud-based services/applications a significant boost.
Recognize the Significant Role of Cloud Computing
Right from games to productivity apps and the software used by businesses and institutions, cloud computing plays a vital role –
Cloud computing brings the digital world home – Services such as Amazon Web Services (AWS), Microsoft Azure and Google Cloud facilitate to continue digital lives through applications like Zoom Video, Slack, and Netflix. Without AWS people struggle to enjoy Prime Video or gaming platforms like Twitch as we move to digital forms of communication and entertainment. According to the New York Times, downloads of Netflix's app – a proxy for traffic from the streaming site – jumped 66 percent in Italy, according to data from Sensor Tower (an app data company). In Spain, they rose 35 percent. In the United States, where Netflix was already popular, there was a 9 percent increase.
Enables rapid data – From big data to artificial intelligence, rapid data systems power things such as research, analytics, and manufacturing. Cloud technology platform coordinates endpoints together, makes networks uniform, and does these tasks seamlessly so that solutions can quickly emerge for everyday problems and challenges. In today's world, driving back and forth to the supercomputer isn't a necessity anymore when the cloud itself is a massive supercomputer.
Supports Health Services – According to a report by West Monroe Partners (a national management and technology consulting firm based in Chicago, US), the healthcare industry leads the finance and even the energy and utilities sectors when it comes to cloud use. In fact, many hospitals, healthcare institutions and other government health service agencies have digitalized and brought their data to the cloud platform with an objective to optimize services and maximize patient outcomes. This early cloud adoption is a big benefit in the fight against the pandemic as it improves the ability to analyze relevant data. Cloud computing is more than just data storage as it also lowers IT costs for health facilities as they can avoid the need to train personnel, purchase equipment, and provide physical space for the IT people and hardware. Additionally, it eases interoperability by enabling data and system integrations. Furthermore, the cloud supports telemedicine. Remote data accessibility and interactive online tools make it possible for physicians and other health workers to provide services from a distance. Telehealth is becoming more useful as people try to avoid personal interaction with other people. It is useful for diagnosing certain types of conditions as well as for the processing of healthcare claims.
Facilitates Remote Working -Work from home option has become a new trend amidst the wake of the pandemic and this has highlighted the benefits of using cloud computing with a large number of companies increasingly adopting the same. The option of working remotely from a place has led to an unexpected spike in cloud usage making it more expensive and comfortable for companies to manage their internet infrastructure. In fact, companies like Microsoft, Amazon and Google – which are the three major players when it comes to cloud computing platforms may be hugely benefiting from the recent shift to work from home across the globe. These companies have been discounting their services, whereby they offer underlying infrastructure on rent to corporate networks. For instance, Microsoft has been pushing its messaging and collaboration tool – Microsoft Teams – which is a direct competitor to Slack. The total number of users on this messaging tool has increased by 37 percent last month, with at least 900 million meetings and call minutes every day.
Enabling Dependable Online Commerce – In most cases, all online retailers rely on the cloud to operate especially as they face a surge in transactions. Cloud hosting solutions are highly scalable, so a sudden rise in traffic is unlikely to disrupt business. In addition, cloud hosting providers are more equipped to handle cyber-attacks.
Modern organizations always rely on digital infrastructure to support their business. With the onset of restrictions COVID-19 has created, more companies are recognizing the unquestionable value that cloud platform delivers. The benefits of managed cloud platforms like – improved network performance, greater data center resiliency, enhanced security, and reduced operational costs, are no longer seen as just marketing hypes – as they work in real time. Improving the cloud's security has become a necessity due to evolution of cyber-attacks with more organizations turning to cloud-based technology solutions. To keep hackers away, security teams should implement measures to meet the increased regulatory demands. Security of information must be given top priority in all activities and processes, even when using outsourced professional data conversion services or any other such solutions.
One of the most incredible aspects about cloud-computing technology is the flexible options they offer, even more so now in this time of global crisis, when companies search for or want solutions which they can implement easily and test quickly. A vast, never-ending network of cloud-based systems enable the world around us to stay up and running in the midst of this pandemic, with very few hiccups. The rapid rise of telemedicine, an industry wholly enabled by secure cloud technologies – is a perfect example of the same.