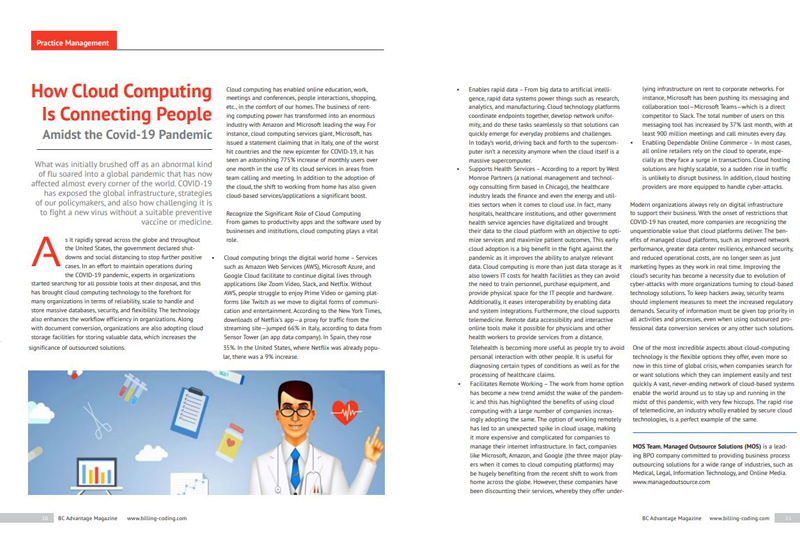 Managed Outsource Solutions (MOS) is glad to announce that its article titled "How Cloud Computing Is Connecting People Amidst the Covid-19 Pandemic" is featured in the July-August Issue of the prestigious online publication BC Advantage Magazine. The article discusses the role of cloud computing in helping organizations stay up and running even as the world grapples with the pandemic.
MOS offers business process outsourcing (BPO) solutions for a wide range of industries, such as Medical, Legal, Information Technology, and more. Focused on delivering client-centric BPO solutions, MOS is led by a team of professionals with extensive experience in helping organizations manage and leverage their documents and data efficiently.
The company's blog provides insight on a wide variety of subjects of topical interest such as data conversion and digitization, data management, and the Internet of Things (IOT), to name a few. With more than half the world working from home due to the coronavirus pandemic, cloud computing is a topic that is more relevant today than ever before.
The MOS article provides insight into how cloud computing brings the digital world home, enables rapid data networks to help address everyday problems and challenges, supports health services, facilitates remote working, and promotes highly scalable, secure solutions for ecommerce. Managed cloud platforms offer improved network performance, greater data center resiliency, enhanced security, and reduced operational costs. The article highlights the significance of widespread adoption of telemedicine, an industry wholly enabled by secure cloud technologies.
MOS provides a wide range of data conversion solutions that lay the foundation for businesses looking to use the cloud as a platform for digital transformation. The company's data and document conversion services are focused on making data both accessible and actionable, enabling its clients to make faster decisions, improve customer experiences, and optimize business processes.
Read our Press Release