In this digital era, DMS or document management system has become indispensable in most business organizations. It involves the use of a computer system and software to store, manage and track electronic documents and electronic images of paper-based information captured using a document scanner. DMS allows users to create, store and share documents from standard forms and contracts to one-on-one correspondence. Its features such as image capture, document search and access management enable users to navigate business documents with much ease. The companies that have already implemented DMS agree that working with the digitized documents have made their work effortless. It is not just organizations, but individuals also who want to secure their documents utilize document management system for their personal use. Some of the benefits of document management software include easy access to documents anywhere, at any time; collaboration through file sharing; protects business critical documents from unauthorized access, cybercrime, ransomware, and natural disasters; and reduces costs related to storing physical documents.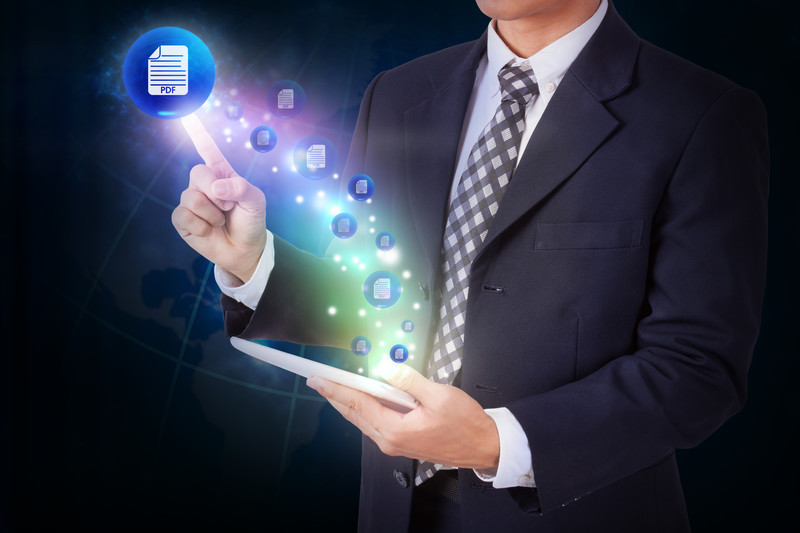 How does a DMS actually work?
Document scanning/capturing -To digitize your documents, you must scan all the old paper documents into the DMS. This can be done using a high-speed scanner. However, outsourcing this task to a professional document scanning company helps save time as well as cost and allows your employees to focus on core aspects of the business. In addition to that, DMS can capture any software-generated reports, e-mails and system generated results and save them for future use.
Sorting – In this step, the documents are sorted according to their specific purpose. With the right keywords these records are indexed. This enables anyone searching for a file among the saved documents can type the particular keywords and locate the file within seconds. Indexing can be done either using smart processing software or through enterprise resource planning (ERP) solution, zonal optical character recognition (OCR) or bar coding.
Storing – DMS must have central document storage, as it is crucial for managing and retaining documents that come from all over the place.  In fact, business documents and reports are used by managers to make decisions every day. Therefore, the documents must be accessible from anywhere at any time. A DMS can be self-hosted or on-premises or cloud-based. In the former, documents are stored in the organization's server and the organization is responsible for the security and maintenance of the documents. In this case, saving and archiving of documents are done offline. In a cloud-based DMS system, the processes are all done online. The data is saved in the cloud, and even those working remotely can access the required files with an active internet connection. Here, the cloud service provider or host is responsible for the security and maintenance of the documents and data. Central document storage should be used for both static content as well as dynamic content. Static content comprises the documents that your organization usually creates every day such as invoices and purchase orders. Dynamic content comprises documents like forms, web pages, and emails.
Retrieving – Documents are retrieved quickly and easily. DMS includes search features that enable you to retrieve a document using keyword search. This is due to indexing. By using the right index keys, you will be able to retrieve a document.
Document Distribution – DMS enables you to distribute documents to customers, vendors and even employees via e-mail or using any file transfer process.
A DMS system offers excellent security. This includes privacy control, password protection for the files from folder level, and encrypting the documents. It ensures security in two ways. First, DMS includes version control. With version control, you can make revisions by checking a document, and also revert those revisions if they are made in error. Second, DMS incorporates permission which allows you to control access. You can determine who can access what documents and define user rights to author, revise, view, route, or delete documents.
Why DMS needs to have PDF compatibility?
PDF files are the globally accepted file format for digital documents.  PDF documents provide faster access as well as great efficiency and are more secure than any other file format.  You can password protect your  PDF files so that only the author will be able to access, modify or print the document. In many ways, PDF is similar to the MS word files, but a PDF file can only have a scanned image in it.  It is also possible to save an image of a written file as a PDF file.
As PDF files are universally accepted, every company should implement PDF-compatible document management system. This will help the company's workflow to move more smoothly.
 What features to look for when buying a PDF-compatible DMS system?
Three primary features that you need to check when getting PDF document management are:
Scan to PDF option should be there to scan all other existing documents in PDF format.
Virtual printer, which will be able to virtual print any other content to PDF format and store it for future use.
DMS should be able to act like document scanning software, so that when scanning the documents, it can directly convert it to a PDF file.
Apart from this, PDF document management comes with other attractive features.  These include:
PDF document management allows the user to use their own keywords.  This makes it easy for them to remember the keywords while searching for a file.
Click to preview feature may be incorporated that allows users to explore the document without reading the entire content.
PDF file can contain only pictures in it; hence the picture can act as the thumbnail to make the user remember what the file actually contains.
PDF editor is the new addition to the extra features of PDF document management.  So, if scanned documents have to be added to an existing PDF page or multiple PDF documents have to be accumulated in one single document, PDF editor will prove useful.
A DMS allows organizations to maintain, update, and secure all their documents under one system. Implementing a reliable document management system will help the company improve and manage the workflow and reduce the usage of paper. Reliable document scanning companies can help meet your bulk document scanning requirements.