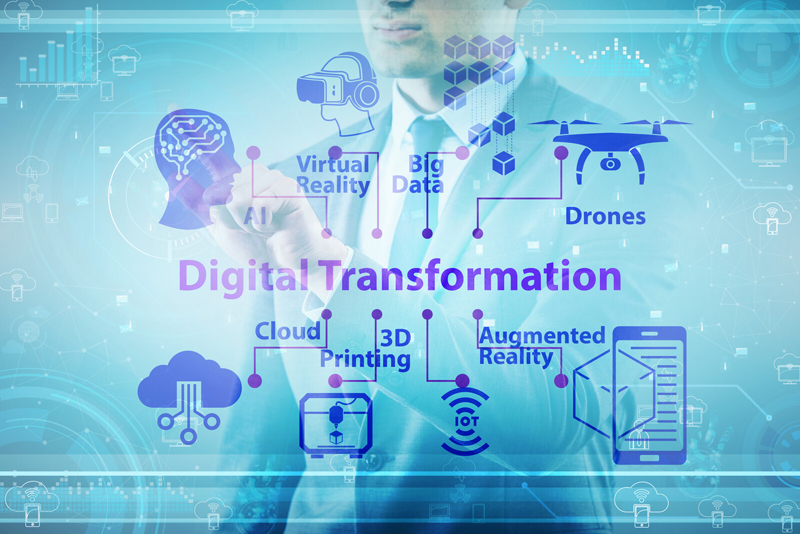 Digital transformation enables businesses to modernize processes and drive rapid change. To survive in today's business world, many industries are embracing digitization, a process which involves integrating digital technologies, processes and competencies across all levels and functions in a staged manner. Document conversion services help businesses take the first steps towards digital transformation by converting their paper documents into electronic format. While digital transformation has become a necessity to stay competitive, it needs to be executed effectively.
Digital transformation has changed the way how company interact with customers, clients, employees and business partners. The pace of digital change is rising exponentially, making it very difficult to maintain a position of industry leadership. But only a few companies are able to combine right tools and people to implement the process and utilize big data and analytics to the fullest. Most organizations make huge investments in the latest technology in the initial stage of their journey towards digital transformation. Innovations in technology are growing but many manufacturers find that their product development system are not able to support the innovations.
The 2019 Product Life Cycle Management Market Analysis Report by consulting firm CIM data notes that complexity and digitalization are driving major trends in the product engineering discipline, including product innovation platforms, modelling and simulation platforms, model-based systems engineering, and democratization of modelling and simulation. These critical business strategies will bring significant changes in business processes. However, the success of any product development software is not based on the quality of the applications alone, but also the end-to-end platform's ability to adapt to the changing business processes and evolve with technical trends.
According to market research firm International Data Corp., digital transformation spending will reach $2.3 trillion by 2023. A Technavio report says that the digital transformation market is expected to grow by 129.64 billion by 2020- 2024. This means the businesses are expected to come up with next generation capabilities. However, most of the time, the majority of digital transformation project fails. Here are the most common reasons why digital transformation fails:
Considering digital transformation as a onetime process: Assuming that digital transformation project is a one- time process is one of the biggest mistakes that business make. This leads businesses to adopt a rigid product development ecosystem that cannot support the new wave of innovations in manufacturing. Having a rigid technology stack can lead to technical debt and the inability to quickly adapt and upgrade to new technology and business needs. If most of your IT budget is spent on maintaining the legacy system that keep your organization running at status quo while the rest of the market pushes ahead, then your ability to transform will decline. Several companies are suffering from technical debt. To sustain transformation and continue evolving their products and business strategies, manufacturers should have flexible product development systems.
Not choosing the right vendor: Ensuring standardization across the organization with a vendor's tool set helps engineers overcome the limitation of a system. Domain experts are important for product development and their ability to innovate depends on their freedom to choose the right set of tools. Product development technologies that are ready to integrate new tools to the existing tools help minimize the burden on digital transformation on the domain expert and eradicates workaround that thwarts the transformation process.
Digital transformation gets stuck as the pilot project: Digital transformation begins as the pilot project, but it doesn't end there. Technology applied to limited use cases in the pilot stage and can't grow beyond its scope is incapable of expanding digital transformation process across the organization. Limiting reuse, delaying information flow and obscuring traceability can detain digital transformation.
Thinking that digital transformation is someone else's job: Often companies believe that digital transformation process is assigned to one department or the vendor. Bring a change in the organization can be challenging for business organization. Engineers should be given more access to information and they should be allowed to freely change, expand and extend the company's product development technologies. This can be done with integration, configuration and customization or even by authoring new implications. Selecting tools with open architectures, connectors, application program interfaces and authoring environment helps teams manage and control the digital transformation project and teams.
Having too much data but no information: Digital transformation requires more knowledge and not more data. Having servers full of data does not make sense to your team. This is because value resides in knowledge acquired from the data and this is delivered to internal and external teams who can use it to improve your products and business strategies. Analyzing the product data requires gaining insights from the context. A clear understand of the connection between processes in the product life cycle and data that are generated is essential to analyze product data.
Having all latest technology and machinery is not enough for digitization to succeed. Having a proper strategy or foundation that supports digital transformation and reviewing the entire business model is essential. Digital transformation is important for any business to keep up with fast pace of innovation. To support this changing process there should be flexibility during the deployment as well as thorough the process. In the case of digital transformation, leadership starts with the CEO who should be willing to invest in new innovative ways of interacting with the customers. Leadership must introduce a culture that supports the business operations under the digital strategy.
Reliable data conversion service providers provide organizations with dedicated support for their digital transformation process.