Whether during a vacation, or at home, the summer season offers more time to read books from your favorite writers. E-books offer many benefits than printed books, mainly because readers get to enjoy any number of books or novels in just one device, let that be an e-reader, tablet or smartphone. Many reliable brands such as Amazon, Kobo and Barnes & Noble now offer waterproof e-readers that increase the comfort for reading at the beach in summer or even in the bathtub. Any printed books can be converted into digital formats that can be read on all devices using reliable eBook conversion services.
Here's a list of top 5 waterproof e-readers.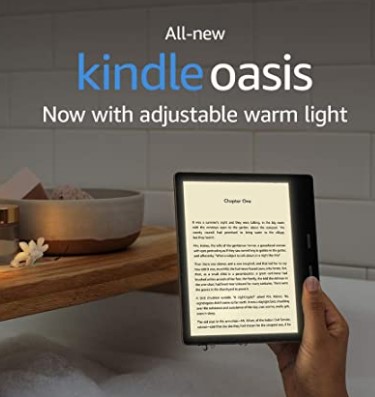 This waterproof e-reader meets the International Electrotechnical Commission (IEC) Standard 60529 rating of IPX8 and can protect against immersion in up to two meters of freshwater, for up to 60 minutes. Its 7 inch E Ink Carta HD capacitive touch screen comes with a resolution of 1680 x 1264 and 300 PPI. Made of glass and high grade aluminum, the device has a front-lit display and is the first Kindle with a color temperature system. It features a color temperature system that adds orange LED lights and helps mute the front-lit display. Its adjustable warm light provides a richer reading experience for any users in any light. Other features include a sleek ergonomic design with page turn buttons and Kindle-exclusive fonts for maximum readability.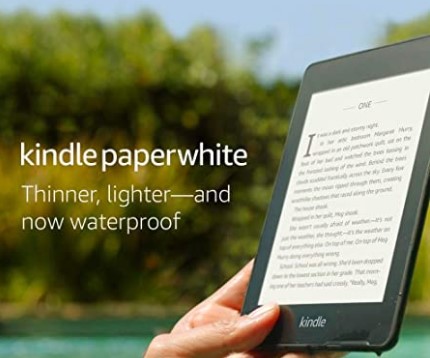 This is the first ever thinnest and lightest Kindle e-Reader that features 300 ppi glare-free display, which allows to read like real paper even in bright sunlight. It is specifically designed to take advantage of the amazing Kindle books ecosystem. This 10th generation device was introduced in 2020 and its built-in adjustable light allows reading indoors and outdoors. It is IPX8 rated to protect against accidental immersion in up to two meters of fresh water for up to 60 minutes and 0.25 meters for 3 minutes in seawater.
Barnes and Noble Nook Glowlight Plus 7.8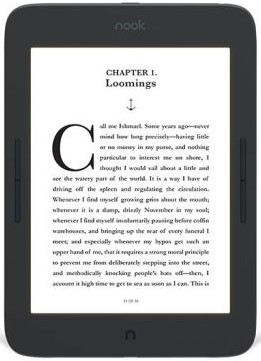 This is another advanced device for a worry-free waterproof reading. With NOOK's most advanced Ambient (Always-On) GlowLight technology, users can enjoy reading on an evenly-dispersed light. Its largest display glare-free, scratch-resistant screen makes reading easy. This device's soft touch finish makes it easy to grip and comfortable to hold for hours at a time. IPx7 certification allows the device to be submerged in 3ft. of water up to 30 minutes. The device can hold thousands of books with 8GB memory and 6.4GB for NOOK Store content and side-loaded content, and features easy-to-adjust fonts and text size.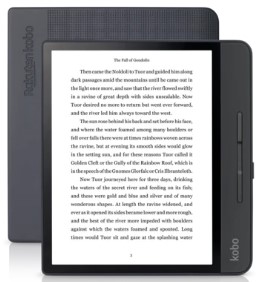 This ergonomically designed, lightweight e-Reader with waterproof reliability allows adding eBooks or any documents wirelessly. Waterproof with certified IPX8 rating, it can withstand submersion for up to 60 minutes. It features 8.0" HD E Ink Carta Mobius screen, making it even lighter to hold comfortably and read for hours. Its Dropbox capabilities allow accessing from public library via Overdrive.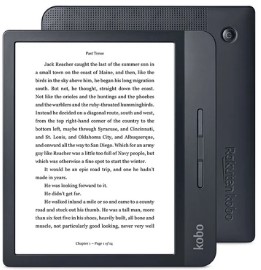 Designed for perfect reading, this e-Reader with a 7″ glare-free HD screen, landscape/portrait mode and a more comfortable ergonomic design allows reading in direct sunlight, just like real paper. No worries about unexpected water spills, as the device meets IPX8 rating requirements and can stay waterproof for up to 60 minutes in up to 2 meters of water. Its adjustable brightness and screen gradually reduces blue light which limits eyestrain. Readers can also enjoy 8 GB of on-board memory and 11 different font types and over 40 sizes.
Publishers, organizations and writers can rely on professional eBook conversion companies to converts printed or digital books into e-books that can be read on popular e-readers such as Amazon Kindle, Sony Reader, iPad/iPhone, Kobo Reader, and Nook Reader.