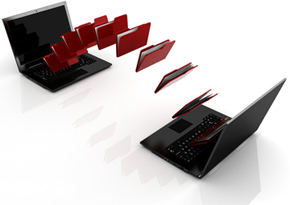 While outsourced solutions such as bulk document scanning service is available to help firms meet their documentation tasks, file sharing in organizations is a matter of concern. Many organizations depend on file shares to allow efficient communication among employees, to save files in a central repository for future use, or to archive files on an agency server. Secure information sharing is crucial for government agencies and the public sector too, as they have to deal with diverse confidential data.
File sharing sites have been a particular target for hackers as such sites typically contain a large number of information-rich documents all in one place. Two types of file sharing are peer-to-peer, and file sync and sharing services. While peer-to-peer is based on application architecture, file syncing is cloud-based and can be accessed using a website or mobile app like Dropbox and Google Drive.
Though numerous file sharing sites such as DropBox are widely used, sensitiveness of the documents shared should be of concern. Before sharing any documents, videos, or other information via a file sharing site, organizations should especially consider that their tool accommodates these features –
Security features – The more security capabilities your tool has, the less likely sensitive information will be compromised. Make sure that the file sharing tool you choose has a number of security features to ensure sensitive information:

encryption of files in transit and at rest
role-based access
file/folder locking and expiration
watermarking
antivirus scanning
integration with single sign on, and
data loss prevention solutions

Cloud with FedRAMP authorization – Though cloud solutions are efficient platforms that allow faster processing, it is recommended that any cloud service provider used by a government agency is authorized by the Federal Risk and Authorization Program. The Federal Risk and Authorization Management Program, or FedRAMP, is a government-wide program that provides a standardized approach to security assessment, authorization, and continuous monitoring for cloud products and services. This program aims at accelerating the adoption of secure cloud solutions through reuse of assessments and authorizations. It also increases confidence in security of cloud solutions and security assessments. With the number of data breaches rising each year, agencies must consider file transfer using a FedRAMP-authorized cloud solution for data security.
Automatic version control – Multiple file versions may provide opportunities for hackers to attack the data. It is best for agencies to choose a file-sharing solution that displays only the current file version. It also ensures that every employee is working with the right file. Some of the file sharing tools like Huddle comes with automatic version control, which helps everyone to always have access to the same, most current version of a file. Making all users aware of the changes to a file in real time streamlines workflow and improves employee productivity.
2FA file sharing – Now, a simple username and password is just not enough to protect confidential files. Along with a secure password feature, file sharing apps are also featuring a two-step verification process or multi-factor authentication. Two-factor authentication adds a second layer of security to your online file sharing. This requires not only a password and username but also something like an alphanumeric code, a security token, predetermined security question, biometrics or SMS codes. It helps to reduce the risk of sensitive information falling into the wrong hands.
Ideal sharing tools also feature automation which allows users to deliver data without manual intervention, saving time and avoiding potential errors. It also provides a record of file activity that helps with an audit trail in case of any file compromise and offers valuable insight into how users interact with data. If considering back office outsourcing, make sure to choose an experienced vendor who has stringent security measures in place to ensure the safety of the sensitive data that you entrust with them.