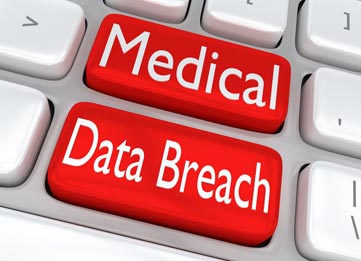 Most healthcare providers now choose to store extremely sensitive data such as patient's health information in electronic health records. Hospitals may also consider healthcare outsourcing solutions like medical records scanning service to increase efficiency, reduce costs and ease their team's paper burden. But, what about the security measures to protect this data and earn the trust of patients? According to The American Bar Association, healthcare/medical data breaches now account for nearly 40 percent of all data breaches.
The latest report comes from Accenture. A new study from Accenture released at HIMSS17 in Orlando has found that twenty-six percent of U.S consumers have had their personal medical information stolen from healthcare information systems. Among those who experienced a breach, 50 percent were victims of medical identity theft, as the stolen identity was used to purchase items (cited by 37 percent of data-breached respondents) or used for fraudulent activities, such as billing for care (37 percent) or filling prescriptions (26 percent).
Other key findings of the survey include –
Victims of medical identity theft had to pay approximately $2,500 in out-of-pocket costs per incident, on average.
Nearly one-third of consumers had their social security number (31 percent), contact information (31 percent) or medical data (31 percent) compromised.
The breaches were most likely to occur in hospitals (the location cited by 36 percent of respondents who experienced a breach), followed by urgent-care clinics (22 percent), pharmacies (22 percent), physicians' offices (21 percent) and health insurers (21 percent).
50 percent of breached consumers found out about it themselves, through noting an error on their credit card statement or benefits explanation, whereas only 33 percent were alerted to the breach by the organization where it occurred, and only 15 percent were alerted by a government agency.
Despite all of the breaches in healthcare, significantly more consumers still trust their healthcare provider (88 percent) and payer (82 percent) to keep their healthcare data secure than trust health technology companies (57 percent) or the government (56 percent).
While more than four in five consumers (82 percent) said they want to have at least some involvement in keeping their healthcare data secured, fewer than two-thirds (64 percent) said that they have such involvement today.
Along with staying vigilant in safeguarding personal information, health organizations should also build a foundation of digital trust with patients to deal with a breach.
While accurate transcription of daily notes such as operating room reports, discharge summaries, and radiology reports is essential for communication among healthcare providers and for accurate coding and billing of services, document scanning helps bulk conversion of existing paper records into electronic format. While outsourcing medical records for medical document scanning or for medical transcription, healthcare providers must clearly understand the security measures the company takes to protect the extremely sensitive patient data.
While your hospital may be well-versed in HIPAA regulations, not every organization with which you do business is dedicated to following proper protocol. Reliable document scanning companies use secure file transfer methods such as FTP (File Transfer Protocol) and browser-based 256 AES encryption. The outsourcing team will also be trained on privacy, security, and confidentiality rules. Technical evaluations will be performed on a routine basis to make sure all systems meet or exceed specified security requirements and the company's healthcare related services will strictly abide by HIPAA guidelines.