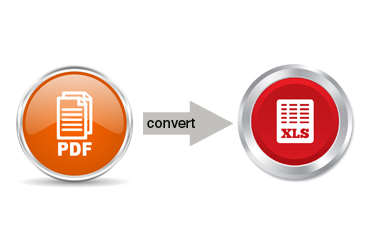 PDF to Excel data conversion is often required by businesses for spreadsheet analysis. Many free conversion tools are available for the purpose though for bulk conversion, it is always sensible to utilize document conversion services. Users going for free conversion tools available online have to be very careful because they may be of poor quality and you may even end up having malware/adware tools injected into your computers.
A reliable way to convert your PDF file into Excel format is to use the latest version of Adobe Acrobat which will allow you to directly export from the PDF file into Excel. This ensures that the original layouts, columns and formatting are preserved. Once converted into Excel, the data can be conveniently edited. There are also other reliable document conversion tools you can safely use – the important thing is to identify those software programs.
Portable Document Format (PDF) vs. Microsoft Excel
PDF is a file format used to present and exchange documents reliably, independent of software, hardware or operating system. It was created in the year 1990 and is primarily used for sending files between different computers and also for sharing through the internet. PDF has the unique ability to be viewed exactly the same and unchanged on all operating platforms.
Microsoft excel is a spreadsheet developed by Microsoft, and is a very popular information processing software with highly advanced formulas and operations that can be operated by both professionals and amateurs. Sometimes when someone sends Excel spreadsheets, the other may receive the files with bugs and glitches. A solution to this problem is to save the project in PDF (a feature built into Excel), and the PDF file can be converted into Excel format using a PDF to Excel data conversion tool to make any changes in the spreadsheet.
Data conversion from PDF to Excel is easy and simple with a good data conversion tool. You have to choose one that is popularly accepted and doesn't have shortcomings such as dull ads on the page, limited size of PDF, and requirements such as providing your email address or having to download the software on your computer. Ideally, the conversion tool should be one that has a non-confusing design and ideal for users who are not highly tech-savvy.
Advantages of Converting PDF to Excel
Statisticians prefer Excel sheets for interpreting data. With this format, it is easier to compile information from a number of sources and summarize the data into statistical data.
It helps market researchers to note down the numbers in the spreadsheet and convert them into charts and graphs for easy analysis.
Helps the healthcare industry to schedule appointments, manage research data and track medications or supplies.
It helps in supply chain management or logistics for managing your fleet or inventory.
Helps insurance brokers and real estate agents to provide quotes, use number of database and information to explain to customers.
Helps in handling your tax accounts more easily.
Helps businesses to keep record of their stocks and supplies.
PDF to Excel data conversion is a major requirement for businesses. To ensure utmost accuracy and clarity, and to minimize spending on scanners and scanning personnel, small and medium-sized businesses could consider using reliable data conversion outsourcing services.