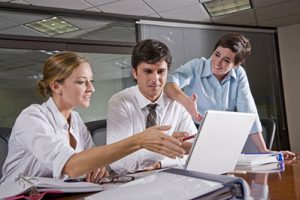 PDF or Portable Document Format is software developed by Adobe System in 1993. It has undergone various revisions and has been updated with the most advanced features and modified version of PDF. PDF conversion of your business documents helps to store, save and transmit the content in a non-editable format. With PDF, files can be easily transferred from one system to another. This file format is known for its security and users can protect the document from unauthorized printing, editing, viewing, and even copying.
Enterprises aiming for complete information governance need well-prepared or structured information. They can benefit by leveraging the PDF standard that enables more efficient sharing, viewing and storage of documents. The content in PDF format is better prepared for effectual classification, sharing and long-term preservation. It is much easier and affordable compared to managing multiple file formats. Moreover, it helps improve and speed up critical business initiatives such as meeting compliance demands.
Advanced conversion software can convert any Word, Excel, JPEG etc to PDF efficiently. With the PDF format, changing image compression, file compatibility, color settings, password setting etc is possible. Let us look at some of the main advantages of converting your documents to PDF.
Long term storage: PDF is an excellent system for archiving and helps to store documents for a longer period for time without causing any damage. Banks, libraries, insurance firms, and various business organizations can all benefit from PDF conversion.
Independent platform: PDF is an independent platform and documents like invoices, brochures, manuals etc can be shared through a wide range of channels.
Ideal for Legally binding documents: PDF is an excellent format for digitally signed documents and records.
Global integration: With PDF, information stored in different languages like Chinese, Japanese, Arabic, etc can be displayed accurately on any device; it also allows fixed- layout printing.
Allows full text searching: PDF helps to locate and access specific information within a data set and this is possible with scanned documents too.
For bulk PDF conversion, organizations can rely on document scanning and document conversion services that ensure processing large batches of files instantly. The PDF files can be optimized for online use by reducing their size without any loss of quality. Businesses benefit from standardized content that will help in effective data management and ensure consistency, efficiency and compliance.