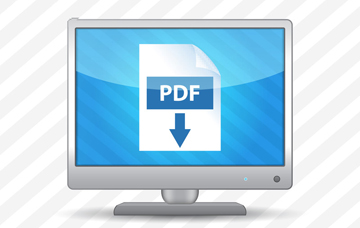 PDF files have now become an integral part of many enterprises' business processes. Owing to its advantages compared to other formats, many businesses choose to store and distribute documents in PDF. It offers a number of security options such as encryption, electronic signature support, password protection, preventing printing and copying as well as alteration of images and text. While considering document conversion services for any file format including PDF, data security should be the main concern.
Protecting PDF documents is critical as it may impact your business data. According to a recent article in CSO online, for file-less or zero-footprint attacks, hackers will also target vulnerabilities in Adobe PDF Reader and JavaScript. For real protection of PDFs they need to be encrypted by implementing controls or permissions associated with them.
Check out these different ways to protect PDF documents at all stages of the workflow, thus ensuring that your critical data doesn't fall into the wrong hands.
Protect the document with password – Obtaining access to the file can be managed, based on varying security needs. While open passwords can securely lock your file as only people with the correct password can open the file, permission passwords play an important role in providing permission to open a document and permission to edit it. Some permission passwords also lock particular functionalities when a user opens your file, preventing recipients from modifying or printing your document. By customizing the permission settings, you can enable or disable users from performing actions such as printing, editing the document, or copying text.
Prevent your file content being copied – Unencrypted PDF files can allow users to cut and paste text as well as extract images from the PDF document. It also makes PDF to word document conversion an easier job. Implement safety measures that ensure people can't copy and paste your text, can't print the file in high quality or save as another type of document.
Go for the latest version of the reader – The latest version of Adobe's Acrobat Reader includes features to protect highly sensitive information. Such data can be read only by authorized people, with permissions and access now including a whole host. The free Adobe Acrobat reader software has a host of security features built-in and the level and type of security depends on the version of Acrobat reader your recipient has.
Encrypted protection of PDF files will not stop someone from deleting the file, so ensure the file access rights on your computer are sufficient to ensure the document is safe. Before sharing or distributing a PDF file for PDF conversion or for any other tasks, recheck whether the document contains any sensitive content or private information that you do not wish to share with your recipients.