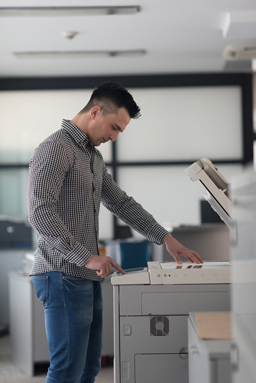 Your business is valuable. Just as you go to great lengths to secure your home and priceless possessions, security measures for your business must also be comprehensive. For this you must have a clear awareness of your organization's assets. Business information is priceless and includes organization and employee information, financial records, client information, data regarding company policies, product information and so on. The bulk of this information may be located in paper documents, in your servers, in the cloud or with your partnering document scanning and conversion company. Whether you use a paper filing system, offsite storage, cloud storage or digital storage, you must have a foolproof security plan in place to avoid any kind of breach. One of the most important requirements to prevent loss of data is to digitize your paper documents utilizing document scanning services. Let us look at the different document retrieval systems businesses employ.
Various Document Retrieval Systems
Keeping all your important records safely is not sufficient, easy retrieval of these documents is also essential. Following are some of the various document retrieval systems.
Document filing: This is a common method practised in small companies or family businesses where the documents are stored in cabinet files and shelves. This is a very convenient procedure as it enables the employees to access the files within their office. It also helps in organizing and arranging the documents in an efficient manner. But this procedure has a major drawback. If the number of documents continues to grow, it can clutter your office and take up a lot of storage space. To resolve this problem, keep only essential documents and clear out unwanted documents.
Document scanning: As mentioned at the outset, this involves converting paper documents into a digital filing system. This will eliminate the use of paper in your office and reduce the cost of storing paper documents. Scanning your documents enables quick retrieval using a simple keyword search and your employees will not have to spend their precious time searching for the documents they need.
Cloud storage: This is another method of storing important documents. It is a process where all the documents of your company are stored in an internet based storage service. It allows employees of your organization to access the documents easily using an internet connection.
Document scanning and digital storage has minimum risk, whereas the other two options can be more risky. Paper files are likely to get damaged or may deteriorate over time resulting in loss of data. Cloud storage also has many threats such as unauthorized access, lack of standardization among cloud providers, cyberattacks and so on.
Ensuring Security for Your Business Information
Cybersecurity is a big concern in our present day business scenario. You need to have a clear idea about the various kinds of information your organization collects, where it is stored and who is responsible for it. Scanning of business documents will keep your data safe and protected – you will no longer have concerns such as lost records or costly storage space. So what other measures can you take to secure your company data?
Insist that your employees develop strong passwords. Limit access to organization data.
Install and periodically update reliable software that can protect against viruses, malware, spyware and other malicious codes.
Make sure that your network is secured via firewall and encrypted information.
Regularly back up important information to ensure data security. Your accounts receivable/payable files and human resources documents are among the critical documents. You can store the copies in the cloud or offsite.
Secure your Wi-Fi network.
Third party agencies including document scanning services with which you are associated must be carefully scrutinized. Make sure that they follow your company's security policies and adopt strong security measures.