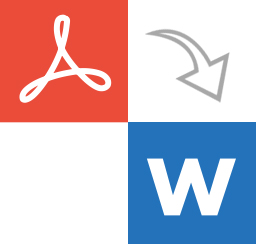 Document conversion for business often involves PDF to Word conversion, which is one of the services offered by a document conversion company. MS Word is a very popular authoring program that helps to create simple documents. It is widely used in various organizations from professional to legal establishments for creating reports, documents and other publication articles. On the other hand, PDF is a computer application that is used for archiving, Internet publishing and for digital processing. It is a good format for preserving valuable documents for a longer period of time. It contains advanced view options and can handle any size files and a variety of media.
PDF to Word
The easiest way to convert a PDF file into a Word document is by simply copying and pasting data. However, by doing so the text might appear in different font size and style or in different paragraph formatting. The copied text will have to be re-formatted to suit your requirement, which is time-consuming.
Another option is to retype the content into a new document. This process is also a waste of time and eye straining too. In a PDF file, it is not possible to directly edit or delete text due to security settings.
Office workers and other employees often find it frustrating to spend too much time converting PDF documents into Word format. Take the case of a new contract or other document received from a business partner via email. If you want to edit this, you may have to recreate the document from the beginning in MS Word. However, now PDF conversion software is available that will save you the trouble of retyping documents and enable you to get back to your work.
Use of Conversion Software
The ideal option for converting PDF files to Word documents is to use a PDF to Word conversion software application. This is a convenient and quick way of Word document conversion. Following are some of the advantages of using PDF to Word conversion software.
PDF files have many images and graphics that make the size of the file bigger. By converting PDF files into Word documents, unnecessary graphs and images can be deleted, which makes the size of the files smaller.
With PDF to Word conversion software, the conversion can be done batch by batch. It also supports drag and drop option when you add PDF documents into the application. This process saves time and improves efficiency.
If you have a PDF to Word conversion software, you can avoid retyping. The conversion software enables you to convert the document into a Word file and also helps to edit or delete the copied text.
PDF to Word conversion software can be used conveniently by individuals when the number of files to convert is limited. However, for businesses having large volume PDF documents they want converted into Word format, the support of a reliable and professional document conversion company often becomes necessary. The greatest advantage of outsourcing is the optimal results ensured at affordable rates. Besides, this is a good alternative if you do not want to recruit additional staff or put extra workload on your existing staff to take care of the conversion process.