The digitization trend has been happening for over a decade, but has been accelerated with the outbreak of the Covid-19 pandemic. Back office outsourcing services are now geared to helping businesses achieve their digital transformation goals.
If anything, the pandemic has banished all doubts that business heads had about the benefits of digitization. The importance of outsourcing was realized too because businesses were strained in resources, with people unable to work as before from the workplace along with interruptions in the supply chain. Outsourcing time-consuming, labor-intensive back office processes became an important requirement for most businesses. Outsourcing processes too were strained by the pandemic and experienced mild transformations.
The First Step to Next-Gen Digitization
A McKinsey's Global Survey report published in 2018 revealed that eight out of ten organization representatives had begun their digitization efforts during the previous five years. Since then, the trend has strengthened further, with the goal being more streamlined functioning and also getting an edge over competitors. Another McKinsey survey revealed that Covid-19 responses in the corporate world have resulted in digital technology adoption accelerating by several years. These changes could also be here to stay, even beyond the pandemic. This could be classified as a kind of revolution.
The image below shows the accelerated digitization during the pandemic contrasted with the pre-pandemic rates in the area of customer interactions: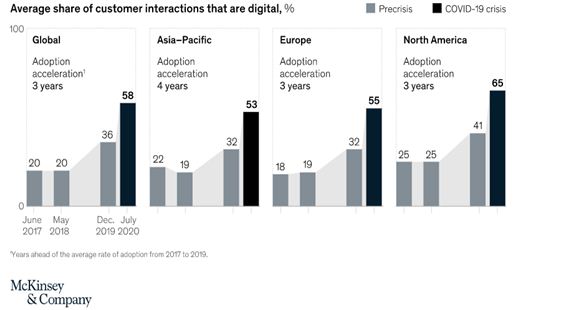 Image source
A survey of executives revealed that they believed they adapted to Covid-19 changes faster than expected in the following areas: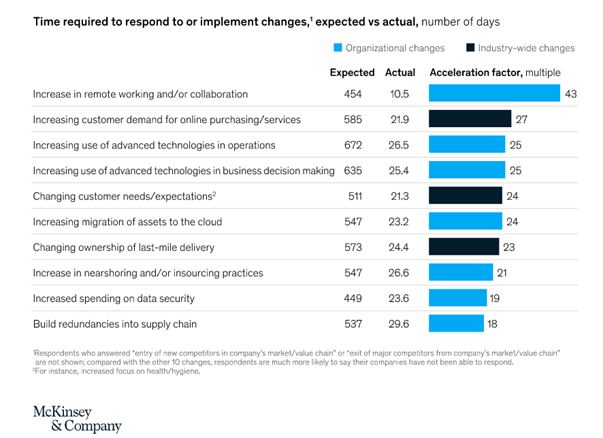 Image source
However, not all digitization efforts are successful. The right business process outsourcing company is essential to deliver results. An earlier survey by McKinsey had revealed that less than a third of digital transformations in organizations led to improved and sustained performance in the pre-pandemic era.
The Other Aspects of the Move to Next-Gen
In 2022 and the years to come, we could be seeing more changes in various outsourcing fields, particularly back office outsourcing beyond just the broad classification of digitization.
The Cloud
Foremost among these trends is the increasing adoption of the cloud platform. It's hard not to see how the cloud is the future. It facilitates collaborative working for people who are geographically dispersed. It facilitates safe storage of files, accessible only by the authorized individuals. Companies realized they could perform vital data management functions with cloud infrastructure. Data conversion services could thrive on the cloud. Project heads can manage remote teams and get updated on the real-time status of their projects. In the case of future contingencies such as a shutdown, employees can continue to contribute to the organization by working from home. Data input and file sharing are made easy. Back office providers make cloud integration for client businesses efficient, secure, fast and flexible. They optimize cloud integration so their businesses can perform efficiently and with minimal downtime.
Robotic Process Automation
Business process outsourcing companies are incorporating robotic process automation (RPA) into their services. The advantages of RPA are primarily felt in the various repetitive tasks involved in a typical back office. RPA can help automate these repetitive tasks, leading to faster completion of tasks and improved operational efficiency. It also improves cost-effectiveness of the automated processes.
Long-Term Relationship between Service Provider and Business Organization
With the increased involvement of the outsourcing service provider, new trends for 2022 and beyond would see a new kind of relationship between the provider and the business organization. With the outsourcing provider contributing so much, they build long-term partnerships with their clients. Future trends are not likely to support the existence of BPO companies in a purely supporting role, though that ultimately depends on what the client organization desires.
But this is how the general trend is likely to be. Outsourcing partners could be team players, sharing in the responsibilities of the organization. Employers are also willing to delegate decision making to them. As a result, they would be part of risk assessment and strategic planning. With outsourcing providers hiring experts, the value of such expertise is significantly realized by businesses, resulting in the latter's preference for long-term collaboration.
Continuation of the Remote Trend
While many organizations have got their employees back to working in the physical office, many employees still prefer working from home. As a result, the remote trend is set to continue stronger in 2022 and in the years to come.
Incorporating Blockchain
Yet another technology that could perhaps make its presence felt in the IT outsourcing industry sometime in 2022, but more pronounced in later years, is blockchain, the technology that powers cryptocurrency. The blockchain technology behind cryptocurrencies has other applications too, which companies would be looking to incorporate into their business. They would demand services related to decentralized app development and crypto projects from outsourcing providers.
Stronger Cybersecurity Solutions
The more time businesses spend on internet technologies, video communication and the cloud, the greater and more sophisticated will be the need for robust cybersecurity measures. Security threats keep evolving and are often harder to track than before. They are also more potent now, with the world's data at serious risk of being compromised. Cloud providers have evolved significantly to be able to tackle these new challenges. These demand for these services is expected to increase in 2022 and the years to come.
One of the major goals of outsourcing back office tasks is cost-effectiveness. That impetus will only get stronger in 2022. If anything, the pandemic has once again emphasized the importance of cost savings and streamlined operations more than ever before. Despite the greater involvement of outsourcing providers and the expertise and technology they bring to the table, companies will be demanding more cost-effective packages. Companies are expected to rely on outsourcing more than ever. Even day-to-day accounts management is also likely to be outsourced more in the coming years along with back office tasks such as data management and document conversion.
Back office outsourcing is heading to the next generation of efficiency, technology and security as challenges and requirements evolve for businesses as well. The right partner could surely make the difference.