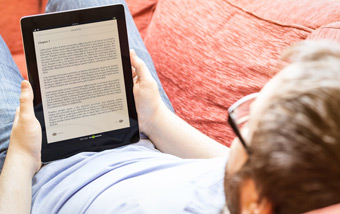 It is no secret that almost all organizations are switching to digitization and it has gradually taken over book publishing too. Today, many organizations rely on eBook conversion services that assist in converting print books into eBooks.
Ebooks help people with reading habits to enjoy their books wherever they want. It helps them avoid carrying thousands of books with them. Digital books can be accessed on a special type of reader with the use of compatible software. The main benefits of eBooks are:
They are portable and can be carried everywhere.
Books, magazines and newspapers in electronic format can be downloaded and read from anywhere you prefer.
eBooks have a wide range of features that enable easy reading. The latest feature allows you to listen to your online purchases as they are read out loud by the device.
eBooks are environment friendly because there is no paper involved.
Popular eBook online stores allow you to download a wide variety of books, magazines, newspaper etc.
Considering digitizing your own book? Here are a few tips.
Tips to Consider When Digitizing Books
Choose a format: There are many formats available that will work with any e-reader. The easiest method is to use Amazon's Kindle Direct Publishing. Use this free tool that will make your work available in Kindle and it will prep your book to look great on the Kindle software. Another alternative is to distribute your eBook on other websites like Blurb. Convert your book into PDF format and host the file on the web. PDF files may not be searchable, however, depending on the type of e-reader being used. Moreover, advanced features of the e-reader may not be available as well. An alternative is to convert the PDF into a e-book native format such as Kindle's azw3. Calibre is a software app that can convert your eBook to and from most formats.
Scan: If you have a book that needs to be converted into digital format, then either digitize it using a reliable scanner or if you have many books, outsource the process of digitization to reliable document conversion services. They are affordable and also provide quality output quickly.
Sell it or give it out for free: Once the eBook is ready, it can be sold or given out for free. Amazons' Kindle Market Place or Apple's iStore are the best places for selling your eBooks or giving them away for free. Publishing tools like Smashwords and Kobo are some of the platforms that independent authors use.
Partnering with professional eBook conversion services enables publishers and authors to create eBooks that are compatible with all major eBook software systems.