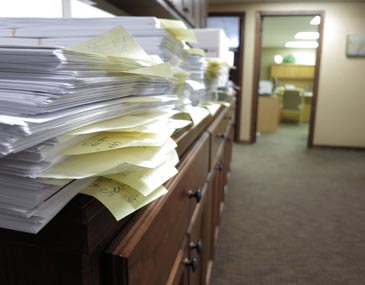 With the values of efficiency, democracy and transparency becoming more significant at present, people expect government bodies to be ready to exchange data and services anytime and across multiple channels. This is possible with enormous technological advancements today. Government department records can be digitized easily via bulk document scanning and conversion services. It is easier for employees to find information and fulfil public data requests with digitized data.
A step in this direction has been taken in Colorado. In Denver, Colorado, the legislature gave a reserved nod to a bill that would update the format in which open records requests are fulfilled. The sponsor of Senate Bill 40, Sen. John Kefalas said that this move is an opportunity to promote government transparency. Senate Bill 40 would change the Colorado Open Records Act by requiring government entities to provide searchable digital version of documents when requested in any format. The bill was heard by the Senate State, Veterans and Military Affairs Committee in March this year, and was passed with 4-1 bipartisan vote.
According to Kefalas, there are local jurisdictions that are providing some of the information electronically but there are custodians which make it difficult. Bipartisan support came with reservation because of an amendment that would make the state courts subject to open records.
Major concerns include:
If the Judicial department is subjected to open records laws, it could lead to tracking of public defenders' legal research, and weaken their cases.
Sensitive personal information could be revealed along with the digital records.
Lack of expertise of some of the government employees could result in the release of Social Security numbers.
Open records might make it easier for terrorists to access blueprints.
The bill does not expand the documents covered by the open records law. It only modifies how information should be provided. Proponents of the bill say that they prefer to provide electronic records when they can because it is cheaper, and enhances accessibility for government entities as well as the citizens.
Additional maintenance costs may be involved when records are digitized. With changes in technology, you will have to update the software. Apart from the costs associated with maintaining updated computer infrastructure, there are costs related to document scanning, labelling and filing the documents. However, the end result is overall increased accessibility and efficiency.
It is indeed welcome that more government agencies are thinking along the lines of digitization. Document scanning companies are of great support to them in this regard, especially to those departments that don't have an in-house scanning solution. Outsourced solutions for data conversion and scanning are more affordable than investing in scanning equipment, professionals and training. Now there are outsourcing companies that function as dedicated partners ensuring full confidentiality for the data entrusted to them. This makes it possible for government agencies to adopt digitization without hassle and enjoy the benefits new technology offers.