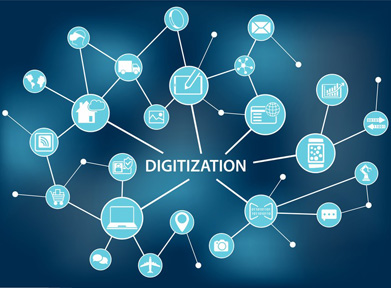 Digitization is everywhere, with more businesses realizing its tremendous capabilities, and opportunities. The objectives of reducing paper use, processing time and operational costs have persuaded many organizations to utilize advanced scanning technology and digitization offered by data conversion services. This helps them to keep their expenditure low and optimize their efficiencies. This trend is particularly visible in the financial, healthcare and legal industries that have paper-intensive processes, and physical documentation requirements.
The business IT field is growing rapidly and the advancement of technology in cloud adoption, big data, software defined networking, IOT (Internet of Things), virtualization, threat detection and security has increased the demand for professional data entry services and digitization in every industry. Now digital transformation is not merely a trend; it has become a very significant part of any modern business strategy.
It would be interesting and enlightening to consider the trends of digitization in 2017.
In the present business scenario, organizations will need to adapt to industry and marketplace shifts as and when they occur. New technology must be incorporated into company culture and regular processes.
Enterprises now realize the significance of digitization and it requires a strong foundation. Digitization should begin with transforming the IT infrastructure for an open, extensible and software driven approach and this would enable businesses to be innovative, and be more efficient.
By 2020 almost 50 billion devices will be connected and this will generate in excess of 5 TB of data person. At present more data is created that the past 5000 years. Data is not just about large numbers, it provides valuable insights. The year 2017 will see advancement in translating data into information, information into insights, and generating action from these insights to gain optimum outcomes.
Any digital transformation has at its core improved user experience. Now customers are more careful and demand quick results. Businesses can keep their customers involved and engaged with their brand by ensuring excellent user experience. Data analytics can be used to find out where the customers are coming from – social media, blog etc. – and streamline customer interaction on those venues.
IOT technology is spreading all throughout enterprises and by 2017 it is expected to enter the physical office in a comprehensive manner that would enable smart lights, HVAC controls, and digital signing. This will provide more transparency and visibility in the networking infrastructure and help to make better decision making. Intelligent processing is indispensable for IOT applications that are geographically distributed, and are connected through low bandwidth uplinks.
Just like outdoor location based services like maps and cab-hailing services, indoor location based services are also crucial. Data and metrics, with the ability to track traffic flow and location usage can transform the way people interact with the world.
Network Functions Virtualization (NFV) is a new way of designing, deploying and managing a network. NFV separates classic network functions from underlying hardware and makes them available using software. NFV is expected to spread from service providers to enterprises. This will allow leading IT teams with a multitude of network to run and manage the business more easily.
Automation will help enterprises reduce operational coats and minimize risks and create a line of faster innovation. It provides businesses with capabilities that allow speed at lower costs. Business and IT teams will adopt automation and the benefits it offers considerably more by 2017.
LiFi is a new technology which enables lights in the ceiling to be used as a medium for wireless communication. LiFi offers unconstrained bandwidth and also prevents leakage and potential security threats and it is safe as there is no electromagnetic interface with light. Block chain is a distributed ledger that has many characteristics which make it ideal for usage in the financial field. The networking industry is studying block chaining to determine how it can be best used for enterprise customers.
Big data is of immense significance in the business world. Organizations are in fact not using the data they have to maximum effect. Data cleansing services can help identify relevant and valuable data from the voluminous data available. Data analytics will help understand what your customers think, what they want and how the market views your brand. With digital transformation and excellent use of big data, you can build a business model that is adaptable, agile and designed to withstand all the challenges posed by the constantly changing business world.