Data powers every business in the world, and has become a crucial element for every industry. Healthcare is no exception. The global wave of digitization has brought about significant transformations in healthcare. With the shift to electronic medical records (EMRs) and electronic health records (EHRs), healthcare organizations relied on data conversion companies to convert paper documents to digital format to achieve various goals such as migration from legacy EMRs to more integrated EMRs, moving from an EMR to an EHR, or upgrading from one EHR system to a new one. Healthcare data conversion is considered a complex process. Outsourced data conversion services can ease the process, ensure high-quality data, and speed up the conversion project.
An all-inclusive patient record is crucial for clinicians to diagnose and administer treatment. They must be able to review their clinical notes, allergies, medications and labs in the EMR. Successful implementation of data conversion services is the key to smooth migration to electronic patient records. However, dealing with healthcare data is complex because it has specific attributes:
Patient data can be in multiple places – both within the actual software and other systems.
The data exists in multiple formats – such as text, numeric entries, images, and more.
Available data can be structured – organized and formatted in a way that is easy to find and search – or unstructured–have no predefined format, making it difficult to collect and process.
Certain data formats may work only with specific software programs.
Protected health information (PHI) is subject to stringent regulations, which means it must be kept secure and private.
Efficient data conversion support can help overcome these challenges and ensure quality EHR migration. The converted data can be migrated to the Cloud, as it an efficient initiative to ensure enduring security and efficiency in a world of threats. Though the healthcare industry is a late adopter of digitization and cloud computing, healthcare is becoming wholly digitized, making the huge amount of private patient data that the sector generates – migrate or convert to the form that is easily accessible to primary physicians, specialists and other healthcare professionals.
According to HIT Consultant, "due to the pandemic, Telehealth has also grown exponentially which has served to deepen the data conversion and storage services still further. In 2020, 43,5% of patients in the US received primary care via telehealth, meaning health providers require fast and secure communication between several data storage services to handle the influx. It's also paramount that highly sensitive Personal Identifiable Information (PII) and Protected Health Information (PHI) are safely guarded".
Role of Data Conversion in Various Healthcare Applications
To support the healthcare needs of a community or individuals, the healthcare industry can be broadly classified into four key sectors:
Health care services and facilities
Medical devices, equipment, and hospital supplies manufacturers
Medical insurance, medical services, and managed care
Pharmaceuticals & Related Segments
When it comes to data in Health care services and facilities sector, healthcare providers have to document encounters with patients to ensure a record of vital information for decision-making and in cases of dispute. However, 90% of physicians still updated their patient records by hand, but then by the end of 2014, the surge had changed and 83% of physicians reported they had adopted Electronic Health Record (EHR) systems. As many physicians have already adopted EHR, the need for data conversion also is raised, because it improves access to valuable patient information. This consistent flow of data through system transformation is key to quality clinical care. However, clinical data conversion can get very complicated and moreover, it requires knowledgeable personnel to perform the task. Choosing an outsourcing data conversion company to assist with your conversion process is vital for successful and efficient data conversion.
For instance, a scope for data conversion at Howard County General Hospital and Sibley Memorial Hospital was released by Johns Hopkins Medicine. As per them, a large amount of data – such as all existing data pertaining to patient information, patient visits from the last 10 years, lab results from the last three years, plus selected lab results occurring within the last 10 years, imaging results from the last 10 years and so on – has been or will be converted into Epic system at The Johns Hopkins Hospital, Johns Hopkins Bayview Medical Center and Johns Hopkins Community Physicians. (hopkinsmedicine.org)
Another example for data conversion in healthcare points to the Children's Hospital and Health System. In 2011, Children's Hospital was the last health system in the Milwaukee area to move from paper to electronic records, which was a massive and complex project. The Hospital went live with the new system 2012-2013.
When it comes to data conversion related to medical insurance, medical services, and managed care, the data that gets converted here comprises data from claims scrubbing, payment processing, A/R management & scheduling, where each data is designed to automate manual processes & help you drive revenue. Data conversion experts help to quickly and accurately convert, verify and import your previous data and also let you run your entire practice from a single database, with a single login, by consolidate all your data in a cloud-based system.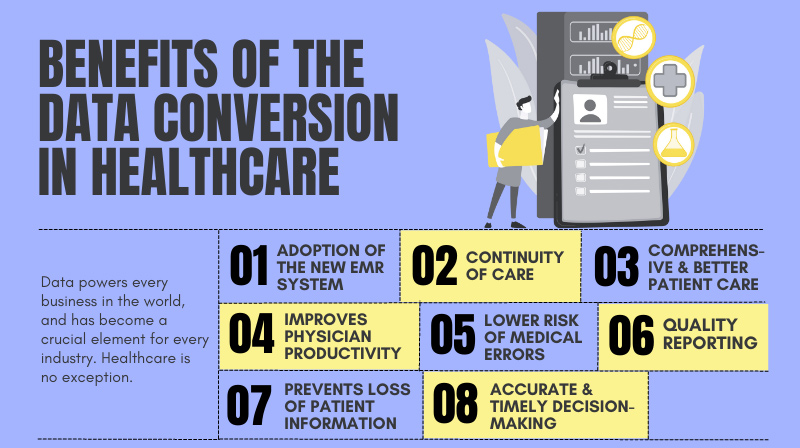 Though healthcare data conversion provides many benefits, it also has some risk factors. One major risk is the data itself, because healthcare data is sensitive, protected, and used to make decisions that affect human life and wellbeing. So, the process of successfully migrating data from one EHR to another should maintain sufficient quality assurance throughout the conversion process. Moreover, as data conversion/migration is a complex process, healthcare organizations typically choose to work with professional data conversion companies who are well equipped with the latest technology, experienced data conversion specialists and QA personnel. Such companies can ensure high quality, timely, and affordable solutions to convert documents into usable, standardized formats. The success of the data conversion project would also depend on having a strong IT partner committed to ensuring that the medical practice can access patient data as the new EMR/EHR system and technologies are implemented.