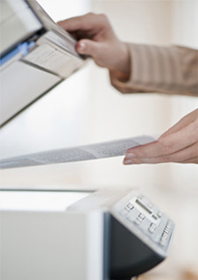 Most healthcare practices have huge volume of paper based patient medical documents that take up a significant amount of storage space. These documents have to be kept safe from damage and misplacement. Moreover, filing and accessing these documents can be a cumbersome task.
With the US government going forward with the full scale implementation of electronic health records or EHRs, it's important for healthcare facilities and physician practices to convert their paper documents to digital for integration into with the new system. Medical document scanning can be a time consuming task. Additionally, the documents have to be indexed and filed into the EMR/EHR. Outsourcing the scanning task is the most feasible option.
An established document scanning company would have professionals who can work on any kind of medical documents which include physician notes, lab results, imaging results (X-rays, CT scans or MRI scans), prescriptions, billing or insurance firm correspondence and medical charts. The company can offer you customized document scanning solutions with benefits such as:
On demand scanning
Customized TAT
Backfile scanning
Color scanning
HIPAA compliance
Integration to EHR
Rapid implementation with low or no upfront expenses
Secure file transfer – FTP or browser based with 256 bit AES encryption
Competitive pricing
A professional service provider can help you redesign your workflow by ensuring consistent, accurate and timely scanned documents filed within the electronic medical record. Partnering with the right document scanning company can improve your productivity and improve patient care making patient records accessible more easily and quickly.