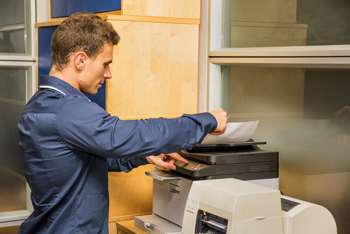 The availability of mobile phone apps has made document scanning a much easier job now. An occasional bill or receipt can be digitized with mobile apps that use your Smartphone's camera to capture the image. However, dealing with a lot of documents to scan on a regular basis requires either buying a scanner with advanced features or relying on document scanning solutions provided by a professional company. Service providers use reliable scanners known for their efficiency such as those from Canon, Scan Optics, and Epson. Document scanning is transforming the way businesses manage and control their documents, and it provides a hassle-free system to maintain all aspects of document management ranging from HR files to business files and contracts that are so important to any company.
Document scanning and management is critical, for many industries.
Finance, insurance and banking services all use high-volume paper documents on a daily basis that have sensitive personal and company information. Documents they handle may include tax returns, loan applications, appraisals, remote deposits, purchase orders, statements, new account documents, signature cards, loan documents, invoices, delivery tickets, receipts and so on. Even mortgage loan applications can have hundreds of pages of different document types, ranging from titles and credit reports to appraisals to certificates of occupancy.
Legal offices, departments and practices handle a number of documents and require easier access to these for specific cases or inquiries. Document scanning helps these entities to streamline records storage and management.
Healthcare, hospitals, private practices and insurance companies can benefit from digitized medical records. Document scanning helps them migrate to EHR systems more easily. Outsourcing providers can handle data capture and OCR scanning, helping to make the integration flawless.
Human resources offices need scanning services to digitize their mandatory paperwork required by state/federal regulations as well as performance reviews, medical information and the documents they use for day-to-day administration.
Bulk document scanning is needed in the construction, real estate and manufacturing sectors that handle multiple projects and have a significant amount of paperwork each day including blueprints, maps and drawings that need to be scanned.
Government departments and agencies have a number of departments, each with specific processes, requirements and regulations they need to manage. Most of these are paper-intensive and may need to be scanned and managed efficiently.
Document scanning and digital document management is the best solution for all the above entities to improve processes that involve a lot of paperwork to deal with on a daily basis. The scanning needs may vary with different organizations and so it is important to know exactly what your requirements are before starting your scanning project. You can choose to outsource your document scanning needs or purchase an in-house scanner and employ trained scanning professionals.
How to choose a good scanner?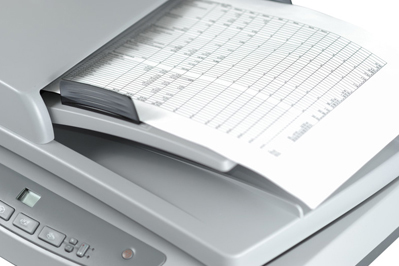 While all the scanners capture images from paper, the way in which they do so, and the amount of effort you have to invest into loading and scanning each individual document or photo varies between models, depending on the material you need to scan and the frequency. A dedicated scanner with an automatic document feeder can help simplify the task. For those who do not want to use a Smartphone app to capture images, lightweight portable document scanners are another option that offer relative mobility.
Portable document scanners are available for digitizing documents without taking up half of a desktop. These combine scan speeds usually found on full-size scanners with extremely accurate text recognition.
Choosing a scanner requires a clear understanding of your exact requirements. Factors you need to consider include –
Space available – While a flatbed scanner consumes more space, a sheet-fed scanner might be more appealing for those with space constraints. The flatbed model gets its name from its large and flat fixed glass bed, upon which you lay your documents, close the lid, and scan them. Sheet-fed model is well known for its reliability, speed, and ease of use.
Dots per inch (dpi) and bit depth – Operations of a document scanner are measured in dots per inch (DPI). The higher the DPI, the better the scanner will be. For businesses, a dpi of 600 to 1200 will be sufficient, while designers require higher resolution. Though bigger in size, flatbed scanners typically have the highest resolution available in the consumer scanner market. In the same way, bit depth in the 24 to 36-bit range will work for basic color scanning.
Cost – Though not the only driving factor in scanner selection, cost is important too. Scanners with higher dpi and bit depth will be expensive too. Make sure to consider your budget along with your scanning needs. Consider the number of pages per day/week/or month you will be scanning and choose a scanner that can meet your specific concerns. Purchase the scanner from a reputable manufacturer, as they will offer service agreement and warranty.
A good balance of cost, image quality, speed, and reliability should ultimately determine your choice. Most document scanners aren't ideal for scanning photos because they bend documents as they scan them. If your requirement is to scan many photos, consider the services provided by an expert document scanning company.
A network-connected scanner or a multi-function printer/scanner also supports Google Drive connection, letting you send scans directly to Google Drive. Unlike locally-stored files, documents on Google Drive are simple to share, accessible from anywhere, and easy to find with Cloud Search.
In our next blog, we will discuss how to scan documents directly to Google Drive.