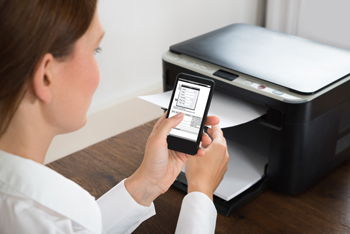 Many organizations as well as document scanning companies they rely on deal with plenty of paper documents in the form of letters, documentation, articles, photos, or reference material. Google Drive, a file storage and synchronization service developed by Google, allows users to store files on their servers, synchronize files across devices, and share files. Users can scan documents such as receipts, letters, and billing statements to save them as searchable PDFs on their Google Drive. These documents can be accessed from nearly anywhere in the world, even without using a computer. Unlike locally-stored files, Google Drive documents are simple to share, and easy to find with Cloud Search, which delivers keyword search like Google search for your organization's G Suite data. Though many firms use Google Drive and G Suite, most of them scan documents to a local computer or server.
Network connected scanners as well as advanced software applications enable scanning to Google Docs. For example, the Brother GOOGLE DRIVE™ Web Connect feature connects a Google Drive account directly to the compatible Brother device.
Step by Step Ways to Connect Your Scanner to Google Drive
Choose Google Drive App as Your Scan Destination

While scanning, you may see destinations such as a computer, an SD card, or email. Make sure you find Google Drive in the apps option as a destination to store the document. Once located, open it to start the connection process. Google Drive app can be used to scan documents or photos from your printer to Google Drive account and vice versa.

Open Your Google Account

Specify Gmail or G Suite account to receive your scans. For an organization, you may also create an account specifically for the device, which is www.google.com/device. While logged into the chosen Google account, the code displayed on the scanner/printer must be entered into the browser. This helps you to have control of both the Google account and scanner/printer.

Choose a PIN to Protect Your Account

It is critical to protect your account with a PIN or password, as anyone with access to your printer could browse and print files from Google Drive. Every time you use the Google Drive app to scan, you have to use this PIN, which prevents unauthorized access to your Google Drive documents. Make sure to find ways to avoid unwanted items from being scanned to your account.

Configure Your Scanner

The image quality of the scanned files can be regulated by configuring the basic scanning options such as color or gray-scale, resolution and brightness (75, 200, or 300 dots per inch, etc.), file format (PDF, JPG, PNG) or input (flat-bed or document-feeder). For scanning documents, PDF can be chosen as the default scanned file format. For scanning photos or images, it is recommended to select PNG or TIFF (or JPG, if neither of these options is available.)
You can use your phone to scan documents to Google Drive. Google Drive Android app also supports multi-page document scanning. For instance, ScanDrop is a free scanning software application, compatible with almost all types of scanners to scan and upload paper files directly into Google Docs. Google's PhotoScan app also captures and converts photos into digital files. But if your requirement is to scan multi-page, two-sided documents in bulk, it would be better to choose outsourced document scanning solutions or buy a desktop scanner than choosing such third-party apps.