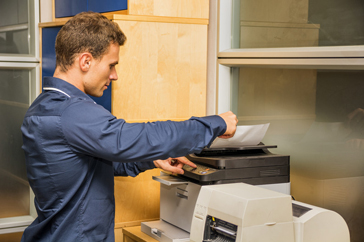 In the event of any natural disaster like flood, tornado, earthquake etc, businesses are very likely to be affected severely with huge loss of data and devastation, and getting back on your feet is not an easy task. No one can predict when a disaster is going to strike. Hence document scanning and digitization is very important for preserving the valuable records that are vital for the growth of the business. It helps in easy storing and quick retrieval; preserves old documents and provides easy access whenever necessary. Another important consideration is that with the huge increase in the various types of data and particular formats, it has become necessary to integrate and share data across diverse systems. Digitization prevents loss of information, reduces physical storage space requirements as well as storage costs.
Data Recovery System
Having a data recovery plan is necessary and useful as it helps the organization to recover the data quickly in the event of any disaster. Following are two of the systems commonly used to store a backup of business data.
Cloud storage: An online cloud storage facility is a great option for storing business documents. Once the documents are stored online, they can be accessed through the internet. It also eliminates the need for transportation of your documents as well as unwanted expenses of maintaining a backup storage facility.
Backup tape storage: Many organizations keep physical backups of their valuable documents in tapes and other storage devices to prevent loss of information. These tapes are stored off-site and can be accessed easily when required. Backup tapes are not easy to maintain because they may degrade in the long run.
Along with digitization of valuable documents, destroying unwanted documents is also essential for every organization. Companies tend to save every document they have, which includes essential and non-essential records. Digitizing unwanted documents is a waste of money and therefore these documents should be shredded to prevent them from getting into the wrong hands. Destroying your non-essential files will ensure security of your documents by preventing strangers from stealing your identity and also reduce storage space and maintenance cost.
The efficient way to digitize office documents is to outsource the digitization process to a reliable document scanning company. Make sure that you choose reputable and experienced document scanning services that can ensure quality output within the targeted time. Also ensure that they provide customized service as per individual client requirements, ensuring absolute confidentiality of all data entrusted.