If you are still using paper notes to jot down meeting highlights, any new ideas or any phone number, it's time to consider paperless note taking options. While document scanning services are available to ease the digitization tasks of your firm, you should also take efforts to move to a paperless world by all means.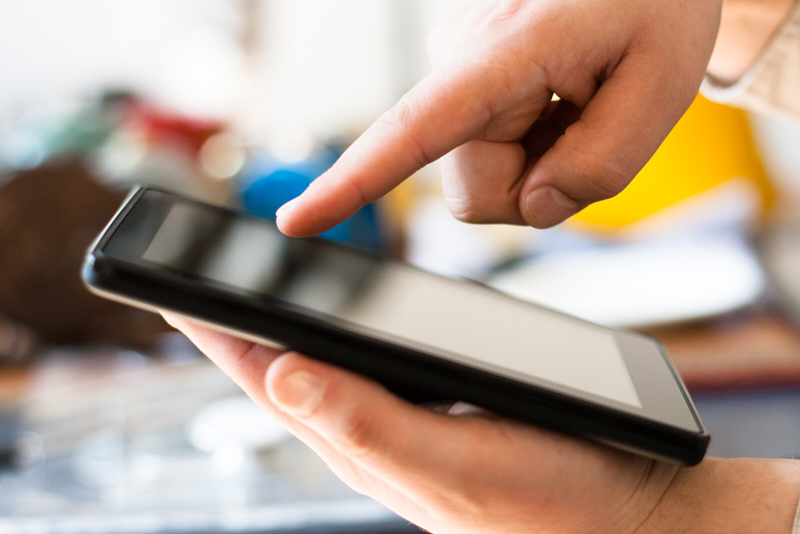 Traditional paper notes may get messed up or can be lost. Though most of us are comfortable taking notes on paper, online note taking provides more benefits. This is a more organized, easily accessible and eco-friendly means to create notes.
Here are some of the convenient note taking apps.
Evernote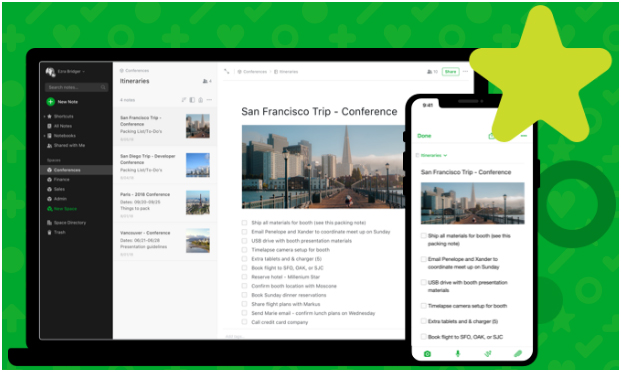 Designed for note taking, organizing, task management, and archiving, Evernote app allows users to create notes, which can be text, drawings, photographs, or saved web content. Anything noted in this app can also be easily shared with anyone with or without an Evernote account.
Its new Beta Editor features –
Readability to optimize the reading experience by adjusting the note width
Custom semantic headers that allow specifying large header, small header, and other common text styles
Insert menu to easily insert attachments, tables, code blocks, and so on
New to-do lists to prioritize which one to do first
Smarter paste option that can get the content to match the style of your note
Different highlighter colors to call attention to various areas of text
This app provides facilities to begin a note on phone and finish it on laptop without losing the flow. Evernote syncs notes across devices including desktop, smartphone, and tablet and the user can use it to save meeting notes, web pages, projects and to-do lists.
Google Keep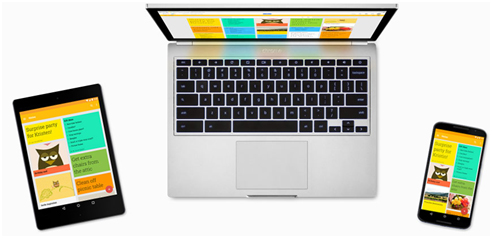 To quickly compile your ideas in the form of notes, checklists, and to-dos, Google Keep can be used. This app keeps organizing information and users can also create drawings and search handwritten notes. Using Optical Character Recognition (OCR), Keep can also transcribe text from pictures.
Anyone can use Keep directly within Docs. You can take notes created in Keep and drag them into client proposals and more. This app also allows Keep to draft emails or social media posts on-the-go. It comes with location- and time-based reminders that will remind you of any of your tasks. Users can also quickly filter and search for notes by color and other attributes like lists with images, audio notes with reminders or just see shared notes. You can also choose to archive notes, instead of deleting them. There are options such as line weights, shades, highlights, and more that help you to draw your ideas, if it is hard to put them into words.
Microsoft OneNote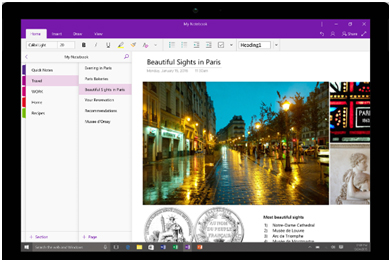 OneNote works on any device or platform. With easy navigation and search, users can always find their notes right where they left them. You can stay on the same page and in sync wherever you are.
With this Microsoft app, you can
Take handwritten notes and convert them to typed text later
Highlight what's important and express ideas with colors or shapes
Revise your notes with type, highlighting, or ink annotations
Record audio notes, insert online videos, and add files
When it comes to the education sector, teachers can use this note-taking app to organize lesson plans in searchable digital notebooks, and staff can create a sharable content library. They can also encourage students to handwrite notes and sketch diagrams. OneNote's Web Clipper helps to save content with just a single click.
Notion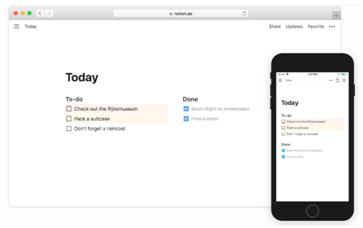 https://www.notion.so/
Notion is a light, fast, and distraction-free note-taking app that helps users to stay organized. All the features of Notion app are easily accessible at your fingertips. It comes with full-powered project trackers with docs inside. Its slack integration feature helps to push updates to the rest of the teammates.
This app combines all four tools in one, which are
Notes & Docs – It provides a simple, beautiful writing experience, with 30+ media types
Knowledge Base – It turns your tribal knowledge into easy-to-find answers
Tasks & Projects – It includes kanban board, calendar, and list views
Spreadsheets & Databases – It helps to capture your unique workflows
This app makes it easy to edit, and even easier to organize and maintain. Its unique editor helps users to structure their thoughts and daily plans.
Zoho Notebook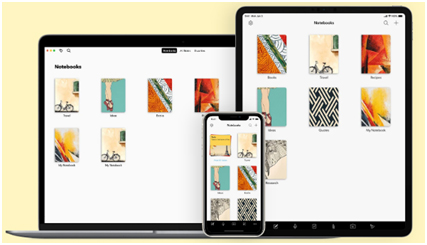 https://www.zoho.com/notebook/
This free-to-use app provides Notebook for Web, Mac and Windows. All documents can be stored with the File Card. As this Notebook works without network connectivity, users can take notes anywhere. Each Note Card type of this app is designed to complement the type of note the user is taking.
Users can –
Record meetings or lectures with the dedicated Audio Card
Share notes publicly by generating a link for a note
Migrate notes to Notebook from Google Keep or Evernote
Secure notes inside Notebook using in-built lock feature
Set reminders to your note cards for key events
Users can also drag memorable photos from their device and save them with the Photo Card. Its search option allows you to search for keywords or text present in a note card. You can personalize your notebook with hand-designed notebook covers and change the color of notes to stay organized and stylish.
Hope this list helps you move to digital note taking instead of relying on paper and pen to scribble your ideas. By partnering with a document scanning company, your business can convert paper documents into digital files.