GIS Data Conversion
Looking to unlock the full potential of your geographic information system (GIS)? We understand the crucial role that accurate and reliable data plays in leveraging the power of GIS technology, so we provide state-of-the-art GIS data conversion services to help you seamlessly migrate, transform, and optimize your spatial data.
GIS data conversion is the process of transforming geographic data from one format to another, enabling interoperability and compatibility between different systems. The process involves converting data from various sources such as paper maps, satellite imagery, or digital databases, into a standardized format that can be easily analyzed and manipulated using GIS software. From urban planning and disaster management to logistics and environmental analysis, Geographic Information System (GIS) data conversion holds the key to unlocking the hidden potential of spatial information.
Harnessing the expertise of our skilled professionals and leveraging the latest tools and technologies, MOS provides a comprehensive range of GIS data conversion solutions that are tailored to meet your unique requirements. By partnering with us, you can expect unmatched accuracy, efficiency, and cost-effectiveness throughout the entire conversion process.
Benefits of GIS Data Conversion
GIS data conversion offers numerous benefits that can revolutionize the way we interact with spatial information.
Enhances data interoperability
It allows different systems and software to exchange and use geographic data seamlessly. This interoperability enables organizations to integrate data from multiple sources.
Simplifies data management
It consolidates diverse datasets into a unified format. By organizing and standardizing spatial information, organizations can  store, update, and retrieve data, saving time and resources.
Enhances decision-making
It provides accurate and up-to-date spatial information. By converting raw spatial data into a format that can be easily visualized and analyzed, decision-makers can gain valuable insights into patterns, trends, and relationships.
Our GIS Data Conversion Services
Format Conversion
Raster to Vector conversion GIS
Vector to Raster conversion GIS
CAD to GIS conversion
GIS to AutoCAD conversion
GIS Services Management and Maintenance
Map Production and Analysis
Who We Are
For over two decades, Managed Outsource Solutions (MOS) has remained a prominent provider of comprehensive outsourcing services. Our unwavering dedication to excellence and customer satisfaction has enabled us to serve clients from around the globe. We take pride in our team of skilled professionals who possess expertise in diverse domains. This wealth of knowledge allows us to deliver exceptional solutions that are tailored to meet our clients' specific requirements.
By harnessing advanced technologies, streamlining processes, and adhering to industry-best practices, we ensure that our data conversion services are efficient and of the highest quality. Building long-term partnerships is at the heart of our approach, as we strive to surpass expectations and consistently provide exceptional value to our clients. To discover more about our capabilities and experience firsthand the MOS difference, we invite you to visit our website.
Why You Should Work With Us
Here's what sets us apart:
Timely and cost-effective solutions
Data security and confidentiality
Stringent data security protocols
Cost savings of 30% to 40%
High levels of quality control
Flexible & Customizable Pricing Options
No matter what your project duration or resource needs are, we have the perfect solution for you. Whether you require resources for short-term projects with flexible hourly commitments, or long-term projects demanding full-time equivalents (FTEs), Managed Outsource Solutions (MOS) has got you covered. Rest assured, we have the flexibility and expertise to provide the ideal resource solution for your project, ensuring success every step of the way.
We offer flexible pricing plans with cost savings up to 40%.
Unlock the true potential of your GIS with our GIS data conversion services
Maximize the value of your spatial data, streamline workflows, and gain a competitive edge.
Transform your data into actionable insights!
Explore the benefits of GIS data conversion. Contact us for more information at (800) 670-2809!
GIS Data Conversion Process
Our experienced team ensures that every step of the GIS data conversion process is executed with precision and attention to detail, guaranteeing the integrity and accuracy of your spatial data.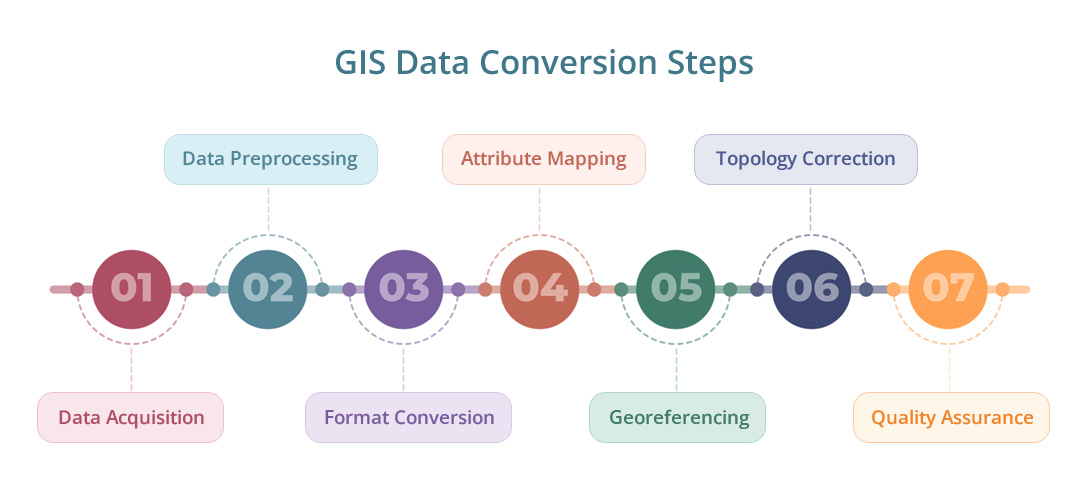 1. Data Acquisition
Gathering the source data from different formats, such as paper maps, scanned images, or digital files.
2. Data Preprocessing
Cleaning and validating the acquired data to ensure accuracy and integrity. This involves removing errors, correcting inconsistencies, and standardizing attribute information.
3. Format Conversion
Converting the data into a suitable GIS-compatible format. For example, converting paper maps or raster images into vector data or converting data from one GIS software format to another.
4. Attribute Mapping
Mapping and assigning attributes to the converted data, ensuring that relevant information is preserved and correctly associated with spatial features.
5. Georeferencing
Establishing the spatial reference system and aligning the converted data with real-world coordinates, enabling its integration with other geospatial datasets.
6. Topology Correction
Resolving geometric inconsistencies and ensuring the spatial relationships between features are maintained. This may involve fixing overlaps, gaps, or incorrect boundaries.
7. Quality Assurance
Conducting thorough quality checks to validate the accuracy and integrity of the converted data. This includes assessing attribute consistency, spatial relationships, and conducting visual inspections.
With GIS data conversion, businesses can unlock the full potential of their spatial data, enabling them to perform advanced spatial analysis, create thematic maps, generate meaningful insights, and make informed decisions.
Why should I choose MOS for GIS data conversion?
MOS is a trusted provider of GIS data conversion services with an established track record. Our team of experts has extensive experience in GIS and utilizes advanced technology and streamlined processes to deliver high-quality results. We prioritize data quality management, adhere to strict security and confidentiality protocols, and provide customizable solutions to meet your specific needs.
What types of GIS data can be converted?
We have the capability to convert various types of GIS data, including but not limited to spatial data, raster data, vector data, attribute data, topographic data, aerial imagery, LiDAR data, satellite imagery, and geospatial data. Our expertise covers a wide range of industry-standard GIS formats and file types.
Can you handle large-scale GIS data conversion projects?
Absolutely! We have the resources and scalability to handle projects of any size. Whether you have a small dataset or large-volume spatial data, we have the infrastructure and expertise to efficiently convert and deliver your GIS data within your specified timeframe.
How do you ensure data accuracy during the conversion process?
We place a strong emphasis on data accuracy and quality assurance. Our team follows stringent quality control measures throughout the GIS data conversion process. We conduct thorough data validation, verification, and testing to ensure the integrity and accuracy of the converted data. Additionally, we leverage advanced tools and techniques to minimize errors and discrepancies.
How can I get started with your GIS data conversion services?
Getting started is easy! You can contact us at (800) 670-2809 or fill out the contact form provided.
Have any further questions about our GIS data conversion services? Contact us at 800-670-2809!
Marisa Corbett
Speedy and great customer service! Great company.
Bobbie Jo Turley
Your service is prompt, accurate and reliable. Thank you!
Dolan Dougherty
Efficient, flexible, cost-effective solution!
Sincerely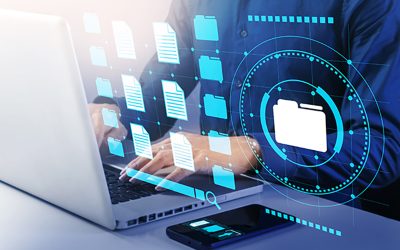 High-quality, accurate, and relevant data is essential for businesses to make informed decisions. In today's data-driven...