Backfile conversion refers to scanning large volumes of documents and converting them into digital format. Bulk document scanning quickly converts paper documents into easy-to-manage digital files. Healthcare, human resources, legal, banking, insurance, education, construction, real estate, and the public sector can use different types of backfile conversion to manage the large volumes of documents they have. They can digitize documents in various physical formats such as paper, drawings, card-stock, maps, photos, microfiche, and microfilm.
Backfile conversion provides many benefits – it eliminates the costs and risks associated with conventional filing, significantly reduces physical storage space requirements, promotes efficient document management, preserves text, formatting, and quality, provides instant and secure access to digitized files, improves office workflow and efficiency, and move documents to the cloud and access them anywhere, anytime.
Experienced document conversion companies can provide customized solutions and convert archaic or proprietary image file formats to contemporary formats such as PDF, TIFF, JPG and EPS. With organized, easily searchable documents, your staff can find any file easily and avoid wasting time trying to locate and access information. Regardless of the type of backfile conversion needed, leading outsourcing companies can provide customized solutions.

Check out the infographic below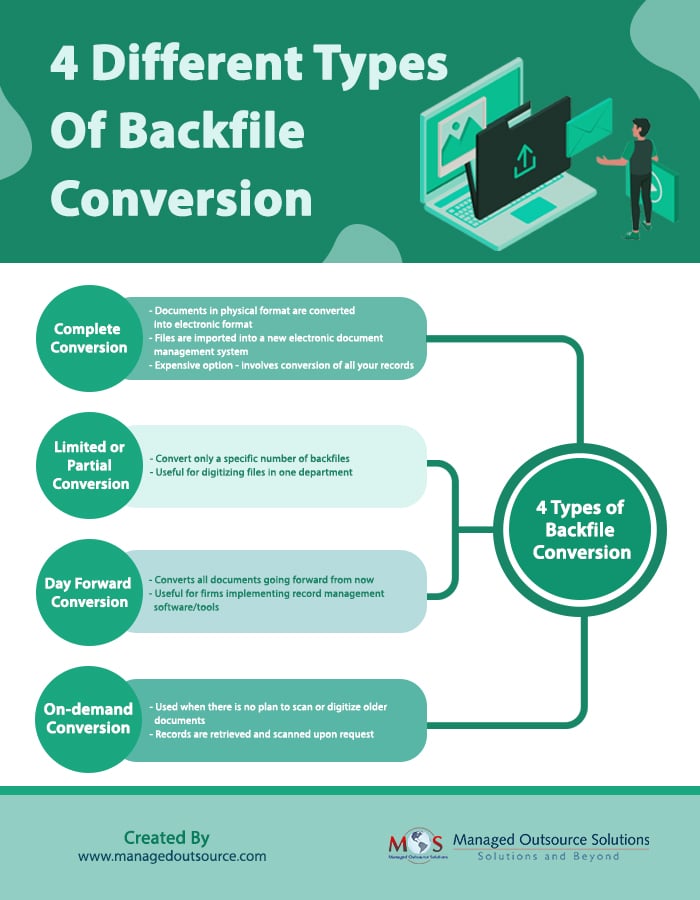 Streamline your document workflow!
Contact us at 1-800-670-2809 for back file conversion assistance.