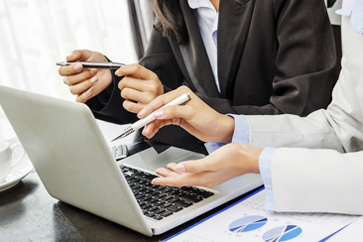 Businesses need data entry services on a regular basis to keep up-to-date with important data and access the required information whenever needed. In the absence of an efficient solution to streamline and manage business data, organizations will find it difficult to gain the necessary insights and plan efficient strategies. This will have a negative impact on the growth and productivity of the organization. Time and again it has been proved that data entry outsourcing is a viable option with regard to managing data, but it is important to ensure that this doesn't come at a cost.
Choosing any random digitizing vendor is not advisable as there can be flaws in the output. It is important to choose a data entry company that can meet your requirements and deliver quality service to your organization. So, here are some of the things to consider when choosing an outsourcing partner to manage your business data.
Quality Assurance Measures: You must have a clear idea of the standard level of quality control your vendor employs. Their standards should be at one with your expectations. Find out whether they have a documented quality assurance policy they can share with you.
Credibility: A good data entry and document scanning company will have an excellent reputation and will be able to provide credible references. By contacting these references you can verify whether the vendor is reliable or not.
Experience and Expertise: Before choosing an outsourcing service provider, ensure that they are capable of handling your documents. Some vendors provide scanning only in certain formats or for some specific sectors whereas many others provide a wider choice. So make sure that the vendor you choose can satisfy your specific needs.
Accountability: The business partner you choose should be reliable and accountable. They should have a good system to track important things such as total images scanned, operator logs for various processes, quality control reports, scanner maintenance and cleaning. They should also have a workable disaster recovery plan in place.
Security: Security and confidentiality are very important when associating with a data entry outsourcing provider. Ensure that the vendor is capable of maintaining the confidentiality of the data, and only assigned employees have access to confidential data.
Capability to provide ongoing support for a paperless office: Ideally, your outsourcing company should have experience with a number of software systems and scanning technologies, and provide output in a variety of required formats. Also, find out whether the vendor can supply and support document management systems to help you in achieving a paperless office.
Some other details to check for:

The largest scanning/data entry project the vendor has completed
Timeframe taken to complete the project
Their average monthly scanning volume
Whether they have served other organizations in your niche
Their current maximum capacity

These above mentioned aspects will help you in identifying the right data entry outsourcing company for your needs. Make sure that the provider is able to ensure high quality output and customized outsourcing services.