PDF is a popular file format commonly used in offices. PDF files are popular as they can be easily viewed and edited on a variety of computing platforms. This format can eliminate compatibility issues that may arise due to different versions of any other formats, missing fonts or different operating systems, such as Mac or Windows, or iOS and Android. However, not all devices support PDF reading. It is also noted that PPT and Word files will also get slow with it. And so, it is ideal to convert your PDF into a more widely used file format like JPG. PDF conversion services provided by reliable companies can be of great support for offices.
Diverse software options are also available to do the conversion easily on windows as well as smartphones. Check out some of them here –
Adobe Acrobat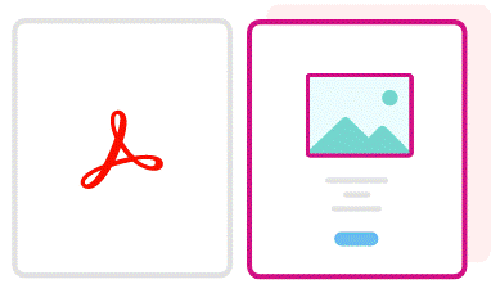 Adobe Acrobat DC is the ultimate conversion tool for converting PDF files to TIFF, PNG, or JPG formats. This PDF to JPG converter can convert files from a PDF format to an image format that supports millions of colors and produces great image quality on any operating system.
You can easily convert your PDF files into JPG images using Adobe Acrobat. You can also convert your PDF files into PNG or TIFF file formats using Acrobat.
And, there's a good reason for that. With just a couple of clicks, you will be able to convert your PDF into JPG. This tool also allows batch conversion of multiple files to save time.
Conversion involves easy steps such as
Opening the PDF in Acrobat
Selecting the Export PDF tool in the right pane
Choose "Image as your export format", and then choose JPEG.
Clicking "Export"
Choosing a location where you want to save the file, and clicking "Save"
Wondershare PDFelement – PDF Editor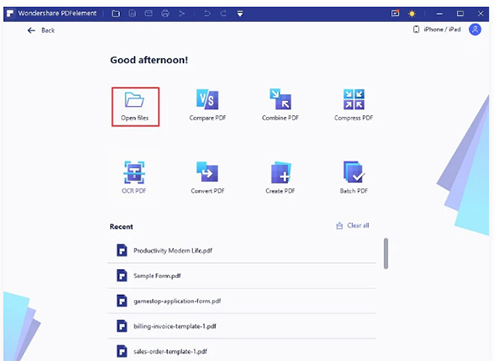 This offline PDF converter provides options to edit, annotate, and protect PDF files. This complete PDF editor and converter can also convert PDF to JPG in high quality and high speed.
Users can easily convert PDFs to multiple formats like Word, Excel, HTML, and TXT, as well as to image formats like JPG and PNG. This PDF management tool comes with key features such as options to edit the text and images in any PDF document, change the text font style, font size, and font color, highlight and underline text or even add custom stamps and comments to the document, and an OCR function to easily edit scanned or image-rich PDF documents. Even multiple PDFs can also be converted to JPG formats easily.
PDFill Free PDF Tools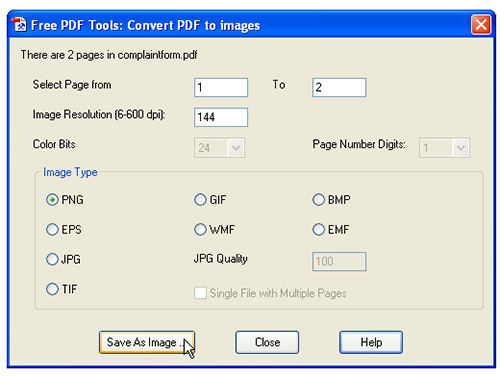 This is a free PDF to Images Converter. It is designed to convert a PDF file into various image formats (PNG, GIF, BMP, EPS, WMF, EMF, JPG and TIF).
Users can select the page range and image resolution and can define JPG quality. This tool also allows adding a PDF watermark using a graphic image (bmp, png, gif, jpeg, tiff, wmf) that appears behind or over the existing PDF document content when a document is displayed or printed.
Converting PDF to Images with this tool involves key steps such as – choosing 'Free PDF Tools' and then 'Convert PDF to images', then clicking 'Save As' to have a new PDF file. The folder with the images will be launched automatically.
PDFMate PDF Converter

With a simple and clear interface, PDFMate pdf to jpg free converter can let each PDF file get converted into separate JPG files, making them easy to access and use. Users can also batch convert multiple PDF files into high-quality image format. This software supports multi-languages such as English, Japanese, German, French, and Chinese.
This tool can also be used to create, edit, convert and merge PDF files to help you improve work efficiency. Its advanced OCR (Optical Character Recognition) technology makes it possible for users to extract texts and images from image-based PDF and convert it to editable and selectable formats.
Zamzar PDF To JPG Converter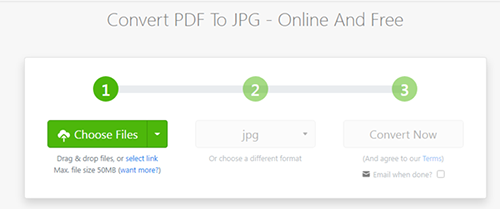 This online tool allows PDF conversion to JPG and many other formats such as bmp, csv, doc, docx, dwg, dxf, epub, fb2, gif, html, mobi, mp3, odt, oeb, ppt, png, tiff, txt, xls, and more. Conversion is easy in just 3 easy steps. This software can be easily accessed via any computer or mobile device, no matter where you are.
DocuFreezer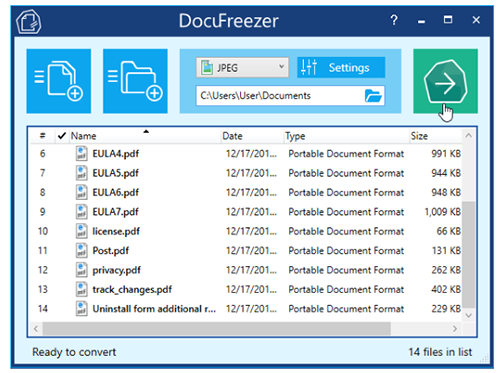 This desktop application can convert your documents and images to PDF, TXT, JPG, TIFF, or PNG formats. With this software, users can convert any number of documents in one session. DocuFreezer helps to easily convert your files and protect them from being modified. Once the conversion is done, the converted files will maintain the original files' structure, page layout, text formatting, fonts, and hyperlinks. This software can also preserve the original file names, metadata, folder structure, attachments, and color attributes of source files.
Convert PDF to JPEG thus making it easy to handle and share with others. Professional document conversion services can help in converting even large-volume PDF files into jpg or any other formats quickly and efficiently.