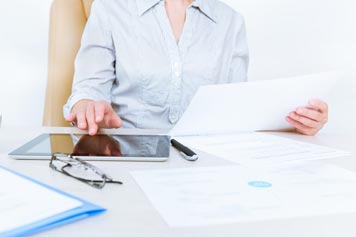 In today's world, small businesses are under continuous pressure to achieve optimal efficiency and the best ROI. To improve efficiency, digitization with the help of document scanning services would be a good option, which eliminates the use of costly paper processes and helps improve customer relationship by providing quick and customized service. Many organizations today rely on digital documents considering their safety, efficacy and privacy. However, there are other organizations that have not yet made a successful transition. Digitization is immensely helpful in the financial sector where a large amount of data from multiple sources has to be dealt with.
An article published in Onrec.com says how the digitalization of the UK's tax system is fast approaching and many small businesses are rushing to be prepared. The same will be the case for other countries too, because digitization is evolving at a supercharged pace. In 2015, the UK government announced that most businesses, self-employed people, and landlords will be required to keep track of and update the HMRC (HM Revenue and Customs) of their tax affairs digitally by 2020.
Studies show that two-thirds of small businesses in the UK don't use accountancy software, 16% don't use any sort of financial record keeping at all, including digital. This group will have to learn the new software systems. For such organizations, outsourcing the digitization process is the best option.
Seek Expert Advice: When dealing with legitimate records containing financial data, seek expert advice from an experienced accountant who can join you in this process. These experts are astute and can provide the best advice regarding managing your business accounts. Another advantage is that these experts may already be using the right software and can provide valuable guidance to make the transition to digital tracking and tax submission easier.
Don't be complacent: Depending on outsourcing services doesn't mean that you don't have to be concerned. You should be prepared because the change is going to happen and be familiar with the new systems. This helps to be more comfortable, confident and capable when working with those new systems.
The above example just covers the financial side of an organization. Digitization is to hit all the departments of organizations. A business process outsourcing company can offer you digitization services that will help ease the transition, help build an efficient work environment and improve efficiency. They can identify what records must be kept, what can be discarded, and then would scan and store documents for easy access. Reliable providers use advanced technology and software to capture the data with excellent quality and clarity. They offer customized services according to the specific requirements of the clients and these services are cost-effective too.