With the rise of big data, digital transformation has become a necessity for all industries. Big data comes from multiple sources and presents in multiple formats such as structured, unstructured, and semi-structured. Business process outsourcing solutions such as data entry, data mining and data conversion help organizations streamline large volumes of complex data. Big data analytics offers incredible benefits for all types of businesses, driving better decision making, fuelling innovation, and improving productivity and revenue.
Almost all industries, ranging from education to the health sector, are making use of big data analysis in one way or another. Have you read our blog on the importance of big data and data entry in diverse industries? We now explore how big data impacts business marketing.
Today, everyone wants to be data-driven in their marketing and sales process. Big data analytics allows marketers to make data-driven decisions and attract their target audience using the right strategies. It can inform the marketing team of customer behaviors and industry trends, enabling them to create innovative and personalized campaigns that help build lasting relationships with customers.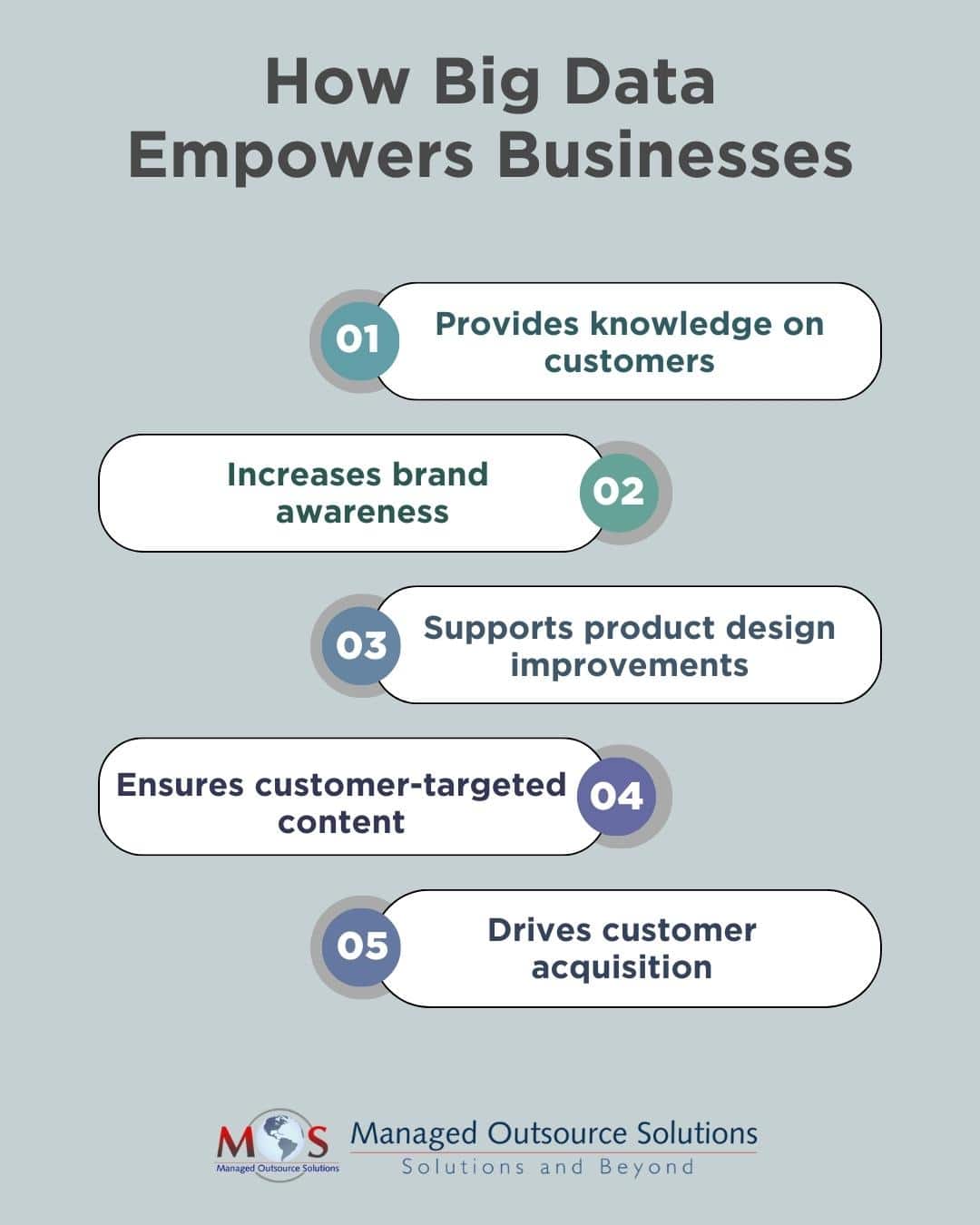 How Crucial Is Big Data for Marketing Your Business?
Big data is becoming a fundamental tool in sales and marketing. In the marketing sector, big data comprises gathering, analyzing, and using massive amounts of digital information to improve business operations.
Now, what are the key big data types that marketers should track?
Marketers should track a wide range of big data types to enhance their strategies. Key data categories include demographic data for understanding their audience, behavioral and customer journey data for optimizing user experiences, transaction and financial data to measure performance, social media and email marketing data to refine digital campaigns, and geolocation data for localized efforts.
Additionally, competitor financial data such as business' sales and marketing statistics and pricing offers insights into market dynamics, while content engagement data informs content strategies. Mobile and IoT data cater to the mobile-centric world, while voice and chatbot data reflect changing consumer interactions. Predictive analytics, AI, and machine learning data enable data-driven decision-making, and customer lifetime value data helps in loyalty initiatives. The relevance of each data type depends on specific industry, audience, and marketing goals. Tracking and analyzing these data sources enable businesses to make informed decisions and drive successful campaigns.
Operational data includes information related to business processes such as shipping and logistics or CRM systems. Tracking operational data supports data-driven decision-making, improves marketing efficiency, and ensures that resources are utilized effectively.
In a recent blog, Datapine discussed several real-life examples of companies that used big data in their marketing efforts.
One example is that ofFig & Olive, an upscale Mediterranean restaurant that operates across locations in New York, Chicago, DC and Houston. They utilize guest management software to track their guest's ordering habits. This real-time data allows them to deliver targeted reengagement email campaigns, including sending out simple personalized messages or enticing offers to lure customers back, reinvigorate their audience, and boost engagement. Their compelling "we miss you" email campaign has experienced huge success, generating almost 300 visits and $36,000 in sales – a seven times return on the company's investment into big data.
Global Big Data Market Outlook
According to a recent report from Expert Market Research, the global big data market is supported by the growth of big data and business analytics market, which reached USD 311.72 billion in 2023. The report notes that the global big data and analytics market is expected to grow at a CAGR of 14.9% in the forecast period of 2024-2032 and attain USD 1088.06 billion by 2032.
The report categorizes the market on the basis of various aspects:
By component into: Solution and Services
By hardware, into: Storage, Network Equipment, Server, and Others
In terms of deployment mode into: On-Premises, Cloud, and Hybrid
On the basis of application into: Customer Analytics, Operational Analytics, Fraud Detection, Compliance, Data Warehouse Optimization, and Others
On the basis of end use into: Manufacturing, Retail, Media and Entertainment, Healthcare, IT and Telecommunication, Government, Gaming, Energy and Power, Engineering and Construction, and Others
The major drivers of the industry are listed as rising population, growing urbanization, increasing adoption of IoT and allied services by major industrial sectors and investing in research and development. The report notes that growing internet penetration is supporting big data market growth. The exponential growth of data from various devices underscores the need to extract value from it. Cloud computing has made data storage more cost-effective and secure, fostering the demand for big data. IoT adoption and increased internet accessibility further boost this demand. Investments in research and development, exemplified by companies like Facebook, are driving the big data market. Notably, emerging economies like China are expected to fuel substantial growth in this sector.
Some of the key players in the global big data market that the report covers include IBM Corporation, Oracle Corporation, Microsoft Corporation, Accenture Plc, Amazon Web Services, Inc, Microsoft Corporation, Google LLC, and Dell Technologies, Inc.
Benefits of Big Data in Marketing Your Business
Know your audience better
With clear data, marketers can segment customers as sub-groups with their specific features and activities online. They can customize operations and improve customer journeys, so that every client receives products or services based on their personal preferences. Based on careful monitoring, they can also adjust prices to their products and services in real time. Big data helps measure people's reactions to each marketing activity. With big data analytics, business intelligence can be improved, driving positive changes such as improvements in existing products and higher revenue per customer.
Increase in brand awareness
Brand awareness is another way big data has a significant impact on marketing. Based on this data, companies can identify their loyal customers who are repeat buyers and who will recommend their brand to their friends and family. You can also measure ROI, as big data takes into account all marketing channels, activities, and investments and conducts a cost-benefit analysis of each element. You will get the option to track your marketing activities and the corresponding budget.
Supports product design improvements
Big data enables companies to enhance their product or service design by facilitating deeper engagement with customers. It leverages customer interactions across social media and other communication channels to construct more comprehensive customer profiles, assisting companies in tailoring their offerings to meet specific needs and requirements. In the face of intense competition, this information becomes crucial.
Ensures customer-targeted content
Content marketing is a crucial strategy to attract your targeted audience. Companies like Facebook and Google are using big data analysis to enable advertisers to provide people with content based on their interests and behavior. Marketers can now deliver relevant content to their website visitors based on details such as where they clicked and where they came from.
Drives customer acquisition
One of the major benefits of big data in marketing is improved customer acquisition. According to a McKinsey survey, serious users of customer analytics are more likely to clearly outperform their competitors in terms of new customer acquisition. Growth of big data also benefits the cloud computing industry as it supports big data storage requirements. Cloud computing allows data analysis from numerous sources. Beyond those basic characteristics, innovations in cloud computing continue to provide benefits to big data marketing initiatives. It facilitates the use of virtual machines and containers and gives the marketing team the flexibility to reduce workloads and innovate new solutions that physical infrastructure cannot provide.
Big data enables marketers to adapt quickly to changing market conditions and customer preferences. Data mining services support marketers in their efforts to leverage big data analytics for smart decision-making, improved marketing efficiency, and efficient resource utilization.
Unveil your data's potential with our data mining services!