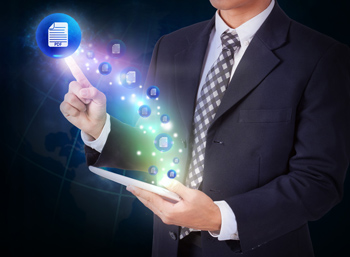 As the world gets busier and busier, businesses always look out for easy and quick ways to convert documents into the desired file formats usually with the help of data conversion services to ensure speed and accuracy. The Portable Document Format (PDF) is one of the most popular formats mostly on account of its unique features. It is an important tool for publishers, HR managers, and attorneys and has become the standard digital format for any important document. PDFs are easy to share between different devices and operating systems, and the content and design of those documents are well-preserved. They are popular also because of their unique safety features that can be activated to allow only authorized people to gain access to them.
The PDF format has its limitations as well, especially when you want to edit it or make changes to it. You have the following options if you want to edit the content of a PDF file.
Use software designed to edit documents in their native PDF format. Adobe Acrobat (the full version) allows you to do this. There are other third party software tools as well available for this. These tools function like word processing software, allowing you to manipulate the text and images in the PDF before saving it as a new document.
A better option is to convert the PDF using a PDF converter and then edit it in your preferred application. For instance PDF to Word Document conversion can be done with such a converter.
A PDF converter converts PDF files to Word, Excel, PowerPoint, HTML, image, plain text and so on. Good converters will have a clear understanding about the PDF document structure as well as that of the target file format.
Let us see how you can go about choosing and installing a reliable PDF converter.
Here are some of the best PDF converters available.
Adobe Acrobat X Pro 10.0: This is considered the global standard in PDF software, and is quite expensive. It allows all types of PDF conversion and editing. Individuals as well as businesses, legal offices, IT professionals, and government entities will find this software very useful.

Soda PDF: This is the very first fully functional online PDF solution, according to the creators of this software. You can view PDFs in full-screen mode, 3D and more. The software allows you to create PDF files from more than 300 file formats, and convert PDF to Word, Excel, PPT and image files.

Nitro Pro 7: This converter is more affordable and easy to use. It comes with excellent software design, capabilities, speed, performance and high-quality results. It uses less hard drive space and RAM than its competing products. This software is provided with ideal security options and enables easy editing.

PDF Converter Professional 7: Designed specificallyfor Windows operating systems, this converter also has a PDF converter for Mac. These are easy to use and efficient for creating PDF files, editing PDF, combining multiple files into one and file conversions. It is an affordable option capable of performing the majority of the functions you are in need of.

PDFMate Free PDF Converter: This is free software and is capable of outputting EPUB eBooks, HTML files, JPG image files, Text, and SWF from the original PDF file. It also supports batch conversion to convert unlimited files into other formats. You can choose to convert all original PDF content or extract specific content. The one disadvantage of this PDF converter is that it doesn't output Word documents.
Here's how to go about installing the PDF converter tool and converting your PDF files.
Choose the software you want: Decide on the PDF converter you want and purchase it or download it for free. Most PDF converter tools have the same uses and methods of conversion.
Download the software: Once you have chosen your software, visit the vendor website and download the software to your desktop or mobile, according to your needs. Sometimes you may be able to try it in your own browserwithout having to download anything.
Install and run the software: After downloading, find the download folder and run and install the software. Installation takes only few minutes but sometimes installation may be interrupted due to faulty antivirus programs, incompatibility between software and the computer etc.
Convert all your PDF files: Once the software is installed you can easily convert PDF files to other formats. Click on the open button when you want to run the software or right click on the file, hover your mouse over the "open with" button and click the PDF converter you have downloaded. To start the conversion, click the specific buttons. The time taken for the file to be converted depends on its size, which means that bigger files will take a longer time to convert. The converted files are placed in a specific folder linked to the software. Open the file to see if there are any errors or other undesirable results. These converted files can be edited like any other word files. In case you want to reconvert it to PDF, the software allows that as well.
When businesses have large volume conversion needs, the best alternative for PDF conversion is outsourcing to a professional document conversion company. This will ensure timely and speedy PDF conversion, accuracy and efficiency. It is also a more economical option since companies will not have to invest in expensive software or in recruiting staff for the purpose.