Data extraction is a continuous process, and is essential for businesses to function smoothly and provide superior customer experience. Rigorous competition and escalating market volatility are the major factors that have led to the emergence of data mining and data extraction. Both large and small organizations use data extraction services to collect data and information from a particular industry or data linked to targeted customers, in order to devise and implement pertinent sales and marketing techniques, or develop and promote a certain product/service. It also helps various industrial sectors to ascertain the current market trends and what customers want. A reliable data entry company can help with data extraction and enable the company to cut costs and increase productivity. To go through vast streams of consumer statistics and customer data is a strenuous task. Therefore, it is necessary to find an appropriate way that could sieve and categorize the numbers, facts and figures. The following are some useful tips to master the art of data extraction.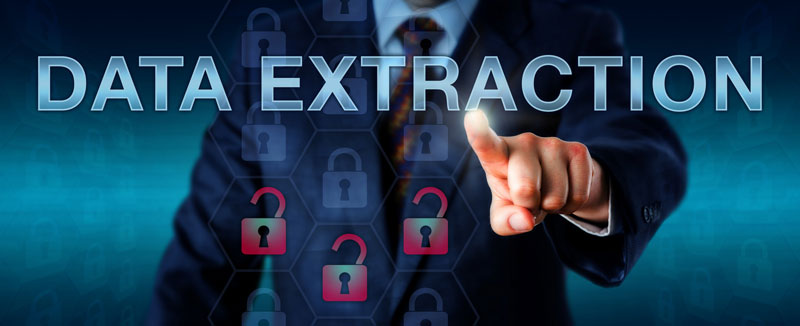 Keep old data – As time goes by, customers, their likes and dislikes are likely to change. This is true in case of data also. Old data should never be discarded even if it seems to be obsolete or no longer valid. Archiving the old data gives a chronological reference source which can be used for future use. Old data can be used to cross reference old market trends with the new ones and make more informed business decisions.
Mine more data – When there is a large volume of data, data miners will employ sampling, as it is the only feasible way to extract data. Advanced computer software enables data miners to crawl and extract hordes of data from a website or any other source in a faster and more accurate way. It is necessary that organizations increase the overall scope of data extraction, crawl more data to reveal more accurate market and customer trends, obtain more insights, and make informed decisions based on those insights and trends.
Utilize data carefully – The data mined must be carefully analyzed. An organization needs to have a detailed plan for what they actually want to do and achieve in their business and for this accurate data is necessary. Analyzing the data incorrectly or incorrect application of data could have a negative impact. Data should be analyzed and the insight gained applied carefully as per your business objectives. A business owner should make the right decision of adjusting to unexpected data results.
Identify business goals – Identifying business goals and getting a clear perspective will help in determining which data should be extracted. Data extraction process can be divided into several branches and it is necessary to choose these according to your business goals. For instance, your primary prerequisite would be to obtain customer emails to start the campaign. An email extractor tool helps extract the emails from trustworthy sources. This tool can collect business contacts from web pages, HTML files or text files without duplicating email addresses. When the goals are identified, it is essential to work on them to make them realistic. It is imperative to know your competitors, their past and present. This will help you in determining targets based on the experiences of others. If the goal has a solid foundation, then you can start mining data to make the most of it.
Make the information extracted available to everyone – If the data results and end reports of data extraction are handled by business owners and shareholders alone, then it is likely to be less useful. This report can be more useful if the details are shared with the employees, as they are the people who interact directly with customers. Good data extraction software will collect decipherable, accessible reports from large repositories of data. People who are not directly involved in the extraction process will understand the findings and conclusions of the reports. This in turn makes finding prospective clients easier and perhaps, more successful.
Select the right data for extraction – Before engaging in data extraction, you must decide which data to include and which to exclude to obtain relevant and actionable data. Scraping data from the web may guide you to unfamiliar and confusing terms and even create data over abundance.
Data extraction is a science and it requires a skilled person to extract useful data. With a team of well-trained and experienced professionals, data entry companies can help businesses extract data from various sources.