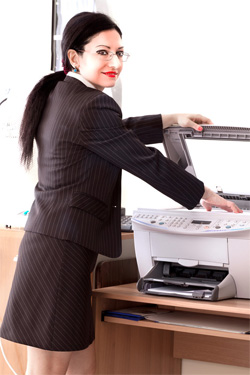 Digitizing documents is an effective way to improve the efficiency of a business and reduce costs. It has evolved from the traditional, monolithic, 'back office' production level systems of document capturing to today's decentralized system, where information is available at the point of necessity. However, the realization that all documents increase in their value once digitized will drive much of the new market for document scanning.
Globally, most businesses are much into scanning and digitally storing documents. Recently it was reported that government agencies including civilian security-oriented organizations such the Federal Bureau of Investigation and the Department of Homeland Security, are all set to go digital. Endless counties, libraries and universities across the U.S are transitioning to digital documents. Tompkins County, one among the latest counties to embrace digitization, is performing scanning and conversion of documents dated back to 200 years, a recent report says.
What is prompting this drive for speedy digitization? Digitizing paper documents can enhance productivity, security, compliance and data protection. It has extended beyond specific line-of-business applications to include every document type, at every level of the organization, across government and industry, in small, medium, and large enterprises.
Benefits of the Document Scanning Process
As per the research report of IDC, there are various benefits in implementing document scanning and indexing. Major benefits of the process include:
Easy Access to Business Documents
Paper documents may be lost, destroyed, or misfiled; whereas scanned documents can be quickly retrieved using any number of keywords or indexes. As documents are available in a centralized location, they can be easily searched, archived or retrieved.
More Office Space
With document scanning, you can reduce the physical storage space by freeing up the space dedicated for paper files. Digitizing documents can release a lot of space meant for filing cabinets by storing information on secondary storage devices such as DVDs. When the need for storage space is reduced, businesses can consider moving to a smaller office under lower rental costs. With more space available in an existing office, employees benefit from improved working conditions and working in a less cluttered office environment. Businesses need not invest in maintaining more space for paper document storage, and can consider investing that money in more profitable, core business activities.
Secure Storage of Documents
Data security and protection is one of the prime benefits of the document scanning process. Rather than keeping sensitive records physically accessible, it is better to protect them digitally using firewalls, encryption and other computer security measures. Moreover, it is easy for digital files to stay protected from fire, flood and other disasters. Scanned documents improve security in the following ways:
It improves security, peace, and data protection compliance for business.
Can be securely stored in an online document management system.
Documents can be easily shared with users in multiple offices and locations.
Scanned documents can be stored in secondary storage devices such as CDs, DVDs, or memory sticks. Loss of content can thus be prevented in the event of an unforeseen fatal crash.
Environment-friendly Option
Scanned documents can help any office to become paperless in the long run. Change to a paperless office can be dramatic, but once implemented, helps in the long term successful running of a business. Less paper also ensures an environment-friendly office, and reduced cost for stationery and photocopying.
Improve Customer Service and Save Time
Businesses often have to spend a large amount of time, searching through paper documents to collect customer information that is necessary to take timely decisions and to improve customer service. Other benefits include the following:
Make the search process easy with a feature for keyword search. It takes long hours to dig out a paper file that has been buried underneath a pile of paperwork. These problems are no longer an issue with files stored in digital format.
Indexing scanned documents makes the search process easier. Scanned documents can be organized on the basis of date, client name, or other categories.
Scanned documents can be circulated among staff members in the office just in a fraction of seconds. Taking Photostat copies of paper documents and then circulating them among the group will be more time-consuming and costlier than accessing digital documents.
Increased Employee Productivity
Employee productivity can be increased when time/costs associated with business processes are reduced and the work processes are made smoother.
The main goal of document preservation is the maintenance of document integrity. Document scanning should be done with utmost care and concern, as digital documents are complete replicas of the original documents and the conversion should be done without missing any pages.