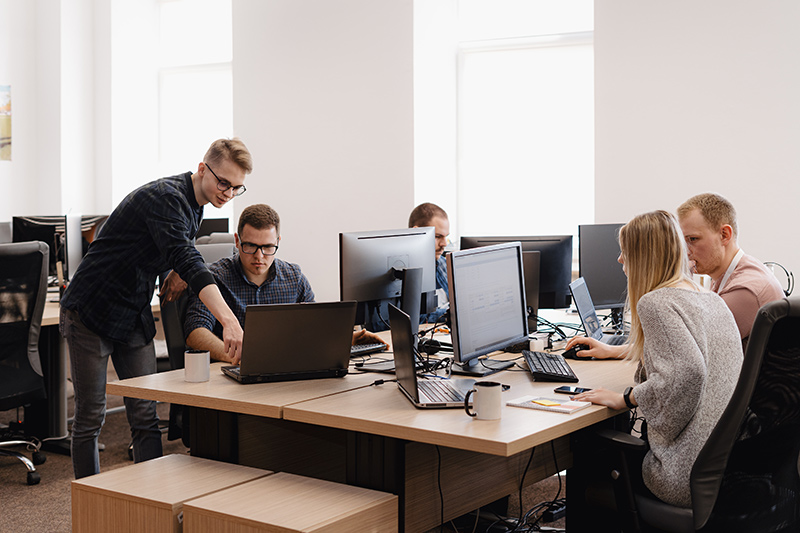 Businesses always aim at improving their efficiency and productivity to meet the rising customer expectations, to keep up with market dynamics, provide better consumer service and stay ahead of competitors. Huge volumes of data flow into the businesses and this data may be paper-based or in any other format. Working with this unstructured data can be time-consuming, result in poor business decisions, and affect the growth of the business. Businesses can overcome these difficulties with data entry outsourcing. It helps to organize and convert data that flows into the organization into a digital and structured format. This helps to process the data easily and derive valuable insights that will drive the growth of the business.
Today, almost all industries rely on outsourcing data entry as it helps to minimize operational costs, save time, and allows employees to focus on core business functions instead of wasting their time on monotonous tasks. Here are seven industries that benefit from outsourcing their data entry activities.
Manufacturing: These companies produce goods. They handle several documents regarding raw materials, machines, labourers, tax records, contracts, invoices and so on. By outsourcing, manufacturers can also ensure quality control by professionals. For example, Acer is a Taiwan-based personal computer manufacturer company. Branding and marketing were among their major strengths, but they decided to outsource other fields of business activities to professionals. This resulted in faster-growing sales and market share gains and the company's 6,800 employees are less than a tenth in size compared to its main competitor.


Healthcare: The healthcare industry deals with several volumes of data like patient records, patient logs, check-up schedules, medical billing data, insurance records, administration information etc. Therefore, they greatly rely on data entry vendors to enhance their services and minimize their administrative costs, and improve record keeping. For example, Norwegian American Hospital saved over 40 percent of their costs with strategic healthcare information management outsourcing.


Logistics and transportation: Successful logistics and transportation companies invest their time in providing and improving their services by outsourcing data processes. They manage several data-related processes such as driver log entry, purchase order entry, freight bill processing, data security quality assurance and all such data is converted into digital format with the help of a data service vendor. This makes it easier to process any data faster.


Banking and finance: Many banks and financial institutions rely on data entry vendors to streamline loans, payroll processing and inputting details of new or updated accounts, checks, and other financial documents. They also ensure security and protection of data and ensure that all critical data is treated with confidentiality. Outsourcing helps banks to deliver excellence at the right time, minimize cost, and save time. The Bank of America's Corporate Investment Group (CIG) used a data analytics system to calculate the default probability of approximately 9.5 million mortgages, reducing the calculation time from 96 hours to just 4 hours.


Digital marketing: The demand for data entry in digital marketing sector is rising with every year. Data entry professionals can help digital marketers with data sorting, image data entry, data entry for product catalogs, and data entry for invoices and receipts. It also helps with visual marketing, social media marketing, web search marketing, video production, social advertising, or content marketing.


Ecommerce: Everyday online stores are emerging in the market and these businesses have to keep up with the demands of their customers. To meet these demands they deal with several data forms like customer data, online survey data, feedback from the customers, shopper data, and so on. Apart from these, they also have other data like in-store data, brand data, invoices and so on. All this data can be stored and organized with the support of data entry professionals. For example, Jack Ma's Alibaba began by outsourcing its development to a US firm. This enabled them to acquire the skills needed to gain a competitive edge against eBay. Overseas providers had yet to acquire the same skill set as the U.S during this period. This helped Alibaba to successfully compete with eBay notwithstanding Chinese internet restrictions.


Real estate: Realtors and real estate firms deal with enormous data from numerous sources. All the accumulated data should be accurately documented and processed for organizations to make informed business decisions. By outsourcing to data entry professionals, realtors can organize the data and process it to extract meaningful information vital to take critical business decisions. Rodolfo Delgado from Replay Listings, a platform to find apartments for rent in NYC, is focused on providing unedited videos for their clients. He said to Forbes that allowing a third person to do simple data entry task helps realtors to focus their valuable time on tasks in which their expertise comes to play and it is the way to work smart and not hard.

Industries are greatly dependent on several types of data to manage and retrieve vital information. Data entry companies provide access to many latest technologies that help with organizing huge volumes of data and deriving valuable business insights from it.