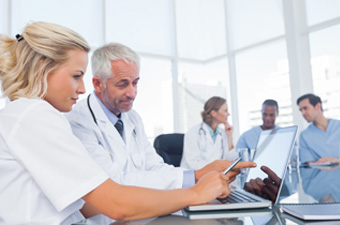 With the advent of EHR, a large chunk of medical data entry has fallen on the shoulders of physicians, which in many cases is proving to be a highly challenging task. It is true that the electronic health record has been introduced with the objective of providing an easier method for locating, accessing and retrieving clinical information. However, it is taking its toll on physicians. Physicians commonly used the service of medical transcriptionists to create and maintain medical records or their transcription requirements were outsourced to reliable data entry companies. But with the EHR system, physicians are forced to spend more time in documentation and less time with the patients. Today, in order to spend more time with their patients, some physicians are using the service of medical scribes to assist them with the documentation. With medical scribes, physicians can record real time details of the patients and improve patient care. Supporters of medical scribe usage say that scribes help improve efficiency, reduce stress and burnout in physicians, improve doctor- patient encounter and provide quality patient care.
Medical Scribes Ease the Process of Medical Documentation
Dr. Andreana Hodgini, a Lutheran Medical Group (LMG) family physician who has been in the field for 26 years, found her routine work a "race" when the EHR was implemented. According to her, EHRs have changed the practice of medicine and created frustrations as well. Her hectic schedule was lightened when she was provided a medical scribe who served as her documentarian.
Medical transcription companies continue to serve physicians who want to retain their services by rising to the occasion providing EHR-integrated transcription. Surveys show that the demand for medical scribes has increased with the arrival of the EHR. This is considered a practical and effective option for doctors who want to have their notes immediately transcribed and this is possible when you have a scribe who will follow you around and document everything that is relevant in each patient encounter. However, it is important for doctors to ensure that the scribes they recruit are properly trained in:
Medical terminology
HIPAA regulations and the scope of what scribes can and cannot do legally.
Real Time Documentation Possible
Medical scribes who are trained thoroughly in their job will ensure that all details of the patient-physician encounter – the reason for the visit, symptoms, and the doctor's findings. The advantages doctors see in having a scribe is that they can immediately explain any complex terminology, acronyms or medical slang they may be using so that the documentation is accurate in the first step itself. Doctors using the service of scribes carefully review the documents prepared and signs off on the scribe's documentation, and make any additions or corrections required. The scribe is also required to have her name and signature in the medical record prepared.
According to Dr. Hodgini, her patients accepted the presence of the scribe though she was a bit worried about how they may react. One of her long-term patients confirmed the scribe's value for both doctor and patient. This doctor says having a scribe is enabling her to practice medicine the way she loves – looking more at the patient than at a computer screen.
Nowadays, many physicians also use mobile voice-to-text systems that enter the physicians' dictations directly into the medical record. However, many others in the field have reservations regarding the accuracy of this system.