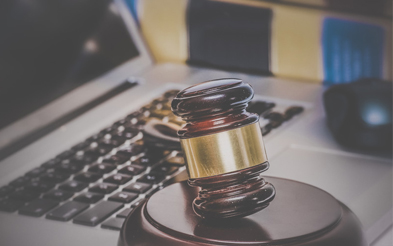 Companies offering legal process outsourcing (LPO) services help law firms in their day-to-day functioning by taking care of many tasks such as legal transcription, litigation coding, document writing, etc. In view of the importance of security and privacy of data in a law office, they also provide their clients with high tech security solutions. Nevertheless, it is crucial for law firms to take steps for IT security.
Significance of Maintaining Data Security in a Law Office
With digitization in law offices and the widespread use of the Internet, the challenges involved in maintaining security of the information they store have increased. Threats could not only come from external sources such as powerful hackers, but also from internal troublemakers.
Law firms have increasingly been the target of security breaches in recent years. The breaches have been particularly noted in firms dealing with high profile cases involving high-value information on clients. Apart from the loss of reputation and performance handicap that stolen client information could cause, the information can also be used by cyber criminals to blackmail the firm or even sold in the black market. Even if your firm may not be dealing with high profile information, all legal data is sensitive since it contains confidential client information.
Any security breach could have serious consequences including charges of personal identity theft and complaints to the Attorney Grievance Commission. It is the obligation of law firms to safeguard client information and take all the necessary measures to live up to their legal and ethical obligations.
Basic Security Steps for Law Firms
Efficient document management and information workflow systems are essential for minimizing risk of information loss. It is important to identify the areas of risk and implement the appropriate technological solutions to counter them. Professional legal services can help with this.
Malware is one of the most significant threats to electronic information. Not only is it important to be aware of malware, you also need to know how it strikes. The following steps are basic, and some of which you may already be employing, but they form the framework for security:
Threats do not come by visiting contentious websites alone but also through the less suspected email. Email serves as the primary communication means in law firms, but it can quite easily harbor malware. You need to secure your email communications to prevent confidentiality breaches, and your staff needs to be trained in this as well.
Your staff must also be trained in using technology securely. There are some basic things which you should and should not do with regard to using technology. The areas of danger must be identified. For this, your firm must have technology and Internet use policy which must be strictly applied while browsing, e-mailing or employing other software systems.
It goes without saying that you need to backup your systems. Data provides the building blocks for your performance, and any kind of loss could be catastrophic. So it is important to be prepared for any eventuality, where hackers or malware wipe away data. Important and sensitive data must be backed up.
The power of passwords needs to be fully exploited. The vast number of passwords that needs to be remembered or securely stored plays in our mind and leads us to create simpler passwords so we won't have trouble remembering. But that is a recipe for disaster. Remembering or securely storing passwords is a small prize to pay for the security tough passwords provide. Remember, leaked information is lost information, and is also a breach of trust with your client.
Spyware could be tracking your computers and your browsing habits. Spyware gets in through the Internet and you need to keep these out, which is why you require a firewall to be installed on your Internet. This can keep away unauthorized access to your network. This is important since you do not want any sensitive client information leaving your premises.
How Reliable LPO Companies Meet the Client Data Security Challenge
Established legal process outsourcing (LPO) service providers ensure high tech security solutions for their clients. When outsourcing legal work, you should review your service provider's security policies and practices. Established companies will have the following basic measures in place:
Physical security measures so that no unwanted visitors enter the premises and no information leaves the company
Measures to secure operational security so that client data is not misplaced and leaks out. These measures would cover the mailing system, modes of internal official communication, and the security of data in portable devices
Integrity of employees which includes hiring people only after conducting a thorough background check and training for workforce on information security standards on a continual basis
Professional providers of legal services can identify the areas of risk and beef up those areas to improve security and close the loopholes. They also help strengthen the law firm's client relationships and offer regulatory and legal compliance assistance.