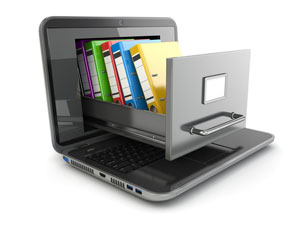 From next year onwards, lawyers of the state of Indiana will be able to file documents electronically. The announcement was made by the Indiana Supreme Court in a press release, and will be implemented in phases.
A recent report says the e-filing system is going to be introduced for trial and appellate courts statewide. The facility will allow attorneys and individuals to file and access court documents online. They will be able to file documents 24 hours a day instead of waiting for office hours. For the last two centuries they have been using paper storage, and the courts are switching towards digitization of court files to make the process more efficient and convenient.
Need for Having an
E-filing Court Record System
in Indiana
Indiana courts handle more than 2 million cases a year.  Lack of a proper system for entering and accessing data is the main challenge faced by the traditional court record system. Other major challenges faced by the statewide court record keeping system of Indiana are:
Case Management Systems (CMS) of different courts are different
Significant investment is required to upgrade or replace the outdated CMS products
Existing CMS products merely store data and are not able to manage the court information. The old system lacks the facility to create reports, set hearing schedules, or to automatically send out notices.
Existing CMS products serve only the courts and are not connected to law enforcement agencies, state agencies, lawyers or the public.
The planned conversion of appellate courts to the state-supported Odyssey case management system is now in use in courts in 48 counties. The initiative allows court clerks to manage caseloads faster and more cost-effectively.
Benefits of Implementing E-filing System
Users of Indiana trial court information can access more timely, accurate, and comprehensive information
Avoids the need to call or go to a courthouse to access information, as the required information is available online.
Reduced costs for trial court operations borne by Indiana counties.
The new system allows probation officers to track and monitor the activities of every individual through probation department.
The first step in implementing the e-filing system is to seek bids for an e-filing manager. The manager will have to work with multiple e-filing service providers, who operate the front-end systems attorneys use to send documents to the e-filing manager.