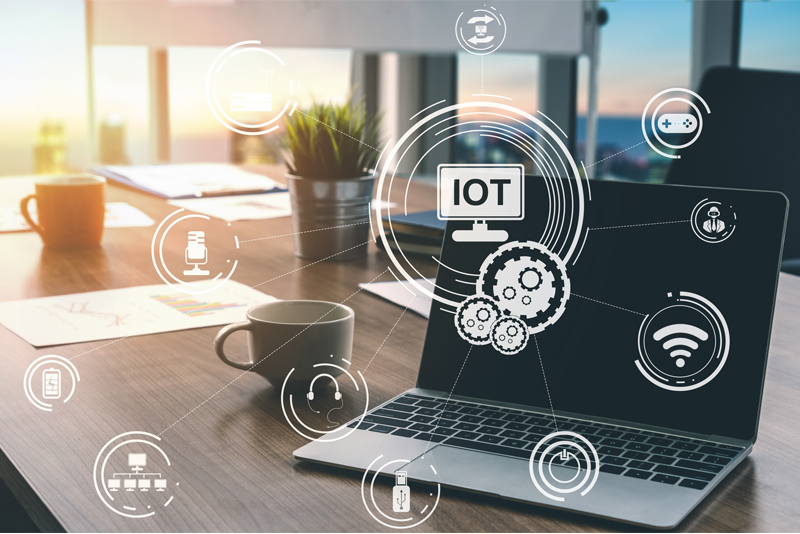 Advancements in technology has changed the lives of consumers and how organizations operate. The present world of digital business allows businesses to grow and spread out globally. Digital transformation is facilitated by technological development where any data in the form of object, image, document or sound can be converted into electronic format with the help of data conversion services. Big Data, cloud storage, and the Internet of Things (IoT) are some of the technologies that are fuelling digital transformation and it is the key to continuous successful innovation.
Just like other technological developments, IoT is redefining business performance. IoT is a technology system which utilizes automated processes to ensure seamless business operations. It is similar to blockchain system which connects interrelated computational, mechanical, and digital devices with unique identifiers (UIDs) to receive, transfer, and process information without human intervention.
With the emergence of real time analytics, artificial intelligence, commodity sensors, and machine learning, IoT helps run business operations smoothly. IoT devices record and transfer data to monitor important processes, provide new insights, boost efficiency, and allow companies to make more informed decisions. All the data they gather are valuable for analytics and AI systems to help identify the patterns or trends that were previously unknown.
Effects of IoT Technology on Business
IoT technology has given various devices like smart refrigerators, self-driving cars, smart surveillance, automated transportation etc. IoT is now highly relevant in commerce to save time in business-to-business (B2B) communication, remote automation management, consumer orders, and deliveries. Business-to-consumer (B2C) transactions are also using IoT with data compilation and analysis to improve efficiency, personalization and productivity.
Management of inventory: Earlier, businesses struggled to keep track of their goods in storage facility like warehouse. Even though there were monitors to track goods and delivery, this process involved many errors. However, IoT technology revolutionized the inventory management system with efficient methods to track, monitor, and manage the process in a more accurate manner. With artificial intelligence software, it is easier to track the inflow and outflow of goods. Today several shipping companies, product manufacturers, retailers, and wholesalers use IoT technology. It also makes demand and supply chains more accessible, stress-free, organized, error-free, with minimal issues such as theft and mismanagement.
Good customer service experience: IoT allows quicker access to customer data and this provides companies an opportunity to derive valuable insights from the data on how to meet the demands of the customers. This in turn brings more new customers, better customer retention rate and improves sales and revenue inflow. The new IoT technology devices and software allow you to receive feedback from customers and serve them better.
Better productivity: The IoT technology software and devices make businesses more efficient with seamless work operations that can be completed quickly with utmost accuracy. It also minimizes the workload on employees so that they can focus more on specialized tasks. IoT technology increases the organization of operations and tasks so that productivity and efficiency are improved.
Improved data collection and exchange: IoT makes data collection and analysis easier. With advanced software programme Excel and SPSS data interpretation, data collation, and accessing and retrieving data from various platforms have become easier. It also facilitates customer feedback, market research, record pattern, or product-testing survey. Platforms like Qualtrics, Survey Monkey, and Quick Survey allow to gather opinions for business improvement.
Several remote work options: IoT technology helps to run your business from anywhere with remote work. The remote work option with apps like Zoom, Webex etc has become useful in these days of COVID-19. Most businesses are able to run their services by means of practical and cost-efficient use of IoT software and devices that also encourage flexibility and adaptability.
Better business insights and foresight: Digital IoT models help businesses understand how to boost productivity. Businesses use KPI software to analyze profit targets and business managers use IOT software for forecasts and projections to help determine business growth over the years. Many IoT programs provide recommendations about how a company can gain more leads and generate higher revenues. The healthcare industry makes use of IoT technology to detect diseases and health conditions as well as identify the appropriate interventions and treatments.
Increased access to skilled workers: With IoT technology devices and software, firms can hire skilled workers using keywords to identify the best candidates. This improves productivity and it is a cost-effective measure because it lets pick only the right candidate who is fit for the job.
The Global IoT Analytics market size was 8287 million US$ and is expected to grow at a CAGR of 28.86% between 2018 and 2025. The main factors driving the IoT analytics market is huge increase in the data generated by IoT. The increasing growth in the number of IoT devices creates a need for advanced analytics and automation, thereby impacting the IoT analytics market growth.
IoT technology as part of a wider digital transformation strategy when combined with other emerging technology such as AI, VR, AR, robotics, and blockchain helps businesses gain a competitive advantage and improve efficiency. The present world is highly connected and dependent upon technology. Digitization is an important way for organizations to remain modern and relevant and it is a business strategy to expand to international markets. So, if you planning to expand your business the first and foremost step is to digitize all paper-based documents into digital format with the assistance of document scanning services.