Any organization's success mainly depends on how good their data is organized, managed, and utilized. Accurate data entry is a critical component of many administrative tasks, ranging from onboarding data to customer service, bookkeeping and HR functions. By outsourcing data entry tasks mainly related to administration, firms can concentrate on key responsibilities. As data entry is time-consuming and labor-intensive, organizations can consider outsourcing the task to professional companies. Data entry outsourcing primarily helps to ease a company's workload. Hiring data entry operators and building an in-house data processing infrastructure can be quite expensive.
According to the January 2022 research report from Technavio, the data-entry outsourcing services market share is expected to increase by USD 504.12 million from 2020 to 2025. The market is predicted to grow at a CAGR of 5.95% during the forecast period.
Data Entry Outsourcing Benefits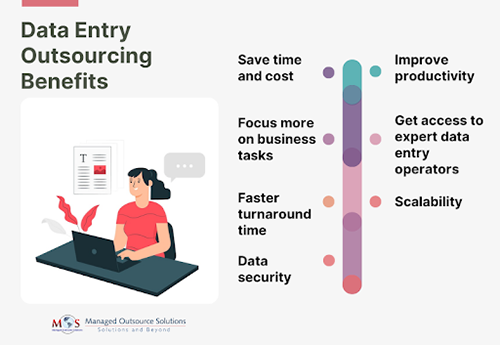 3 Major Administrative Processes That Can Be Eased with Data Entry Outsourcing
Onboarding
Data onboarding is all about collecting, validating, uploading, consolidating, cleansing, modeling, updating and transforming customer data or employee data via manual data processes, spreadsheets, and explainer documents. The HR team may have to spend a lot of time on data entry and employee onboarding, which is time-consuming. An inefficient employee onboarding process, however, will hold new employees back for quite some time.
Data onboarding also poses a challenge because of messy data, clerical errors, duplication of data, and dynamic nature of data exchanges. By outsourcing the task, professional data entry companies can manage these tasks for you, giving you a quick view of the completed and remaining tasks for each onboarded employee.
Bookkeeping
Administrative professionals are responsible for many bookkeeping and finance-related tasks such as – recording and reconciling office expenses, managing employee expense and travel expense processes, processing client/customer payments, compiling financial reports, managing reimbursement processes, creating invoices and billing clients. Accounting and bookkeeping data entry mainly involves invoicing, daily general ledger entry, financial data entry, accounts payable data entry and preparation of bank reconciliation statements.
Outsourcing bookkeeping and accounting data entry to a reliable partner can reduce any business'operational costs and ensure quick and accurate services. Professional companies have stringent information security practices and policies to ensure their client data is safe. They also sign confidentiality agreements and conduct regular security audits to prevent any type of security breach.
Surveys
Businesses may have to manage and process the large volumes of survey data to meet their objectives. Survey data is often collected from Employee Surveys, Patient Satisfaction Surveys, Market Research Surveys, Public Opinion Surveys, Customer Satisfaction Surveys, and more. Well-organized and managed survey data helps businesses to create effective marketing strategies that meet rigorous organizational requirements.
Survey data entry involves survey questionnaire form processing, data extraction, data analysis, database creation and more. Expert data entry operators can document survey results in a standardized format so that they are easy to administer. By outsourcing the task, you can get access to trained personnel and sophisticated technology. Expert companies can turn around a huge volume of work in a short time.
Make sure to find the right data entry service provider to outsource to. While choosing a data entry company, make sure to consider factors such as high level accuracy, years of experience, performance standards, reputation, skilled staff, training provided, capability to provide ongoing support, accountability, customer service, data security policies, quality control measures, location/time zone and more. Experienced data entry companies can help you run your business successfully and thus enhance your business productivity.