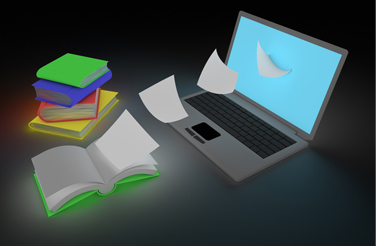 Materials preserved in manuscript form constitute the primary source of data from historic periods. They are mostly handwritten scripts that open a window to the past. Manuscripts are the most authentic witnesses of life in periods not known to us. Most of these documents have issues such as faded paper, irregular color tone, damaged paper, spots and others that make reading them difficult. Historic manuscripts and old books have a high aesthetic value and need to be preserved via document conversion.
Now, many libraries that are the storehouses of information are in the process of digitizing manuscripts and other valuable documents or objects. For example, the British library is in the process of digitizing over 2000 Hebrew manuscripts. Similarly they have digitized Greek, Malay, Thai, Persian and various other manuscripts. Another example is Wellcome Library that has digitized around 300 manuscripts of pre-1500 Western European period.
Why Digitize Manuscripts?
With the advent of globalization the world has witnessed rapid changes. The development of information technology and communication systems has brought revolutionary changes in the present day world. With the help of digitization, information can be stored, retrieved and distributed through the internet. The process of digitizing manuscripts involves scanning the manuscripts and converting them into searchable files by utilizing technologies such as OCR or Optical Character Recognition.
Digitization is necessary for both preservation and easy accessibility. Electronic conversion of historical data is the only way to exchange cultural heritage among diverse communities. Institutions across the world are digitizing centuries-old manuscripts with a view to preserving them and making them available for historians, researchers and the general public.
Advantages of Digitizing Manuscripts
Digitization of manuscripts enables multiple access. These can be used by several users at a time for various productive purposes. Users can access the manuscript collection from anywhere, any time.
It helps in dissemination of knowledge and culture using the internet, thus promoting the richness of individual cultures and heritages.
Encourages research and education.
Enables preservation and conservation of valuable data for the future generation and prevents loss of information.
Facilitates long term management and preservation of manuscripts.
Raises the profile of the organization.
Reduces handling and use of fragile or heavy original materials.
Provides a backup copy for endangered material.
Towards a Digital Future
There is no doubt that we are travelling towards a completely digital future. Institutions engaged in various digitization projects focus on ensuring that their collections have value to all users in that digital future. Low costs, high quality, and professional services are the benefits organizations get to enjoy by utilizing reliable document conversion services. In-house document conversion becomes difficult when you have large volume data to deal with. On the other hand, providers of these services are specialized and can easily manage a huge number of files with the dedicated support of experienced and skilled staffs who ensure perfection in their work.