This blog was updated on November 24, 2022.
Many people enjoy reading and listening to electronic publication books and it is one the most favorite pastimes. There are many ebooks available online that makes reading easier without having to carry heavy physical books. Digital books can also be easily downloaded using your computer, smartphone, laptop or any other digital device with the use of compatible software. Many ebook conversion companies provide easy conversion of physical books into digital books.
Ebooks are considered to be a cost-efficient method of reading and many companies have noticed that ebooks have become the gold standard in lead generation. With the rising use of ebooks, there are several eBook readers also available in the market. According to an article published by Businesswire, the global eBook market is fragmented with many independent authors and publishers with Amazon Kindle Direct Publishing, and Apple's iBook author holding major share in the global ebooks market.
Many People Love Amazon Kindle Paperwhite
Many people enjoy using Amazon Kindle for reading eBooks as it provides a better reading experience. Kindle's paperwhite has 300 dots per inch pixel density which ensures clear display and easy-to-read text. It is also very light and small with side lit screen that lets you adjust the lights according to your preference. The latest version comes with Bluetooth and it is waterproof too.
However, the common ePub file format won't work on Kindle and it needs to be converted into MOBI or AZW file format.
MOBI and AZW file Format
Mobi is a format owned by Amazon. It was developed for the Mobipocket Reader software that was used for devices with low bandwidth like smartphones, desktop operating system etc. AZW files were also introduced by Amazon based on Mobi file format. AZW comes with complex formatting options and it is mainly used for developing eBooks for Amazon Kindle. Mobi is an Amazon-owned proprietary format. It was developed for the Mobipocket Reader software. The software was used for devices that have low bandwidth, like mobile phones, desktop operating systems, etc.
Amazon bought Mobipocket in 2005 and then introduced exclusively designed AZW files based on the Mobi file format. Though AZW has more complex formatting options and substantial performance improvements, it still runs on Mobi. It is currently used to develop eBooks for the Amazon Kindle store. MOBI epub files are DRM free and it provides limited protection. But, if you need DRM protection for your eBooks, you can convert them to AZW3, which is the most popular file extension offering Amazon's exclusive DRM scheme. There are other advanced formats also like AZW4 and AZW6, and AZW8 is the latest version offering upgraded features.
Converting ePub Files
Convert your ePub files into different formats that suit Amazon Kindle's format, AZW3 and MOBI. There are several software programs available that make ePub to AZW3 or MOBI conversion easier.
Calibre eBook Management (Software):Calibre eBook Management is a free software that comes with several features for managing your eBook library and it is ideal for converting into any format that is best for Amazon Kindle. You can quickly convert to AZW3 by following some simple steps.

Go to Calibre's website and download the software for the operating system that you're using. This software is available on macOS, Linux, Android, Windows and iOS. After downloading the software, install the program and open it.
Select and add the book you wish to convert to your Calibre library by dragging and dropping it, or by clicking on the Add Books button and locating the file on your hard drive.
Choose the book title from your Calibre library, and click on the Convert Books button.
Go to Convert book menu and choose OUPUT drop menu and choose AZW3.
Click on OK button and the conversion process will begin.

eBook Converter (Android):This app is exclusively for Android devices. It helps to convert different eBook files and accepts any commonly used ebook format. It is a simple app that can quickly create AZW3 files for your Kindle.

Install the Ebook Converter from the Google Play store and open the app.
To add a file (or multiple files) to be converted, click on the round pink "+" button at the bottom right-hand corner of the app from the Files menu.
The menu has a few different options. Press the small button with an image of a file to access your internal storage and navigate to the file or files you wish to convert, select them, and select the Add button.
Once your files have been added, select the Convert menu at the top of the screen.
To convert, select AZW3. You can also type in the author and book title you'd like displayed on the converted file as well as add a cover image.
Once the conversion process is done, select the folder where you want to save the converted file, and hit the Convert button.
The conversion takes only a few moments to complete, and your converted file will be located in whatever output folder you selected.

Online Convert (website):If you do not want to download any software, then you can rely on online convert ebook conversion tool. It helps to convert your file into AZW3 or MOBI file format.

Go to the Online-Convert website, and click on the Convert to AZW option under the Ebook Converter option in the side menu.
You may either drag and drop the book that you wish to convert into the green Drop Files Here box, or click on Choose Files and find it on your hard drive in the AZW3 file conversion page.
Click Start Conversion once the file is uploaded.
It takes only a few minutes to convert and when the conversion process is finished, you can click on the Download button to put the converted file onto your device.

File Converter App (iOS and Android):This a free converter app that can convert video, image, document, audio, and ebook files and it is available for both Android and iOS devices. Conversion using this app is a quick and efficient way to convert any ebook file using a mobile device.

Download and install the File Converter app for either Android or iOS and open it.
On the main menu, there are several converter options to choose from and click on the Ebook Converter button.
In the Ebook Converter menu, choose the first option, AZW3.
Choose the type of input you'd like to convert. Click on File and select the book that you'd like to convert from your device.
Once you've selected the file for conversion, a summary menu will open. At the bottom of this page is a large Start Conversion button. Click on it to begin the conversion process.
The whole conversion process may take from a couple of seconds to a couple of minutes depending on the size of the file. Once the conversion process is over, you can click on Save As and choose a folder to save the converted file.
Advanced Tools to Convert ePub to AZW3 or MOBI
Cloudconvert

This online converter tool supports diverse formats – EPUB, PDF, AZW and CBZ. It also supports nearly all audio, video, document, eBook, archive, image, spreadsheet, and presentation formats. With this online tool, users do not have to download any software. Most conversion types can be adjusted to your needs such as setting the quality and many other options. This API tool also allows custom integrations with your app.
To convert your ePub files to azw3 or MOBI, first upload epub-file(s) from Computer, Google Drive, Dropbox, URL or by dragging it on the page, choose "to AZW3 or MOBI", and Download the file.
Any eBook Converter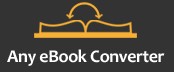 This professional eBook tool can convert up to 24 input formats (EPUB included) to DRM-free AZW3, PDF, MOBI, EPUB, TXT, PRC, HTMLZ, and KFX format in batch. It can also remove DRM from Kindle, Adobe, Kobo & Nook eBooks. It also features automatic Scan & Detect eReader, and Save / Edit metadata. It also supports the latest version of Windows 10.
The conversion process involves – uploading EPUB Books to the software, choosing AZW3 or MOBI as the output format, and clicking "Convert to AZW3" button to start converting your EPUB books to AZW3 or MOBI format.
Zamzar

This online conversion tool can convert EPUB to MOBI within minutes. Though this free tool has limited features, users can sign up for basic subscription that costs a minimum of $9 a month to use some premium features such as larger file sizes, etc. Along with online converter tool, the company also offers a desktop app for file conversions straight from the desktop, and an API for automated file conversions for developers.  This software can convert more than 100s of formats.
There are several apps and software available that help to convert ePub into any other desired format. Partnering with a professional eBook conversion service enables publishers and authors to create eBooks that are compatible with all major eBook readers.