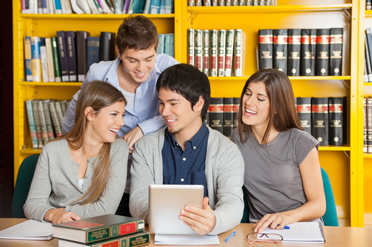 Managing rising costs with stringent budgets is one of the major challenges faced by today's educational institutions. In fact, most institutions are constantly seeking innovative ways to operate more efficiently and to reduce budgets. Handling administrative paperwork including student records, financial applications, and teacher meeting notes can hamper workflow quite significantly in an educational organization. Document scanning and digitization is proving to be a logical step to save time and money, improve operational efficiency and focus on the strategic processes of teaching and learning.
Schools and Universities that have Implemented Digitization Projects
Today, in many educational institutions, book to e-book conversion is helping their libraries to thrive. Minnesota's Benilde-St. Margaret's school library is a typical example. The expansive use of digital tools and digitization of books at the school library has transformed it to a 'No Books' space, where students research, investigate and learn using laptops. Since 2010, all students have been equipped with MacBook plus user access to various online databases. Currently, the only books that the library has are a few reference titles and books that students bring along with them. The school's librarian and teachers help students in completing their online requests for books from the robust community of neighboring branch and university libraries.
North Dakota State University has launched a document imaging initiative utilizing enterprise content management software. They have scanned and converted many paper documents including applications, forms, appeals, meeting minutes, and other items into digital images for easy search and retrieval. This has helped the University save physical storage space, work space, and use of paper.
Data visualization and archival practices in Dalhousie University Libraries have also greatly benefited by implementing 3D printing and document scanning, says a report.
Digitization of Classroom Activities
Educational institutions are gradually implementing digital teaching solutions to encourage a more communicative and participatory environment in the classroom. They are trying to get rid of outdated teaching methods and make students involved in methods that aren't possible with stationary pages. The digitization of education allows students to learn at their own pace, both inside and outside the classroom. Online education shortens the distance between a student and his/her dreams. New educational technology promotes e-learning for all forms of electronically supported learning and teaching.
Besides improving the learning experience, document scanning is helping educational institutions better manage their student records and human resource and financial departments in the following ways:
Improving record indexing and management
Maintaining files securely in an online or offline environment
Eliminating the need for costly onsite document storage
Document storage in the required file format
Enhanced preservation of valuable records
Easy document search and retrieval
Ease of access to records by authorized personnel
Improved processes and workflow
Reduced administrative cost
Meet documentation mandates regarding security and access
Digitization is promoting higher education like never before. Online courses have enhanced access to education, shortened the distance between students and tutors, and made learning more affordable.