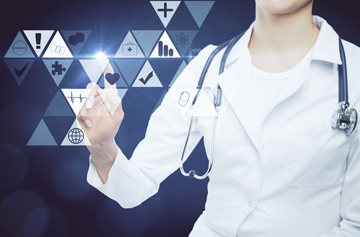 The introduction of various advanced technologies and the Internet of Things (IoT) is transforming the healthcare sector significantly, promoting digital transformation. Today, Electronic Medical Record and Public Health Information are the focused areas for technology solutions with the view of enhancing patient safety, integrated care, and clinical decision support. Technology has also brought advanced medical data entry solutions that enable streamlined healthcare data in healthcare organizations. Accurate data is very important in the healthcare sector, and cloud technology has become popular over the years because of its potential to help improve the quality of service offered to patients. Cloud technology has transformed the process of sharing data especially at the time of emergencies. It assures improved efficiency in serving patients and helps to reduce costs.
So what exactly is digital transformation? It is not merely purchasing the latest technologies and tools to facilitate healthcare procedures. It also involves transforming the operational processes in the healthcare sector and improving efficiency. You need to have a plan about how various technologies can be used to gather the much needed information and channelizing it effectively. Only then can you hope to bring about an overall revamp in healthcare.
Trends to Expect in 2018
The following are the 5 healthcare digitization trends in 2018.
Increase in cloud computing: Cloud technology has increased the accessibility of patient data to both physicians and patients. Communication via mobile devices has become widespread, and it is expected that by 2018, in some developed countries more than 60 percent of the interactions with healthcare experts and facilities will take place using mobile devices. Many doctors are now using a medical app of one kind or other and they frequently access drug information and other data with the help of apps. Today, patient records are stored in the cloud and patients are encouraged to connect with the cloud to get 24/7 access to their medical records and lab reports. Data storage in the cloud has also brought the need for increased data security measures.
Telemedicine may increase in popularity: Telemedicine involves the use of telecommunication technology to diagnose and treat patients. Studies and surveys regarding telemedicine have found that doctors consider telemedicine a better way to treat chronic diseases. Telemedicine helps patients to receive the best possible results quickly at the click of a button using a smartphone and a good internet connection. Telemedicine helps to save time and money for both the doctor and the patients.
Use of AI or Artificial Intelligence: Data is crucial for any type of organization and manipulation and channelization of data are proving revolutionary in all fields of digital transformation. AI is significant because it helps in a great way from evaluating customer satisfaction to identifying risk factors for the patients. Artificial intelligence and machine learning are being discussed all over the world and with this concept mobiles and wearable devices are connected to work consistently, to create medical records and data.
Automation: Mobile apps and wearable devices have encouraged automation, and this trend is going to stay. With automation capabilities, it is now possible to send automatic prompts to patients about the correct time to check their weight, sugar, oxygen level, blood pressure or pulse. Patients can enter the results of the check-up in user-friendly patient portals. Even real-time results transmission has become a reality. This helps patients to minimize the risk of bigger health issues such as heart strokes, lung failure etc.
Use of robots: Healthcare robots are a topic that is very much discussed in healthcare circles. Robotic arms are being used in many facilities to assist with surgeries and other healthcare activities. According to IDC Community, by the year 2019, there will be a 50 percent increase in the use of robots. These robots help to automate the task of delivering medicines, foods, medical supplements and so on.
There is no doubt that the healthcare sector can benefit from digital transformation. Advanced technologies will help to monitor multiple activities and transactions all throughout the day. Access to real-time data can speed up medical decision making. Innovative technology has also made available improved document scanning solutions that are vital on the path to digitization. Then there are web-based medical billing software solutions that enable healthcare institutions to speed up their documentation and payment process. Digital transformation will enhance scalability and efficiency of the organization. This transformation appears to be most beneficial for patients, providing them with easier and full access to good doctors and healthcare facilities.