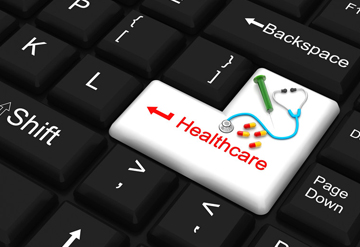 Healthcare organizations typically store and process multiple kinds of data ranging from images and emails to medical records and payment information among other details. This is the age of digital healthcare with most of this data residing in electronic mediums. Security and HIPAA compliance are prime considerations in such settings especially when utilizing outsourced solutions such as data entry services. Due to the urgent nature of the healthcare environment, users require immediate access to data across a range of devices and applications. IT managers are tasked with ensuring that clinicians, researchers and patients themselves can access the required medical records, with no degradation in system performance.
To truly become a part of digital healthcare and enjoy the many benefits it offers, it is important to understand what digital healthcare is. It would involve a direct integration of healthcare services, technology, and security with a view to positively impact the lives of users. In this regard, security is much more than protecting sensitive medical data. It should take into consideration the users themselves, their experience, and how security services are designed.
According to a recent Gartner report,by 2020 at least one major safety incident will be caused by an IT security failure that can lead to huge damages.
Another report from Juniper points out that the average cost of a data breach in 2020 will exceed $150 million, with more business infrastructure getting connected. Healthcare data is much more valuable.
Ponemon's recent data breach report highlighted the fact that the average global cost of data breach per lost or stolen record was $158. Healthcare organizations however, had an average cost of $355 and in education the average cost was $246. The lowest average costs were for the transportation ($129), research ($112), and the public ($80)sectors. Breaches in the healthcare sector come to $6.2 annually, with the average cost of a single data breach across all industries now $4 million.
This calls for extra caution as regards security measures. The best option for healthcare leaders is to partner with reliable security services to ensure data security and have in place better architecture that integrates the healthcare setting, users, and security services.
So here are some factors about data security that should be considered.
Healthcare consumers are already a part of digital healthcare. The millennial generation is tech-savvy and would prefer using the conveniences technology offers to make life easier. So digital transformation is inevitable and letting the digital evolution pass by would result in losing place in emerging markets. A digital transformation must necessarily be accompanied by an equal transformation in security practices. This will help support new users, new services, and new emerging markets.
You need to invest in new innovative methods like telemedicine, advanced patient portals and also have direct conversations to ensure security in all these initiatives. An efficient IT environment with new digital framework and security systems is necessary.
Gartner recently found that adding telemetry to cloud workloads will be important to manage security failures. No matter how professional or safe the vendor is, telemetry and documented testing will allow security teams to show the business proof that the cloud is working safe. A digital environment with no visibility is not acceptable. Ensuring security,monitoring regularly and end user best practices will reduce your overall security threat and allow you to respond quickly. A good security architecture provides more visibility, better protection of data and interaction and this will ensure better and informed businesses decisions.
Security technologies assure corporate health benefits and if you are deploying a new system it important to be thorough with it in order to avoid unnecessary risk. Take your own time to understand core security features like cloud, virtualization, big data, storage, encryption and so on. Also, test these systems in real world environment so that it is much easier to examine these types of architecture, understand the fit for the technology and how to evolve for future
To ensure fool-proof healthcare data security, healthcare entities must wake up to the new requirements, identify the right reliable partners, and involve the entire organization in the process. Security also involves boosting confidence, and utilizing the best that technology can offer in this regard. Gartner predicts that by 2018, 60% of organizations that implement appropriate cloud visibility and control tools will experience one-third fewer security failures. This brings the efficacy of the cloud to the forefront. Healthcare organizations looking at security from a truly digital perspective can reap positive outcomes and enjoy an overall positive impact on their entire organization.