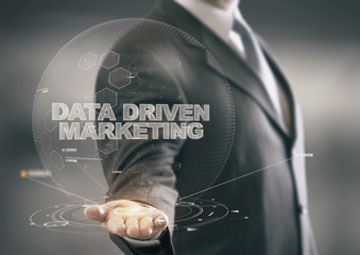 Big or small, all businesses rely on huge volumes of data for their marketing campaigns, and evaluate results of each effort so that they can restructure their messages if necessary. Clean data is an important element for any business and they utilize data cleansing services to maintain the quality and integrity of data. Businesses invest huge amounts of money in software that can analyze data and there are many options available that make gathering and working with data easy. Professionals have to keep up with the newest trends in data-driven marketing to make sure they are measuring and applying the right metrics. The following are the latest trends:
Businesses may find it challenging to have a one-on-one communication with customers online. Automation helps even the largest corporations to personalize online interaction with their customers. For small businesses it is important to learn as much as possible about the available solutions because personalizing every aspect of a website can be expensive.
The past actions of any business will predict their future behaviour. Predictive analytics can be used across all parts of a business. This helpful tool can be used to design excellent marketing campaigns and will give businesses the data required to reach out to each customer with customized messages.
Marketing efforts are not limited to a single platform. Companies can reach out to customers through various social media platforms, email messages, paid advertising etc. You can track data in each of these separate locations but pulling it all together can be tedious for your team. So businesses can use multiplatform analytics to build a stronger marketing campaign. It is also called data integration platform that can be customized to work within a business's specific software environment.

Developing a marketing strategy in advance and following it is not a difficult task. This is an important step that helps businesses to prepare, collect and act on data in real time. This agile approach requires teamwork, leading to the growing demand for a marketing dashboard to manage campaigns for a company. If the entire marketing team can meet in one centralized location, they can base their activities on the latest information available.
User experience is an important element for any business. Monitoring customer behaviour helps businesses know what marketing efforts are really working, whether it is the clicks on the website or purchases made in the e-commerce shop. Businesses should also request and analyze customer feedback and use that information to create a better user experience. Once you get a clear picture of what your customers want, you will be able to develop marketing campaigns to capture more audience.
Businesses have a database that is used for their marketing efforts. Updating contact information can increase the database and hence it is important to keep the data clean. Data cleansing or data hygiene is an important element for all businesses and data cleansing services can help to keep all important data clean and safe. Lead generation tools can take data cleansing to the next level, populating the database with contact information for businesses and details about individuals who are likely to respond to what a business is selling.
Business organizations can come up with successful marketing campaigns by using the right tools. Businesses of all sizes need to take a data-driven approach to marketing and with the right software and partnering data entry company, the right solutions can be decided on.