Digital preservation enables long-term storage, maintenance, and accessibility of digital data. The U.S. government requires all federal government agencies to digitize government records. Besides streamlining records management, the effort is also aimed at saving money wasted on managing paper records. Well-managed records will also help to reduce redundant efforts and allow knowledge to be shared within and across organizations. Digitization has become a priority for private organizations as well. Advanced tools and techniques are used to convert photographs, manuscripts, printed texts, court documents, historical records, and much more into electronic document file format for long-term preservation.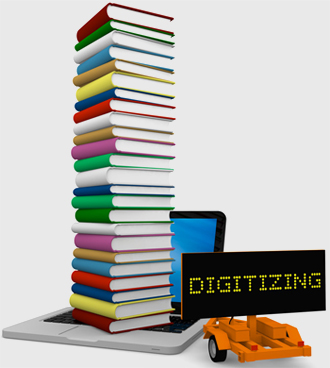 Hurdles in Digitizing Records
Every institution that wants to digitize faces several hurdles in producing and preserving materials in digital format over the long term and implementing the project to make the collections accessible to the public. Some of the typical issues include
High costs of project administration
Voluminous records
Records from multiple sources
Need to meet document security mandates on security and access
Preventing damage to precious originals
Producing reproductions of the highest quality
Designing search and retrieval tools
Transforming digital content so as to meet the needs of end-users
The age and condition of the original records are important factors that determine the amount of time and effort to accomplish the goal of preserving the record. In most cases, organizations resort to outsourcing document digitization to overcome these challenges.
A recent report on the efforts of counties to digitize their records highlights these issues. According to the report Dauphin County took nearly six months to scan and digitize 213,667 marriage licenses. It may take up to two to three years to digitize 10,000 descriptive property records in the Historic Preservation Trust of Lancaster County. Coming to Northumberland County, the report says that government officials are seeking options to preserve several boxes of important historical documents in paper format before they are destroyed by improper storage. Nevertheless, despite these challenges, government departments and other organizations are going ahead with their efforts to convert their valuable historical records into electronic format for the many benefits that this offers.
Benefits of Electronic Document Management
Document scanning and indexing allows easy storage and retrieval of documents
It is easy to edit and update scanned documents quickly and easily
Electronic documents are legally acceptable, if maintained properly
Scanned manuscripts and artifacts can be preserved for a long time
Reduces physical storage space
The main purpose behind document indexing is to help users locate files easily and to determine the subject matter of documents. Indexing accomplishes this. The documents are first analyzed to determine the subject matter, which is then translated into index terms. An accurate and easily searchable database of indexes would ensure users faster and more flexible data access. With a proper digital workflow, organizations can streamline their operations and ensure quick, efficient and flexible processes.