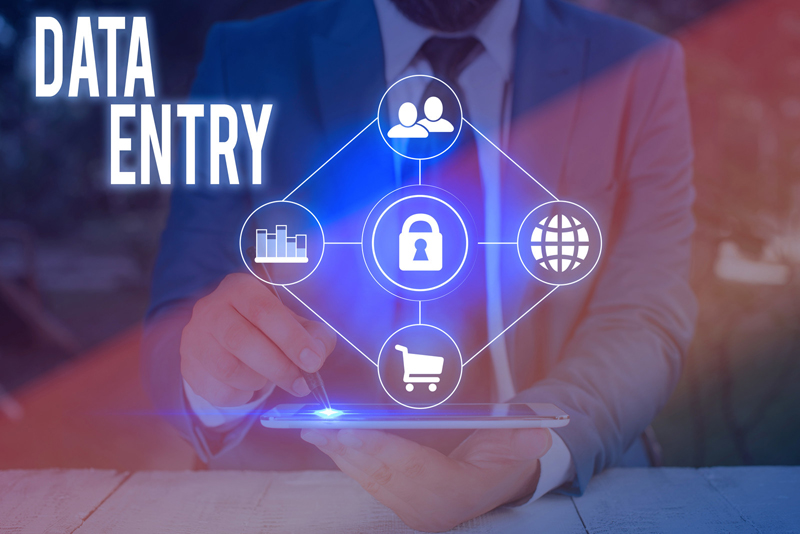 A company handles data in the form of bills, invoices, employee data, insurance claims, payroll data, legal documents and so on that are vital for business operation. Converting these data into its digital format is the practical way to ensure accurate and organized data which is the key to business development. Data entry has become an essential process in all organizations since they are swapping to paperless functioning. Several businesses are outsourcing data entry to reliable vendors with the objective of boosting productivity, aligning business needs and satisfying data requirements efficiently. A good data entry specialist is trained and skilled in data entry and can patiently handle the tedious tasks.
Data entry outsourcing ensures accuracy
Data is used to drive valuable insights that help businesses to grow. However, data is never used in its raw state, it must be processed and presented so that it can be applied at appropriate levels. With the latest data analytics tools, businesses can understand their customers' taste and preferences, their buying patterns, market trends, develop new products and services, evaluate their ad campaigns, and analyze their competitors. A minor error or low level of accuracy at any stage of business process results in poor business insights and decisions which could hinder the growth of the company. According to IBM's estimate, in 2016 businesses in the US lost $3.1 trillion due to poor data. Therefore, quality of data is more important than quantity.
As a business grows, it becomes difficult to manage huge volumes of data. In such situations, collective efforts become necessary and businesses rely on data entry outsourcing to ensure clean and accurate data.
Data entry vendors have skilled professionals who undergo rigorous training and screening processes before going onboard as data entry specialists. These services also have quality assurance specialists who have an eye for detail and thus ensure optimal output. Their skilled professionals work with set KPIs that help them achieve their targets before the deadline. Outsourcing also helps businesses to cut costs as they don't have to spend extra money for setting up an office space, equipment and training. Above all, outsourcing provides employees more time to perform their jobs with satisfaction and thus boost productivity.
Following are some of the examples of popular companies that outsource data entry, according to a post by Magellan Solutions:
Amazon: Amazon is a popular multinational company that focuses on E-commerce. They are now providing services on artificial intelligence, cloud computing, digital streaming and online retail shopping. To streamline their operations and focus on other strategic areas to make the most significant impact they outsource many business activities including data entry, inventory management and customer service.
Bosch: This is a German engineering and technology company that provides products and services on energy and building technology, industrial technology, mobility, consumer goods and so on. BOSCH contracted its data entry work to a GDPR-compliant outsourcing company as a part of its strategy to lead the mass market for electromobility.
Xerox: This is a US-based global company that specializes in office technology. In 2016, it transferred all its business service solutions including data entry tasks, to its newly-formed divestiture.
Walmart: This company has invested considerably in its offshore development center in India to make its data and analytics technology more robust. Their objective behind outsourcing was not cost-cutting, they wanted to exploit the global talent and be a part of the community of technology companies located there.
Elwyn: Established in 1852, Elwyn is one of the oldest and largest care facilities in the U.S. The organization has loads of data to process, data related to people who need their support. They opted for support from an American BPO company for their data management needs.
HubSpot: A software company known for its software products for marketing, inbound sales, and customer service, HubSpot outsources data entry work to a New Jersey-based U.S. service provider. Besides, they also contract part of their sales and customer support to other reliable firms.
According to a Press Release by KTVN, the Data Entry Outsourcing Service Market is expected to grow at a CAGR of 4.28 percent during the period 2019 to 2023. This report provides the past, present and future industry trends and forecast of information related to the expected data-entry outsourcing services sales revenue, growth and demand.
According to another report by Qurate Business Intelligence, the Data entry Outsourcing Services market is expected grow considerably by 2024. The report includes COVID outbreak impact analysis of key points influencing the growth of the market. This report is based on the significant research methodology that provides the analytical inspection of the global market based on different segments the Industry is categorized into also the summary and advance size of the marketplace owing to the various outlook possibilities. The report also gives a 360-degree overview of the competitive landscape of the industries. SWOT analysis is used to understand the strength, weaknesses, opportunities, and threats in front of the businesses. This helps the companies to analyze the threats and challenges ahead and ensure a steady growth.
No matter how big or small your company is, outsourcing has become an inevitable element for business success. It is a great alternative for doing repetitive operational processes so that businesses leaders can concentrate on continued growth for the business. Seeking reliable data entry services would be prudent because it will help manage voluminous business data and gather valuable insights more quickly and efficiently.