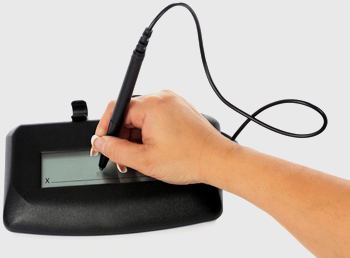 The main objective of process automation is reducing costs and boosting operational efficiency. As far as hospitals and other healthcare facilities are concerned, automation of processes improves clinical quality and work flow.
Baptist Health is a healthcare provider that has adopted automation to cut down their document scanning expenses. Baptist Health is a consortium of 5 hospitals located in northeast Florida with a network of 44 primary care locations, 600 home health patients, and 1,100 beds. As part of automation, they employed an e-signature technology for scanning the patient's signature. So, what is this e-signature technology? E-signature or electronic signature is a technique that allows patients to sign in electronic forms with the help of a writable device. The process creates a legally signed document that is automatically attached to the patient's EHR that eliminates the need for unnecessary scanning and documentation.
Why Use e-Signature Technology?
Manual processes are often prone to mistakes and can be time consuming.
Combining electronic forms and e-signatures can help create a paper free environment. Many of the healthcare facilities are encouraging document conversion from paper to digital format to avoid misfiling or losing paperwork.
Improves patient care by accelerating patient admissions, registration and bedside consent.
Helps in e-Discovery and compliance audits, as it allows biometric data along with date and time information to be accessed easily.
Reduces litigation risk and provides better legal protection, as e-signatures can provide better defense in legal and compliance cases. The system date- and time-stamps can prove when and by whom the transaction was carried out.
Supports the requirements of regulatory mandates such as HIPAA.
Helps eliminate identity theft, as the data is accessible only to authorized users.
Reduce cost associated with:

Buying paper, printing, filing and faxing
Fines for noncompliance
For labor and equipment required
Hardware Options to Collect e-signature
It is possible to collect the signature of the patient via different hardware options such as:
Mobile Devices
Tablet PCs
E-signature Pads
Writable Screens
Challenges of Using e-signature Technology
There are certain obstacles that limit the widespread use of electronic signature capture technology.
Cost of hardware and the risk of theft when using electronic tablets and other portable devices (used for capturing signature electronically).
Space required to store signature devices can pose challenges. These devices often attach to the work station, where there is limited space.
Some sort of training is required to educate patients on the use of e-signature devices.
The document scanning and conversion requirements of a hospital do not end with scanning the signature of the patient. They need to scan other documents such as X-ray reports, CT scan reports, ECG reports, histopathology reports, bone density reports, blood test results, cytogenetic reports, and so on. To address the documentation challenges and to meet other scanning requirements, it is best for providers to join hands with a document conversion company that offers quality services at affordable rates.